Meghan Markle's New York Trip Compared to Princess Diana's in 1989
Meghan Markle and Prince Harry toured New York last week to call for vaccine equity—and their positive message has sparked comparisons with Princess Diana.
The Duke and Duchess of Sussex arrived on the East Coast on Thursday, September 23, when they visited the 9/11 memorial and met New York mayor Bill de Blasio.
Meghan read her book The Bench to school children in Harlem and they spoke at Global Citizen Live on Saturday, September 25.
And one charity was moved to compare their tour to Princess Diana's first official overseas visit without Prince Charles.
Harry's mother took New York by storm in February 1989 selling out a gala Oprah performance at $2,000 a ticket and warming hearts at social services organization Henry Street Settlement.
The non-profit said on Twitter: "The Duke and Duchess of Sussex are in town raising mental health awareness. It reminds us of Princess Diana's memorable visit to Henry Street in 1989! #MeghanAndHarry."
Verona Middleton-Jeter was the organization's chief administrator at the time and greeted the princess out of her car.
She told Town & Country in November 2020: "I walked over to the car and did exactly what I wasn't supposed to do, shake her hand. She got out and she said, 'Hey, we're wearing the same colors.'
"And that was that. She was just so down to earth. I didn't have time to get nervous. So she just cut through all my anxiety."
Middleton-Jeter described how one woman in a self-help group at the social services organization in the Lower East Side was struck by Diana.
She told the magazine: "She just so loved Princess Di and was so happy to be a part of the group to meet her. Shirley looked at her and said, 'Oh my God. But you're so pretty!' Well, I thought I would die!"
Diana also helped sell out the $2,000 tickets to a gala performance at the Brooklyn Academy of Music and on the final day of her tour visited children with AIDS at Harlem Hospital.
Meghan and Harry also visited Harlem where the duchess read her book The Bench to children at the P.S. 123 Mahalia Jackson school.
The main reason for the couple's visit, however, was to tackle this era's global health emergency, coronavirus.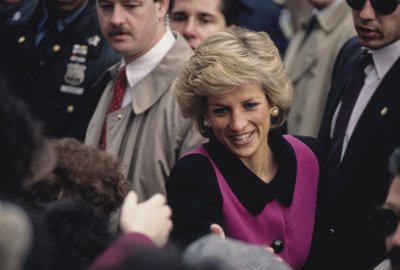 They spoke at Global Citizen Live, in Central Park, telling festival goers of the need to waive intellectual property rights on the coronavirus vaccine.
The duchess said: "Every single person on this planet has a fundamental right to get this vaccine. That's the point—yet that's not happening. While in this country (and many others) you can go almost anywhere and get vaccinated, billions around the world cannot.
"This year, the world is expected to produce enough doses to meet the target of vaccinating 70 percent of people in every single country. But it is wrong that so much of the vaccine supply has only gone to just 10 wealthy nations so far, and not everyone else."
Linda Thomas-Greenfield, U.S. ambassador to the UN, wrote on Twitter after meeting them: "Wonderful meeting with Prince Harry and Meghan, The Duke and Duchess of Sussex. Important discussion of COVID, racial justice, and raising mental health awareness."
She added: "Amazed by the support shown at #GlobalCitizenLive here in NYC & around the globe. We need to stop COVID & get vaccines to all—that's why @POTUS announced the U.S. is donating another 500mil doses for the world's most vulnerable. Let's make 2022 the year we end this pandemic."