Britain is waking up to a media frenzy this morning after Prince Harry and Meghan Markle dropped some serious bombshells about the royal family during a two-hour interview with Oprah Winfrey.
The interview has yet to air in the U.K. but as revelations are reported, Twitter is alight with reactions from Americans who have already watched it on CBS.
Now, British Twitter is the target of endless jokes and memes following the interview with the phrase "British Twitter" actually trending on Monday morning.
As one tweet reads: "British Twitter is trending because American Twitter is champing at the bit for them to wake up and see that we have canceled their entire royal family and are ready to fight the revolutionary war with them again just on principle."
"British Twitter is going to be choking on their breakfast beans when they log on in a few hours," joked another.
While another fan, with the help of a Captain America meme joked: "Me defending Megan once British Twitter wake up ! #HarryandMeghanonOprah."
In the interview, the Duchess of Sussex revealed that her husband was asked how dark Archie's skin would be by a member of the royal family, prompting accusations of racism in the monarchy.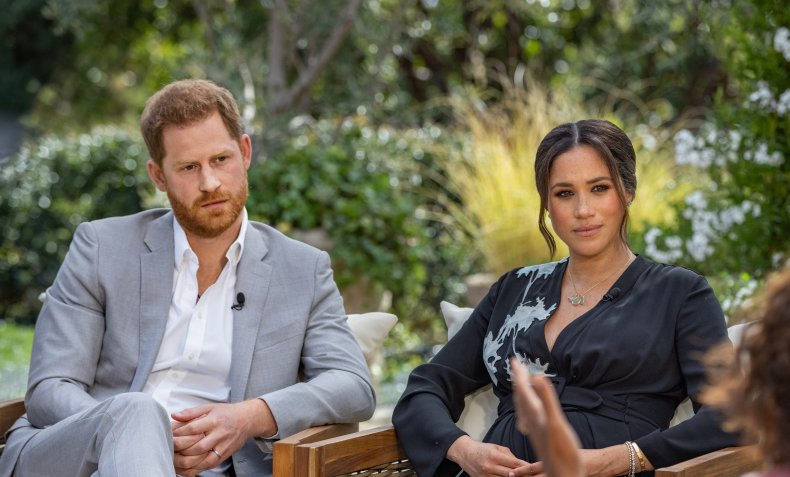 "All around this same time, we have in tandem the conversation of he won't be given security, he's not going to be given a title and also concerns and conversations [about] how dark his skin might be when he's born," she said.
Later in the conversation, Oprah asked Harry to share details of the conversation. "That conversation, I'm never going to share," he said. "But at the time it was awkward, I was a bit shocked."
"Damn. The royal family is racist?" one Twitter user mocked. "I sure hope the rest of England's history isn't. Now time to drink this giant mug of bisto gravy and read the Wikipedia article for 'the British empire.'"
Another pointed out: "england tomorrow when they realise the royal family aren't good people" amid cartoons of raging fires.
"Black Twitter waiting for British Twitter to wake up and explain their treatment of Meghan," said another with a still from the movie Coming to America.
Referencing some history, another tweet reads: "British Twitter is legit surprised that Americans don't know the rules around royalty. Y'all...we literally founded an entire country so that we wouldn't have to. #OprahMeghanHarry."
"British twitter dragging us bc of our last president, what did we do? Got rid of him. How will you all respond to the accusations made by Meghan & Harry," said another.
In the interview, the couple revealed how Tyler Perry stepped in to help them after they were left without security when they stepped back as senior members of the royal family.
This prompted another wave of jokes, with one person tweeting: "no but i'm crying at the idea of someone in the palace having to explain to the queen who tyler perry is."