Patrick J. Adams Says He Does Not Call Meghan Markle Due to 'Pure Fear'
Suits actor Patrick J. Adams says he no longer calls former on-screen girlfriend Meghan Markle due to "pure fear" at "breaking through whatever walls exist."
The Duchess of Sussex once starred alongside Adams in the show that made her name before her marriage to Prince Harry.
And he was a guest at her 2018 royal wedding, flying to Britain to join the royal family and showbiz elite at Windsor Castle.
However, since then the two friends have exchanged gifts but spent little time in each other's company, Adams said.
In an Interview with the Radio Times, Adams added: "We've spoken and texted a couple of times, but Meghan's life is incredibly full and she's been navigating a lot.
"We don't spend any time together, but that's not because of anything other than how completely enormous her life has become in so many ways.
"But I have no doubt she's up to the task and that she and Prince Harry are up to the task together.
"Meghan is an incredibly strong and powerful woman. It seems to me like she's handling herself very, very well."
Meghan started on Suits from the first season, which aired in 2011, and rose to prominence as attorney Rachel Zane who dated Mike Ross, played by Adams.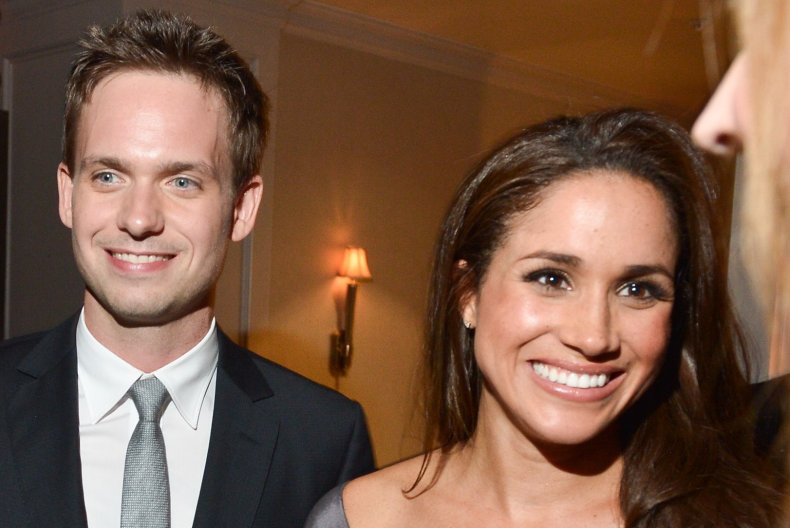 However, after meeting Prince Harry in 2016 her life was catapulted onto a new path and she quit the show.
Adams said: "I have no doubt I could pick up the phone and call her at any moment, but I don't know what I would say.
"After our children were born, there were some texts sent and gifts sent, but I guess I'm a little scared.
"I think it's pure fear. I guess I'm scared about the idea of breaking through whatever walls exist to have that conversation."
The change in their relationship was highlighted when Adams deleted a picture he posted of Meghan kissing him on the cheek on set.
He had uploaded the image to wish her a happy 36th birthday in 2017 but told Esquire he removed the picture after waking up the next morning.
He told the magazine: "I posted this old photo I had found of Meghan and I on set. I went to bed, and woke up in the morning and realized, 'Oh, yeah. I live in a world where you can't post things about Meghan'."
The Daily Mail reported that the Instagram post had been captioned: "Ross and Rachel the next generation."