How Meghan Markle's Designer Knew She Was Pregnant Before Anyone Else
A designer commissioned by Meghan Markle knew about the Duchess of Sussex's pregnancy well before anyone else.
Don O'Neill, the creative director of evening and bridal wear brand Theia, revealed he had an inkling of Markle's pregnancy after her team reached out to him in regards to a dress design for the duchess to wear during her royal tour in Australia, New Zealand, Fiji and Tonga. Markle donned an elegant white Theia gown to a private reception with King Tupou VI and Queen Nanasipau'u of Tonga on Thursday.
"When her stylist reached out to inquire if I could make a dress for her Australian press tour, I stopped everything we were doing (my bridal show was just a week away) and immediately went to work on Her Royal Highness' gown," O'Neill said in a statement to People magazine.
Markle's dress was completed in two days. While O'Neill said she "loved" the gown, he was requested to make some adjustments to the dress, particularly to the seam. "We needed to remake it with extra seam allowance," O'Neill continued.
O'Neill said the additional room needed in the dress was a dead giveaway to Markle's pregnancy. "We knew immediately why this extra allowance was required, but mums the word," he said. "And with less than one week to my bridal show, all hands were on deck once more. We re-made the gown and I literally had to run down Broadway that Friday night to catch the UPS truck, making it with just 2 minutes to spare."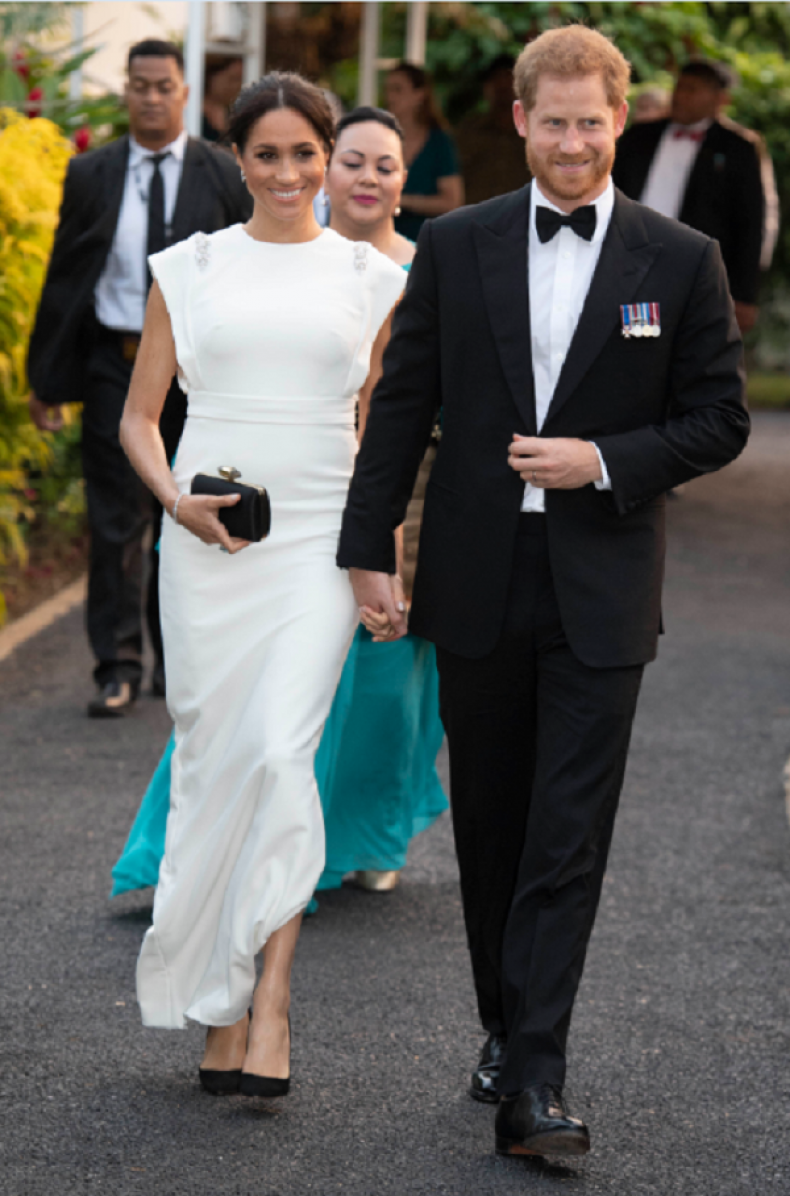 The designer couldn't have been more excited to help Markle with her royal tour look. Calling the mom-to-be a "source of inspiration" for the Theia brand, O'Neill telling People, "It has been an exciting whirlwind collaboration."
"Her Royal Highness is a truly beautiful inspiring woman, a bright shining light in this world, and we at Theia are truly honored to be part of The Royal Tour of Australia, Fiji, the Kingdom of Tonga and New Zealand," he said.
Kensington Palace announced Markle and Harry were expecting their first child on October 15. The couple is expected to welcome their family's newest addition sometime in spring 2019.