Prince Harry and Meghan Markle should not be stripped of their police protection while Prince Andrew gets to keep his, Elaine Lui tells Newsweek.
The Canadian presenter hit out at what she termed an inconsistency over Queen Elizabeth II's reported intervention to stop the Duke of York losing his publicly funded security.
In January the Evening Standard reported a review was being conducted into whether Andrew should continue to have "round-the-clock armed protection."
The newspaper quoted a source who said police "cannot write a blank check for anyone who does not have a public role."
However, this month The Sun claimed Elizabeth had stepped in to request that her second son should continue to be guarded by the U.K.'s Metropolitan Police.
Lui moved in the same circles as the Duchess of Sussex, before she became a royal, and works with Ben Mulroney, husband to Meghan's best friend Jessica Mulroney.
She told Newsweek: "Prince Andrew is not my favorite royal. But I actually understand the rationale behind having to keep him safe.
"He is tremendously unpopular right now. Which means that he is at a higher risk and there's already a baseline level of risk for members of the royal family.
"No matter how I feel about him, and disagree with his personal decision, I don't want to see any physical harm befall him.
"Putting that right there, I think the same argument should apply for Harry and Meghan.
"They should have protection in the sense they are technically still members of the royal family. Harry is the son of the future monarch.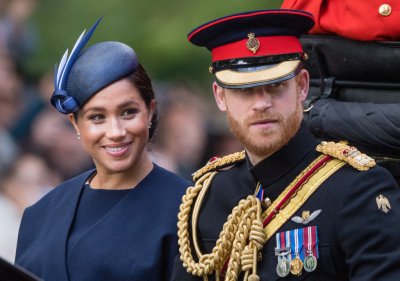 "Even though they are not living in the U.K. and they chose to leave public duty, or they were compelled to, I do think that if there is a justification for Prince Andrew to be protected then there should be a justification for Prince Harry and Meghan Markle.
"If you take away from the one dude, then fine take away from Meghan and Harry. But right now it just doesn't seem consistent."
Prince Andrew stepped back from public duties over his friendship with Jeffrey Epstein following a car crash interview in which he claimed he was "too honorable."
The duke dismissed allegations by Virginia Guiffre that he had sex with her while she was a 17-year-old trafficking victim.
Prince Harry told a private dinner for his charity Sentebale in London in January he and Meghan had "no other option" than to quit as senior royals.
They are currently using the private security firm hired to guard Tyler Perry's $18 million Beverly Hills mansion after President Donald Trump refused to provide them with U.S. Marshals.
Before moving to California, they were living in Canada where the Government initially provided protection by the Royal Canadian Mounted Police before ultimately refusing to fund their security.
The Metropolitan Police are also not providing round-the-clock cover while they are in the U.S. and the Duke and Duchess have said they will pay for their own security.
Author Penny Junor, who wrote biography The Duchess about Camilla, Duchess of Cornwall, told Newsweek: "Harry and Meghan chose to step down and pursue their own life outside the royal family.
"Andrew has been pressured into doing that. Clearly as a senior member of the royal family his life would be a great coup for a terrorist as it would for Harry and Meghan.
"I think what needs to be weighed up is the cost of the security and maybe public opinion. It's a PR exercise as much as anything.
"I think it would be impossible to provide British officers in a foreign country. When they were in Canada that could have been a different matter.
"But I think it's utterly unreasonable to expect a Scotland Yard close protection officer to spend even half of his life in America away from his family."