Meghan and Harry's Awkward Polo Trophy Moment Caught on Camera
Prince Harry and Meghan Markle shared an awkward moment lifting a polo trophy after a win in the California sunshine.
Harry recently joined Los Padres alongside friend Nacho Figueras and is playing a season with his new teammates.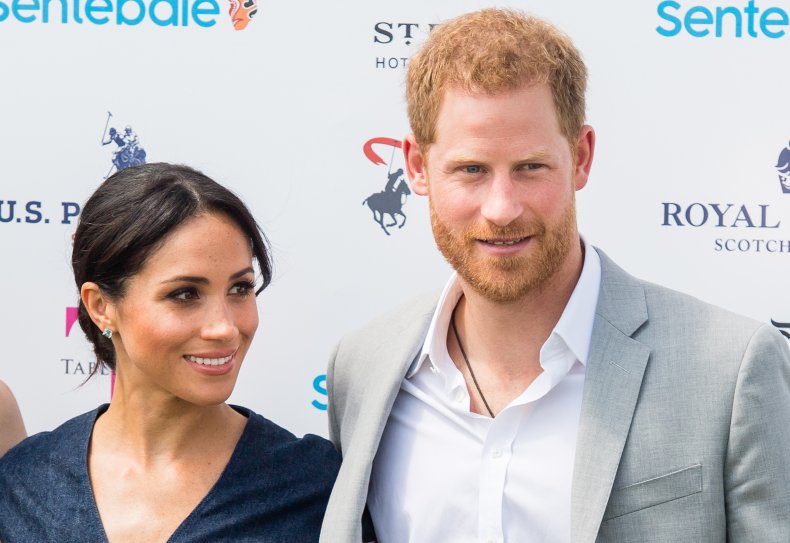 Meghan stunned in a polka dot blouse, pleated white shorts, and sun hat at the Santa Barbara Polo and Racquet Club on Saturday.
She was also seen walking side-by-side with her former Suits co-star, Abigail Spencer, during the event—a short distance from Harry and Meghan's home in Montecito.
The joyful day did include one awkward moment, however, when the winning team fumbled the trophy over Meghan's head, temporarily obscuring her in the process.
But the duchess took the brief confusion in her stride, and moments later the players had set up a team photo with Meghan in the middle.
The couple also got to share a sweet moment as Meghan put her hands up to Harry's face so the cameras could not see her kiss him on the lips.
The prince reportedly committed to playing the full , but it is possible he may miss some for Queen Elizabeth II's Platinum Jubilee, with celebrations scheduled for between June 2 and 5.
The Cheval Athletics USPA Intra-Circuit tournament runs from June 3 to June 19, but it is not yet clear when Harry's games would be.
Whether there is a clash or not, the couple have said they will come to Britain to help the queen mark her 70 years on the throne.
A spokesperson for the couple said in a statement released to Newsweek: "Prince Harry and Meghan, The Duke and Duchess of Sussex are excited and honoured to attend The Queen's Platinum Jubilee celebrations this June with their children."
Buckingham Palace has, however, confirmed the couple will not be invited onto the balcony at Trooping the Colour on June 2, leaving it uncertain what events they will attend.
Harry and Meghan's spokesperson has not confirmed when fans will get to see them, though there are a number of other events they could consider.
Among them is the Service of Thanksgiving for the Queen's Reign at St Paul's Cathedral in London on June 3.
The royals will also be at the Epsom Derby on June 4, and there will be a pageant outside Buckingham Palace on June 5.
There may be a second balcony appearance at the pageant, though nothing has been confirmed publicly by the palace yet.
For more royal news and commentary check out Newsweek's The Royal Report podcast: