How Many Kids Will Meghan Markle and Prince Harry Have? Queen Elizabeth II's Grandson Says Five Is 'Too Many'
Prince Harry and Meghan Markle, the Duke and Duchess of Sussex, are having a baby, Kensington Palace announced on Monday. The child will mark the first for the couple, who have been outspoken about their desire to start a family from the moment they announced their engagement last year.
Now that the countdown is officially on for the arrival of Harry and Markle's first child, who has an expected spring 2019 due date, some folks are already starting to wonder how many more kids the lovebirds will add to their brood over time. While it's unclear exactly how many children the couple would like to have, Harry has at least made it clear how many children he doesn't necessarily want to raise.
Shortly after tying the knot, Harry joked five children was just too many while speaking with fans in Dublin during the couple's first tour to Ireland in July. Elaine Adam-Stewart, one of the lucky folks Harry greeted during his visit, told People magazine she had a short conversation about kids with the prince and said to him, "My husband also has red hair and he gave me five children—when are you and Meghan going to get going?"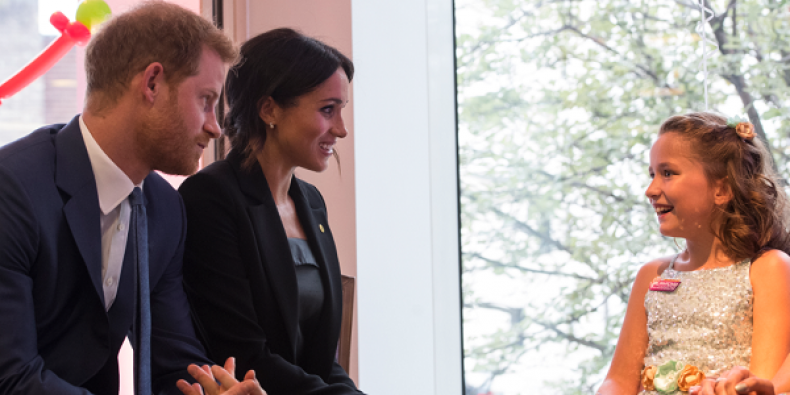 Adam-Stewart said Harry was tickled by her comment. "He laughed and said, 'Five children? Too many.'"
Harry and Markle share a love for children and have participated in numerous charity functions for children in need. The couple recently paid a visit to kids suffering from various health ailments at a WellChild event in London back in September.
Harry is an uncle to three kids already: Prince George, Princess Charlotte and Prince Louis. They're the children of Harry's brother, Prince William. After William and Kate Middleton started having kids, Harry would often be asked about his own interests in starting a family, to which he would happily open up about his desire to be a father.
"You know, one step at a time. Hopefully, we'll start a family in the near future," Harry told BBC during his first joint interview with Markle in November 2017.