What Will Meghan Markle and Prince Harry Name Their Royal Baby? Duchess Has 'a Long List' of Potentials
Prince Harry and Meghan Markle, the Duke and Duchess of Sussex, already have a few ideas about what they're going to name their baby.
The couple is currently on their first joint tour in Australia. During a visit with students in Melbourne, Markle revealed she already received a few suggestions for the royal baby's name. "We've been given a long list of names from everyone," Markle said on Thursday.
Markle didn't reveal any specific names she and Harry may be considering that were on the list but said they were going to spend some time deciding. "We're going to sit down and have a look at [the names]," she said.
Markle isn't expected to give birth until sometime in spring 2019, so they have plenty of time to choose the perfect moniker for the new addition to their family.
Kensington Palace announced the couple's pregnancy news on Monday. "Their Royal Highnesses The Duke and Duchess of Sussex are very pleased to announce that The Duchess of Sussex," the statement read. "Their Royal Highnesses have appreciated all of the support they have received from people around the world since their wedding in May and are delighted to be able to share this happy news with the public."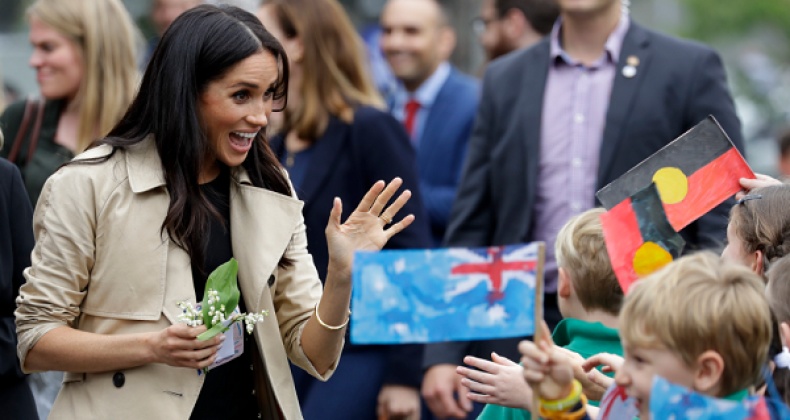 Markle and Harry may not have decided on a name for their little one just yet, but that hasn't stopped fans from speculating or placing bets. Some of the royal couple's followers think they may choose to honor Harry's late mother Princess Diana by naming their child after her, should the baby be a girl. But bookies, who have already started taking bets on baby names, say the most popular names for Harry and Meghan's first child are Alexander, Alice and Arthur.
Private bookmakers Fitzdares told London's Evening Standard the name Alexander is the favorite for a boy at 2-1 while Alice leads female monikers 5-2. Meanwhile, Philip, the name of the baby's great-grandfather and Queen Elizabeth II's husband, is tied with Albert 6-1.