The royal baby is already keeping Meghan Markle, duchess of Sussex, up at night. Prince Harry's wife opened up about her pregnancy as she chatted with Sydney residents at Bondi Beach during the couple's Australian tour Friday.
The couple were on the fourth day of their tour when Markle shared some of her pregnancy pangs with local resident Charlotte Connell, who is also expecting. Connell relayed the conversation to Sky News. "Meghan told me that pregnancy was like having jet lag," Connell told the British news outlet. "She said she was up at 4:30 a.m. this morning doing yoga in her room, as she couldn't sleep."
From the sound of it, Markle and Harry are expecting a rather active baby.
Markle will likely continue to practice yoga during her pregnancy; it's an exercise favorite of the former Suits star. "Yoga is my thing," Markle said in 2015 interview with Best Health magazine. "My mom [Doria Ragland] is a yoga instructor, and I started doing mommy-and-me yoga with her when I was 7."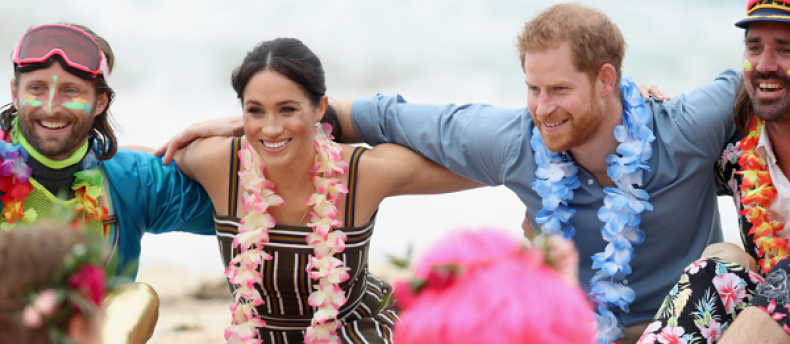 Kensington Palace announced the couple was expecting their first child on Monday. "Their Royal Highnesses The Duke and Duchess of Sussex are very pleased to announce that The Duchess of Sussex is expecting a baby in the Spring of 2019," the palace said in a statement. "Their Royal Highnesses have appreciated all of the support they have received from people around the world since their wedding in May and are delighted to be able to share this happy news with the public."
While it's much too soon to predict the baby's gender, Markle and Harry already have a few baby names they're considering. The duchess told fans in Melbourne she'd received a "long list of names from everyone," and she and Harry were "going to sit down and have a look at them."