Pregnant Meghan Markle Pictures: Duchess Cradles Baby Bump on Final Moments of Royal Tour and More Photos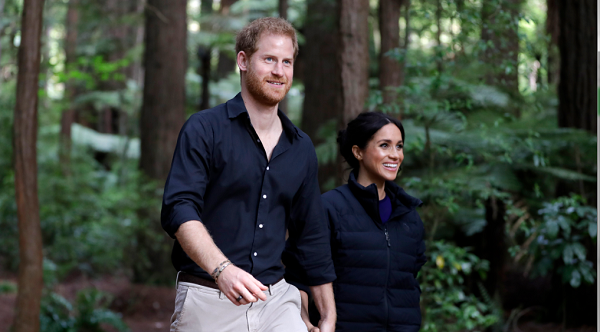 Prince Harry and Meghan Markle's first royal tour together has finally come to an end. The Duke and Duchess of Sussex are headed back to their Kensington Palace home on Wednesday after wrapping up the final and 76th engagement of their 16-day royal tour of Australia, Tonga, Figi and New Zealand.
The couple didn't end their final stretch of touring in Auckland, New Zealand, without giving fans one last baby bump moment. The couple announced they were expecting their first child just days before their trip started on October 15, and although Markle is in the early stages of her pregnancy, her tiny baby bump was already starting to show by the time they arrived in the country.
Auckland residents got a good glimpse of Markle's growing tummy while the duchess greeted members of the public on Tuesday. Markle, wearing a close-fitting neutral-toned Brandon Maxwell dress and matching Burberry Bishop trench coat, was photographed cradling her baby bump during the couple's visit to Pillars.
The way she holds her baby bump already seems to be Markle's pregnancy trademark. The duchess was spotted on numerous occasions throughout the trip touching her stomach or cradling her burgeoning belly while holding on to her husband's hand with the other.
Even Harry is participating in the baby joy. When the couple arrived in New Zealand Sunday, the prince expressed how excited his family, including their newest addition, was to be in the country. "From myself, my wife and our little bump, we are so grateful to be here. We bring blessings from my grandmother the Queen and our family. We are so grateful for your hospitality and the work to look after this beautiful place," he said.
The couple still has quite a ways to go before their new bundle of joy makes its official debut. Markle isn't due to give birth until sometime in spring 2019, Kensington Palace announced.