Why Meghan Markle and Prince Harry's Ethical Investing Walks Dangerous Line
Prince Harry and Meghan Markle this week branched out into finance, becoming "impact partners" at an ethical investment firm, in a move that a reputation expert told Newsweek could risk over-monetizing their brand.
The Duke and Duchess of Sussex invested in Ethic earlier this year and have now joined the company, which aims to push capital toward sustainable development.
The move chimes with the couple's focus on the moral aspirations of their younger target audience and it's one of more than 10 projects launched since they quit their royal duties.
Eric Schiffer, chairman of Reputation Management Consultants, told Newsweek: "This is another clever way to extend their brand in ways that align with the affinities of Gen Z and younger Millennials.
"But in many ways it's dangerous because it's getting to the point where it's borderline a department store mentality, where they're looking for every possible extension of how they can apply and monetize.
"You don't want to over monetize anything and they're walking a very careful line.
"I don't think its getting rich that's the issue per se, but it's getting seen as a brand that misses no opportunity to cash in rather than doing good for the purposes of doing good.
"Contrast that to the royal family who are demonstrating benevolence in certain areas without there being a cash flow incentive."
Both Keeping Busy
Harry and Meghan initially joined a public speaking agency, HWA, before signing mega Netflix and Spotify deals.
The duchess also wrote a children's book and the duke is writing his memoir, due in 2022, while they have also taken up the cause of vaccine equity through their charity foundation Archewell's partnership with Global Citizen.
Harry was named chief impact officer of career coaching app Better Up, while the couple also teamed up with multinational consumer goods giant Procter & Gamble.
Their first two Netflix projects are still in production and their Archewell Audio Spotify podcast has so far resulted in a single festive special in December 2020, making Meghan's book, The Bench, the main fruit from their rapid expansion.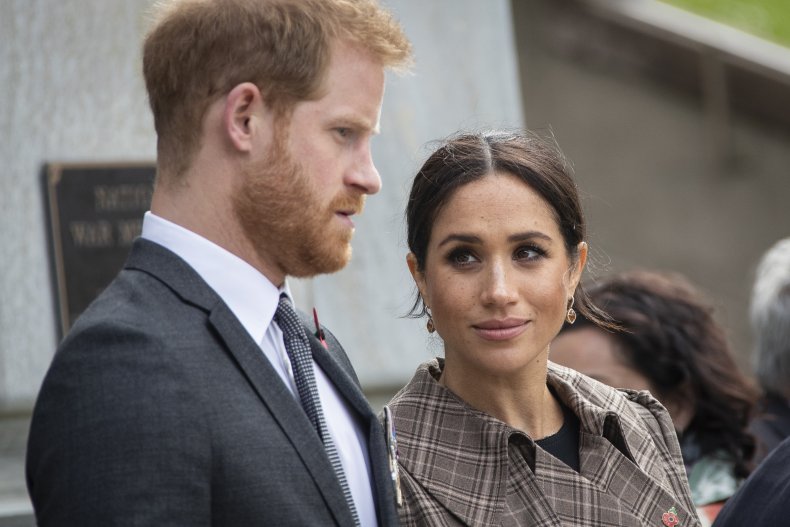 Many of their initiatives, however, fit with the wider social causes the couple have chosen to advocate for.
Harry's first Netflix project, Heart of Invictus, follows competitors in the Invictus Games tournament for injured current and former service personnel that he launched while a working royal.
Meghan's Pearl is an animated series about a 12-year-old girl who meets inspiring women from history, in tune with her feminist beliefs.
Ethic is also in tune with Harry's existing Travalyst eco-tourism venture, dating back to his time as a royal, which approaches fighting climate change using consumer power.
Potential Downside
Schiffer told Newsweek: "They're wrapping themselves in the intent to be noble but there's a deeper cash flow here. And that has potentially serious downsides if they're seen as overly commercial and they're nearing that threshold.
"I'm sure they're getting probably somewhere in the low seven figures and a piece of what may come in from any branded program they're on.
"I think they're getting to the point where it could be deadly from a brand perspective because it will start to raise questions of their true intent and alignment with some of these causes that are part of the roll out.
"So for instance, how much do they really care about the ethical alignment of investment or is this about a pay check?
"I could imagine that this whole ethics focus in Buckingham Palace could be causing a lot of steam to come out of ears because they would probably view it as a farce and provoking a lot of anger because of the ironic and hypocritical positioning."
Angela Levin, who wrote a biography on Prince Harry, told Britain's GB News channel she felt Harry and Meghan were trading off the reputation they built within the royal family.
She said: "The longer they're away and don't come to the UK, I think interest in them will diminish, because they haven't got an up to date sort of understanding of what's going on.
"They want to keep one finger on the royal family in the U.K., probably all they think it deserves, just so they can be attached to companies they know nothing about and can't give them anything.
"They are not financiers, they know zero, but their names will help them do it."
However, Harry's partnership with Better Up so far appears lucrative for the company after it trebled its value to $4.7 billion in just eight months.
The wellness app secured $300 million in a fundraising round with investors including Silicon Valley tycoons, U.K. newspaper The Times reported.