Meghan and Harry Told 'You Need to Get a Life' in Latest U.S. TV Backlash
Prince Harry was described as going from "being a real prince to an actual real housewife" during an unrelenting takedown on The Wendy Williams Show in the latest sign of changing attitudes toward the Duke and Duchess of Sussex in the U.S. entertainment industry.
Comedian Michael Rapaport described them as "Meghan and Harry Markle" last week as he mocked them based on unverified rumors they invited Netflix cameras into their home.
Page Six of the New York Post recently reported the couple were taking part in a Keeping Up with the Kardashians-style reality TV show.
Harry and Meghan's spokesperson denied a similar rumor in September 2020, saying: "The Duke and Duchess are not taking part in any reality shows."
However, the comedian's intervention is significant whether that kind of project emerges from their Netflix deal or not as it is the latest and strongest indication that Meghan's former showbiz industry may be feeling less protective of her.
Michael Rapaport Mocks 'Meghan and Harry Markle' on the Wendy Williams Show
Rapaport told viewers: "They let the cameras into their home for a juicy project."
"I hear you guys moaning and groaning," he continued. "I feel the exact same way. This show will be a human sleeping pill.
"These two, you need to get a life, you need to get a life. You've left the royal family to do a reality show. Meghan and Harry Markle, respectfully. First you guys wanted to do philanthropy."
A producer then cuts in to remind the guest host the couple are officially known as the Duke and Duchess of Sussex.
Rapaport replies: "No, no, no, they're Meghan and Harry Markle, you ain't Sussex. You're Meghan and Harry Markle. They do things their own way and I'm telling you my man took her last name. She's driving the ship."
The criticism included a wholesale attack on their post-royal professional endeavours, including a joking suggestion they may set up a CBD company.
Rapaport added: "Harry Ball Game, who went from being a real prince to an actual real housewife. You guys said you didn't want attention you didn't want to be in the limelight but you're starting a reality TV [show]. This is how you really become royalty in America is you start your own reality TV show. I just don't know what they want, what's their end game?"
Newsweek has contacted the Duke and Duchess of Sussex for comment.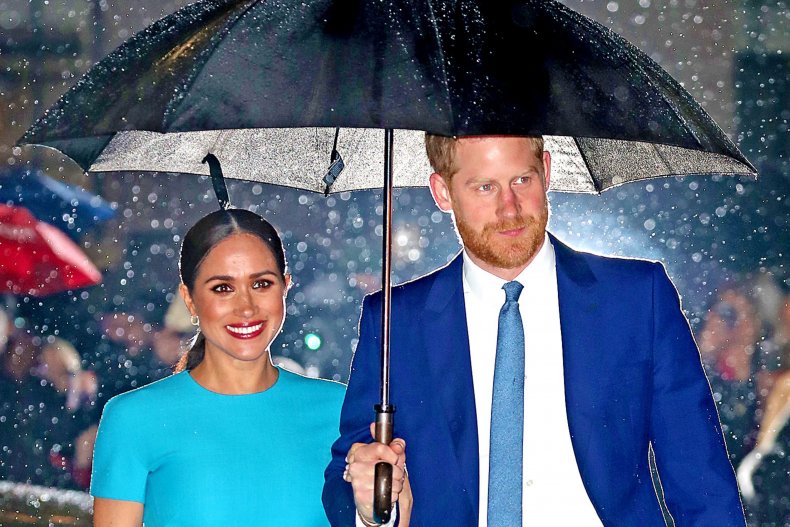 Harry and Meghan's Post-Royal Career Goes Off With a Bang
Prince Harry and Meghan Markle's post-royal lives started with fanfare after the New York Times announced they had signed what its headline described as a "Megawatt Netflix Deal" in September 2020.
When they added Spotify to their portfolio that December, the couple appeared to be flying into high profile entertainment industry careers with rampant speculation on how much their twin contracts were worth.
Then their Oprah Winfrey interview landed a global audience of nearly 50 million viewers and triggered a global conversation about racism and mental health.
Prior to that point, the couple had been criticized fiercely by conservatives and mocked by former President Donald Trump, but were less so in the entertainment industry.
Attitudes to Harry and Meghan Since Oprah Winfrey
Rapaport's comments are not the first time the showbiz world, where Meghan made her name, has knocked the couple down professionally.
Colin Jost and Michael Che mocked the duchess' standing in a Saturday Night Live "Weekend Update" segment in April while talking about Elon Musk's controversial takeover bid at Twitter.
"Come on, Elon built electric cars," Jost said. "He's going to Mars. Why is he even involving himself with Twitter? It would be like if the Prince of England gave it all up just to marry an actor from Suits."
America Warming to the Royals Again
After Meghan and Harry's Oprah Winfrey interview then White House press secretary Jen Psaki was among those to praise Meghan for discussing her suicidal feelings during royal life.
Psaki said: "For anyone to come forward and speak about their own struggles with mental health and tell their own personal story—that takes courage.
"And that's certainly something the president believes, and he's talked about the importance of investing in a lot of these areas that they're committed to in the future."
The atmosphere in March 2021 was so charged that in Britain Piers Morgan told Good Morning Britain viewers he did not believe the duchess' accounts of feeling suicidal only to then resign from his job under pressure to apologize.
The interview itself took aim at Harry's family on multiple counts, including at Prince Charles for cutting the couple off financially and refusing to take his son's calls.
However, Biden saw Charles at climate change conference COP26 in November 2021, and shared an unusually warm exchange with the future king, saying: "We need you badly, I am not just saying. You got the whole thing going, that's how it started."
While a degree of warmth would always be expected at a formal function, Biden's effusive comments went beyond formalities.
Charles, the apparent villain of the CBS tell-all, was a hero again just eight months later.
Tom Cruise has also been charming the royals as he publicized new movie Top Gun: Maverick—taking Kate Middleton's hand alongside Prince William as they made their way into a premiere in London.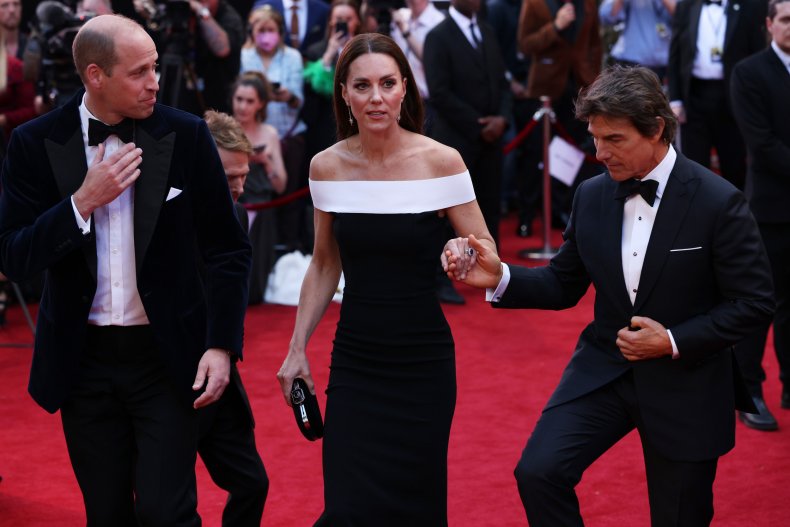 The exchange was a long way from a moment in 2020 when, shortly after the Sussexes quit royal duties, Brad Pitt gave the future king an awkward moment by nicknaming his BAFTA award "Harry" because he was taking it back to America with him.
Meanwhile, Harry and Meghan are under increasing pressure to release any content on either their Netflix or Spotify deals around 18 months in.
Harry and Meghan are no longer the targets only of commentators on the right but also America's comedians while the royals are getting praise from the U.S. president.
Rapaport ended his segment: "Harry you're no longer a prince in my humble opinion, you've turned into a putz."
For more royal news and commentary check out Newsweek's The Royal Report podcast: