Meghan Markle, Prince Harry Have 'Dealt With' Biggest Royal Exit Issues 12 Months On
Meghan Markle and Prince Harry have "dealt with" the four biggest issues left for their 12-month review one year on from their historic Megxit announcement, a source tells Newsweek.
The Duke and Duchess of Sussex dramatically announced they were quitting royal life a year ago today, triggering crisis talks with the Monarchy.
Prince Harry sat down with Queen Elizabeth II, his father Prince Charles and brother Prince William on January 13 to thrash out how he would abandon his destiny for a new life in North America.
There then followed days of intensive negotiations with palace staff, leading to a deal eventually being brokered.
The royal family agreed there would be a 12-month review period ending on March 31, 2021, during which unresolved problems would be dealt with, while the queen would leave the door open for a potential return to Britain.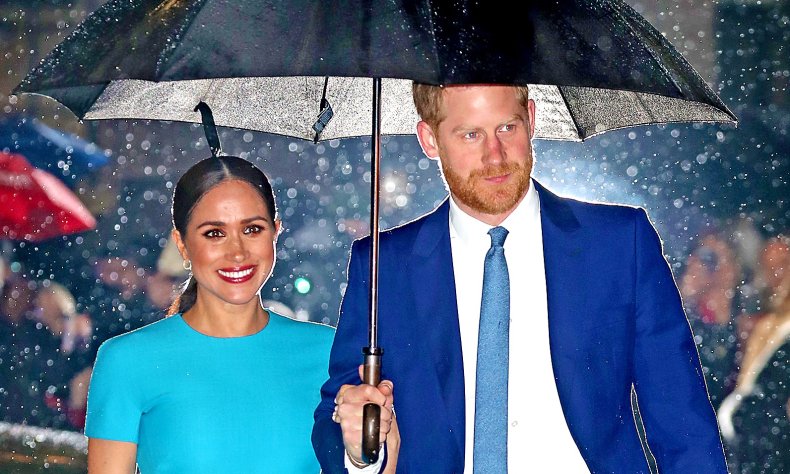 However, a Sussex source told Newsweek the biggest concerns that were not finalized during those dramatic discussions have now been addressed.
The source said: "The 12-month review was mostly a period of time when the transition could take place.
"The biggest things that were part of it were around financial independence, household support and staff, security and housing—all of which have been dealt with."
Harry and Meghan landed a mega, multi-year Netflix deal estimated at up to $150 million and a Spotify deal estimated at between $35 and £75 million.
As Newsweek revealed this summer, the duke and duchess have stopped receiving money from Prince Charles, making them fully financially independent.
They bought a house together for the first time in June, moving into their Montecito mansion in July, securing their housing situation.
Donald Trump declared the couple's security would not be publicly funded shortly after their move to the U.S. and Harry and Meghan confirmed they would arrange protection privately.
They have also been building their staff, hiring Catherine St-Laurent, a former staffer of Bill and Melinda Gates.
Their PR team is now led by former Pinterest communications head Christine Schirmer and includes new press secretary Toya Holness.
They also launched their new charitable foundation Archewell.
Newspaper reports about the review period have been circulating in Britain with suggestions a face-to-face meeting between Queen Elizabeth II and Prince Harry will need to be postponed due to new coronavirus restrictions.
However, a Sussex source told Newsweek "it's massively overblown" while a palace insider said it was "all just guesswork."
One additional area raised by the U.K. press is their patronages, though a palace source told Newsweek these were a "matter for the trustees of those charities/organisations."
A Sussex source said: "They are continuing to work very closely with all their patronages.