Meghan Markle and Prince Harry should be invited to Queen Elizabeth II's Platinum Jubilee—even though the move could leave the royals feeling more betrayed by his upcoming memoir, a royal author has told Newsweek.
Unconfirmed reports in U.K. broadsheet The Daily Telegraph suggested the Duke and Duchess of Sussex have been invited to appear on the Buckingham Palace balcony in June, during celebrations of the monarch's 70-year reign.
A royal source told Newsweek the suggestion was speculation, but there has long been debate in Britain about whether the couple will attend.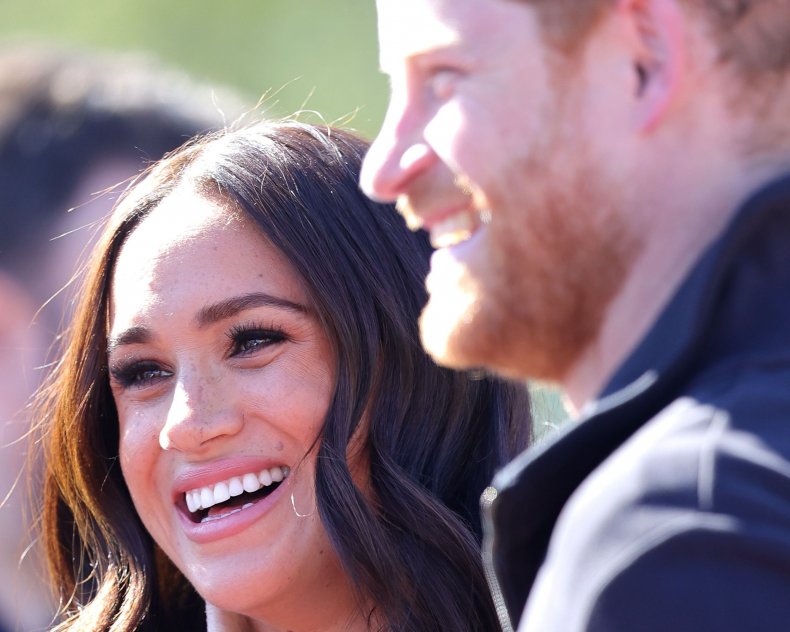 It comes after Meghan and Harry stopped off in Britain to see the queen, who turns 96 on April 21, and Prince Charles on their way to the Invictus Games last week.
Robert Jobson, author of upcoming biography William At 40, told Newsweek extending an invite to the couple could help repair the royal rift following the bombshell Oprah Winfrey interview of March 2021.
He said: "It would be a step in the right direction. They're a family. There are rifts in families, whether you're the royal family or not.
"It's the right move to make things start to happen but they are baby steps. We don't know whether they are going to be on the balcony. We will see in June."
Meghan and Harry accused an unnamed royal of making racist comments about their unborn baby while they were working royals in the CBS prime time tell-all.
Harry also accused his father of cutting them off financially and suggested palace aides stopped them seeing the Queen while they were trying to negotiate their way out of royal life.
However, the interview's criticisms may not be his last as the duke has a memoir due for release later this year that will tell his life story.
Jobson said: "The problem they face is this book that's coming out and what it says. We'll have to see about the fallout from that. They're drinking in the last chance saloon.
"If there are breaches of trust or if, after coming back in the fold, the appearance is just a stand so they can record film for their documentary it would look really bad.
"A lot of people would feel they had been used if that was the case.
"He's got to have a really good look at himself. Does he want to rebuild bridges with his family?"
Harry and Meghan were seen at the Invictus Games with a significant entourage including a film crew recording for a Netflix docuseries, Heart of Invictus.
There are several jubilee events they could appear at if an invitation is offered.
Among the more high profile would be an appearance on the Buckingham Palace balcony at Trooping the Color, the Queen's birthday parade, on June 2.
More than 1,400 soldiers, 200 horses and 400 musicians will pay tribute to the Monarch, as the royals themselves ride down The Mall, in London, on horseback or in carriages.
Ingrid Seward, author of Prince Philip Revealed, told Newsweek: "I doubt very much if they'll be on the Buckingham Palace balcony because they're not working royals."
The royal author said it was more likely the Sussexes might attend a less high-profile event, such as a Service of Thanksgiving for the Queen's Reign, due to be held at St Paul's Cathedral, in London, on Friday, June 3.
She added: "The service of thanksgiving would be the thing for them to go to and they won't be bringing their children to that.
"I can't see, if they're requesting privacy, that they can show their children off on a balcony."
For more royal news and commentary check out Newsweek's The Royal Report podcast: