Meghan Markle and Prince Harry Launch Archewell Website: 'A Place We Go to Dig Deep'
Meghan Markle and Prince Harry have launched the website for their Archewell foundation with a simple message about digging deep.
The Duke and Duchess of Sussex have already been working through the new organization in their public comments about the digital world for TIME100 Talks.
And they launched archewell.com without fanfare on Tuesday to coincide with their latest appearance.
For now, archewell.com simply contains an explanation of how they came up with the name.
It reads: "Arche (/rki/; Ancient Greek: ): (n.) Greek word meaning "source of action"
Well (/wel/): (n.) a plentiful source or supply; a place we go to dig deep."
While there is little else on the site, they are collecting email addresses for fans who want to be kept up to date with their projects.
A source told Newsweek: "Archewell has been in motion for some time now.
"For example, the episode they curated for TIME on the state of our shared digital experience was based on the work they've been doing—and conversations they've been having—all year.
"That's all Archewell. And there's more to come."
Meghan and Harry told TIME100 Talks how the world is engaged in a global crisis of hate on social media platforms.
The prince said: "What is happening in the online world is affecting the world. It is not restricted to certain platforms or certain social media conversations or groups.
"This is a global crisis—a global crisis of hate, a global crisis of misinformation, and a global health crisis."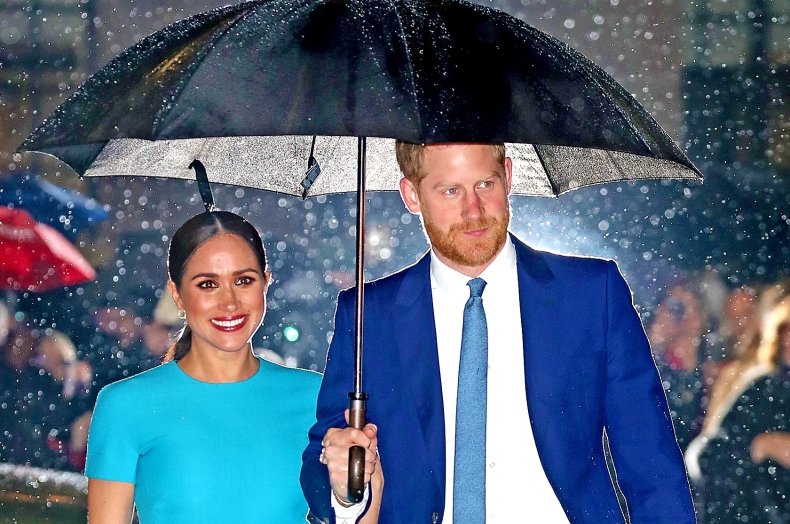 Meghan added: "This isn't just a tech problem. This isn't solely a mental health or emotional wellbeing problem.
"This is a human problem. And what's happening to all of us online is affecting us deeply offline."
Meghan also questioned whether the tech industry should "be self-policing" as she talked regulation of social media with author Safiya Noble.
"Is it enough, and I think I know your answer to this, for these platforms to be self-policing? Or if not what is the solution?"
Noble, author of Algorithms of Oppression, said: "We know that public policy and regulation is absolutely crucial to these conversations about how business is conducted in the United States and abroad.
"Many governments have to contend with consumer harm and consumer safety around products.
"That's certainly one way in which it can be framed. We can also look at human rights and civil rights models on interventions."
She added: "I don't think that the tech industry can regulate itself. It's a little bit like the fox guarding the henhouse."
When Archewell was first launched, Meghan and Harry said in a statement: "Before SussexRoyal, came the idea of 'Arche'—the Greek word meaning 'source of action'.
"We connected to this concept for the charitable organization we hoped to build one day, and it became the inspiration for our son's name.
"To do something of meaning, to do something that matters.
"Archewell is a name that combines an ancient word for strength and action, and another that evokes the deep resources we each must draw upon.
"We look forward to launching Archewell when the time is right."