Meghan Markle and Prince Harry have been warned off trying to "live like Princess Diana" by relying "on billionaires for jets and bodyguards."
Like his mother, the prince crashed out of royal life amid a wave of headlines about the impact on the monarchy.
Now he faces his father's affair, with then Camilla Parker Bowles, being broadcast to an audience of millions by Season Four of The Crown, which depicts's Diana's bulimia and loneliness.
However, Patrick Jephson, Diana's former private secretary, claims there is a lesson for the Duke and Duchess of Sussex in Diana's difficult time after ties with the royals were cut.
The princess separated from Charles in 1992, but her decisive split from Monarchy followed a 1995 bombshell interview in which she discussed her mental health struggles.
She famously told BBC Panorama: "Well, there were three of us in this marriage, so it was a bit crowded."
Writing in the Daily Mail, Jephson said: "The temptation for some of today's Royal Family is to live like Diana after Panorama: no longer anchored to the humdrum concerns of British subjects, preferring the ego rush of the world stage and the shallow flattery of the international rich and famous.
"As perhaps her younger son Harry has discovered, you can escape the Palace but finding relevance and respect as just another celebrity is much, much harder. So much easier to take the shortcut: keep lawyers and PR wizards on retainer and preach platitudes to the unenlightened masses.
"Pretty soon, you have crossed the line from setting a good example—all a member of the Royal Family really has to do—to setting yourself up as an expert in public policy without the trouble of winning an election.
"It's surely not what conscientious princes (and dukes and duchesses) intend, but it's the risk they run when they lose touch with real people's everyday concerns; when their personal enthusiasms take priority over the much less glamorous traditional royal work of healing and encouraging that needs to be done every day."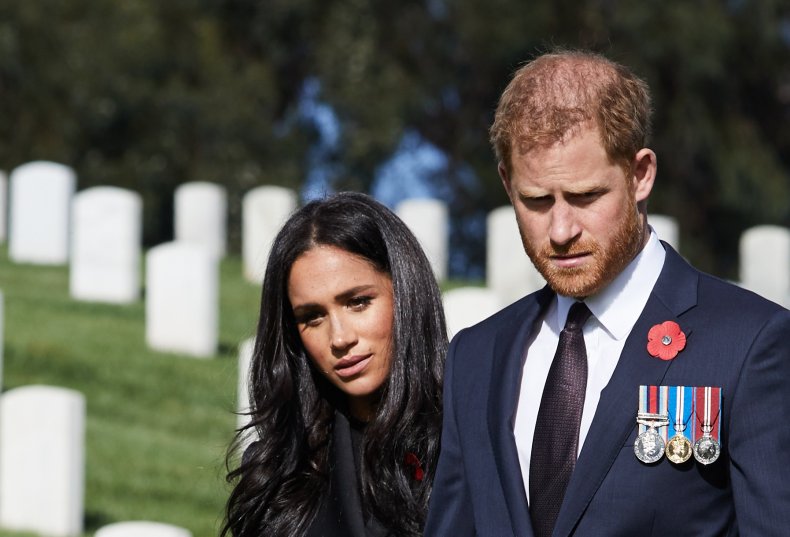 Harry and Meghan were criticised for flying by private jet while speaking about fighting climate change, while still working royals. One such trip was on a private jet paid for by Elton John, who was also a close personal friend of Diana.
After quitting royalty, Harry and Meghan lived for several months in Tyler Perry's mansion, protected by the Hollywood producer's security detail.
Jephson said the "saddest line" from Diana's explosive interview with the BBC was: "I want to reassure all those people who have loved me and supported me throughout the last 15 years that I'd never let them down."
Her words have echoes of a speech Harry made in January explaining his decision to step back as a senior working royal.
He told guests of his charity Sentebale: "What I want to make clear is we're not walking away, and we certainly aren't walking away from you."
Jephson wrote: "Even as she was saying it, she was letting 'all those people' down—and at some level, the old Diana of duty and common sense knew this, just as she knew that Panorama was the death knell for her royal career.
"Once outside the royal fold, Diana would increasingly rely on billionaires for jets and bodyguards, for photo opportunities and speech platforms. People whose agendas and publicity instincts began and ended with their own interests."
Princess Diana was dating Dodi Fayed, son of prominent businessman Mohamed Al Fayed, when the couple died in a Paris car crash in August 1997.