Prince Harry and Meghan Markle undertook numerous long and short-haul tours during their time spent as full-time working members of the royal family. Known for their relaxed manner and ease of communication with members of the public, the Sussexes tours produced a number of memorable moments from the heartfelt to the hilarious.
Here are just 10 of Harry and Meghan's most memorable royal tour moments:
Unexpected Downpour in Dubbo, Australia, 2018
On their first foreign tour to Australia, Tonga, Fiji and New Zealand Harry and Meghan seemed to bring the British weather with them. On a picnic in Dubbo, Australia at the beginning of the tour the heavens opened and while Harry gave his speech, Meghan held an umbrella over her husband's head. The images spread across social media earning a wave of praise for the unfazed royals.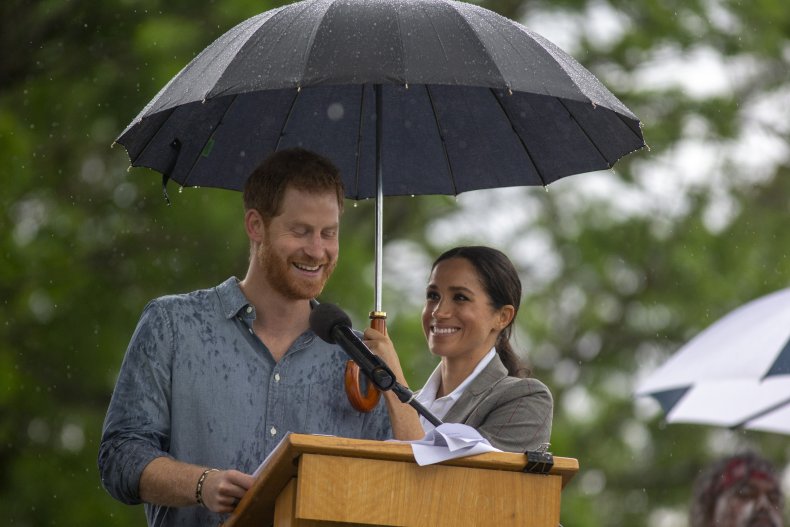 Harry's Biggest Fan, Sydney, 2018
On previous visits to Australia, Harry met elderly resident Daphne Dunne who had waited each time in the crowds to meet him. The 2018 tour allowed Harry to reconnect with Dunne and this time introduce her to his new wife, who was charmed by the nonagenarian. The meeting would prove particularly poignant as Dunne passed away just months after Harry and Meghan's visit. Days before she died, Harry and Meghan sent Dunne a congratulatory birthday message on reaching the age of 99. According to reports it read:
"Dear Daphne,
My wife and I send our warmest wishes to you on the occasion of your 99th birthday on Friday. We hope that you have a wonderful celebration surrounded by family and friends, and that you've managed to escape the hospital. Congratulations on reaching this important and impressive milestone before your centenary year next year. Happy birthday, Daphne.
Best wishes,
Harry and Meghan, the Duke and Duchess of Sussex"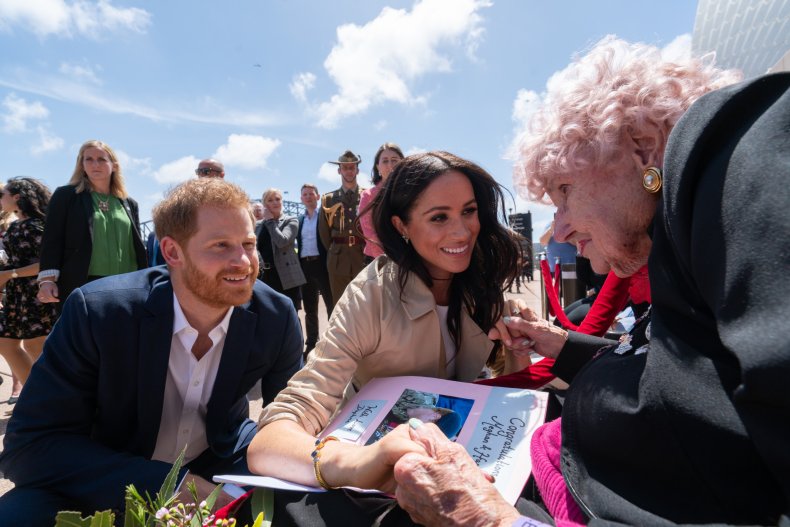 Invictus Games Medal Ceremony, Sydney, 2018
The Australia tour coincided with the Invictus Games at which Harry and Meghan awarded medals to winning participants. The games have played an important role in Harry and Meghan's relationship. In 2017 the pair made one of their early public outings together at the Toronto games after announcing that they had started dating. Harry is expected to attend the 2022 Invictus Games in the Netherlands in April.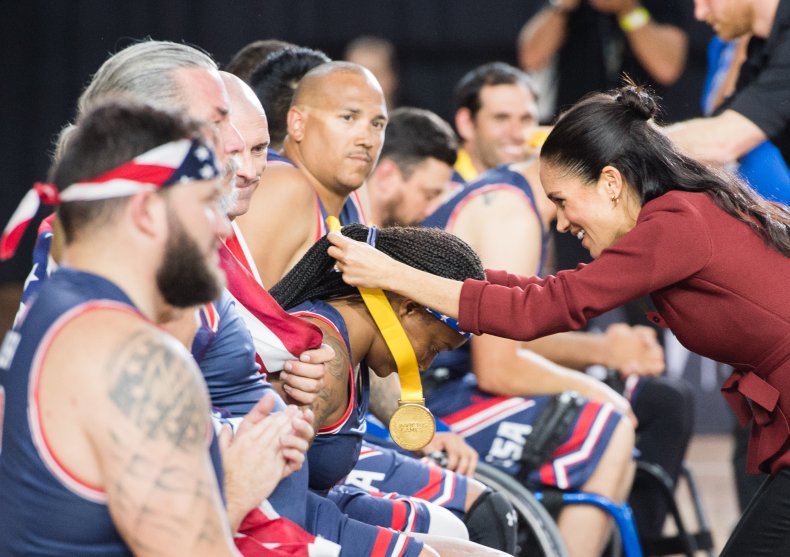 Evening Balcony Appearance, Fiji, 2018
When the royal couple arrived in Fiji as part of the 2018 South Pacific tour, they undertook a rare balcony photo call at the Grand Pacific Hotel in Suva. The couple appeared in the evening and were illuminated by the hotel lights making for a series of dramatic pictures. The balcony appearance echoed one made by Harry's grandmother Queen Elizabeth II on her visit to the Grand Pacific Hotel in 1953.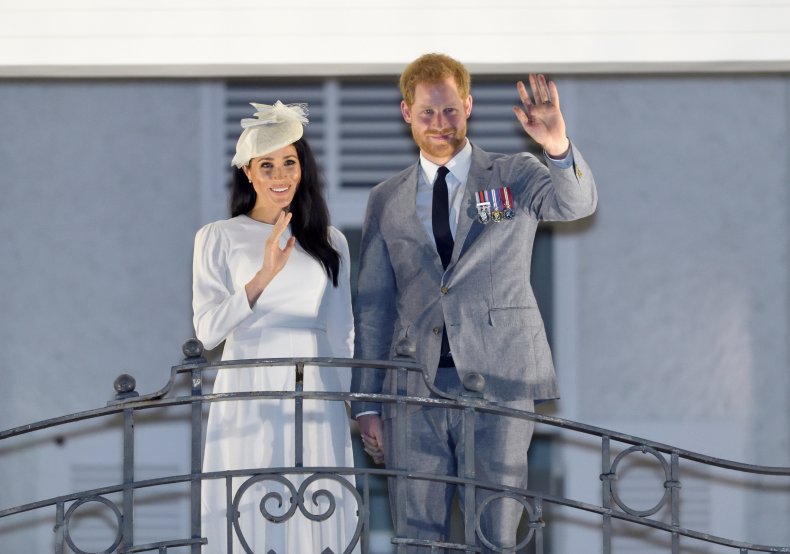 Royal Honor in Tonga, 2018
Harry and Meghan received gifts of items of national dress on the final day of their visit to Tonga during their South Pacific tour. The couple donned the gifts as a mark of respect as they enjoyed Tongan hospitality, wearing traditional skirts known as 'ta'ovala' which had been created especially for them by local craftspeople.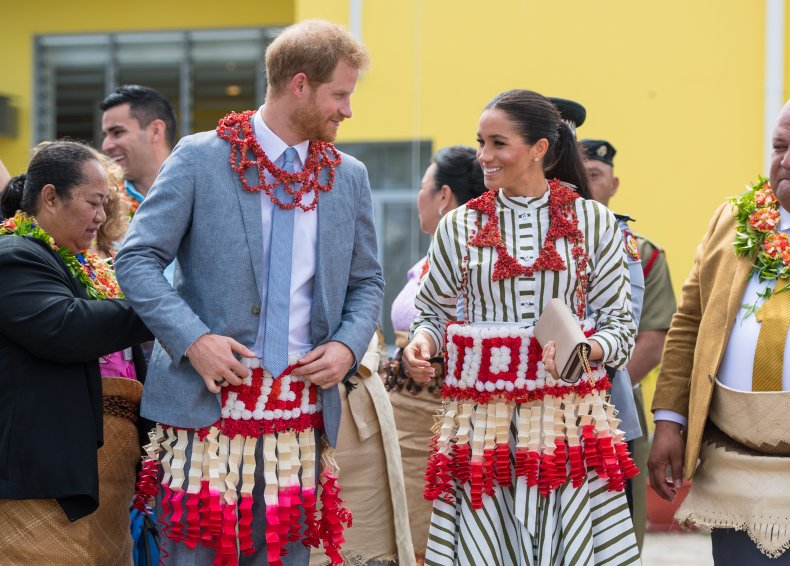 Diplomatic Dogs, Ireland, 2018
A standout moment from Harry and Meghan's 2018 visit to the Republic of Ireland came courtesy of President Michael D. Higgins' enormous Bernese Mountain Dogs. A passionate animal lover, Meghan was photographed playing with and fussing over the dogs at a photo call with Harry and the official party. When time came to leave the president, Meghan and Harry paid a special farewell to their new four-legged friends with a little extra attention.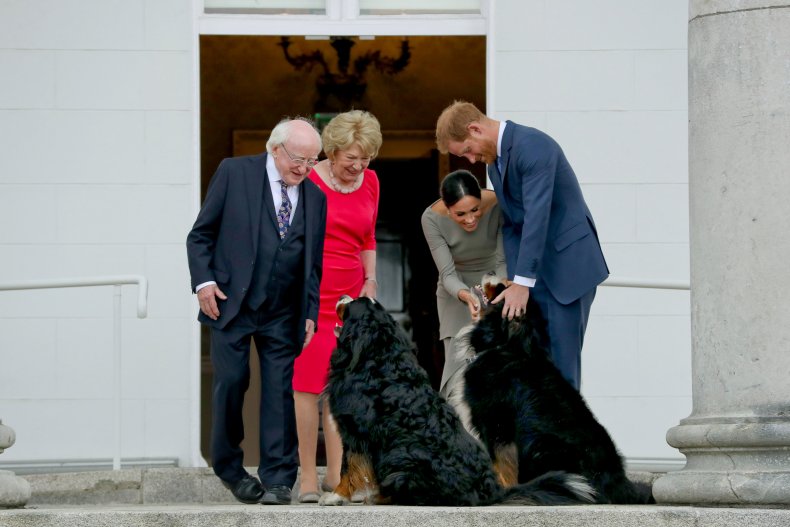 Meeting With the King of Morocco, 2019
During a 2019 royal tour of Morocco, Meghan wowed her hosts and the crowds of royal watchers in a stand out Carolina Herrera blue printed dress. When introduced to King Mohammed VI, Meghan gave an elegant curtsy and Harry the customary bow. The royal couple and the king appeared to get along very well with Harry reportedly telling the monarch that he wanted to return to Morocco soon with his child.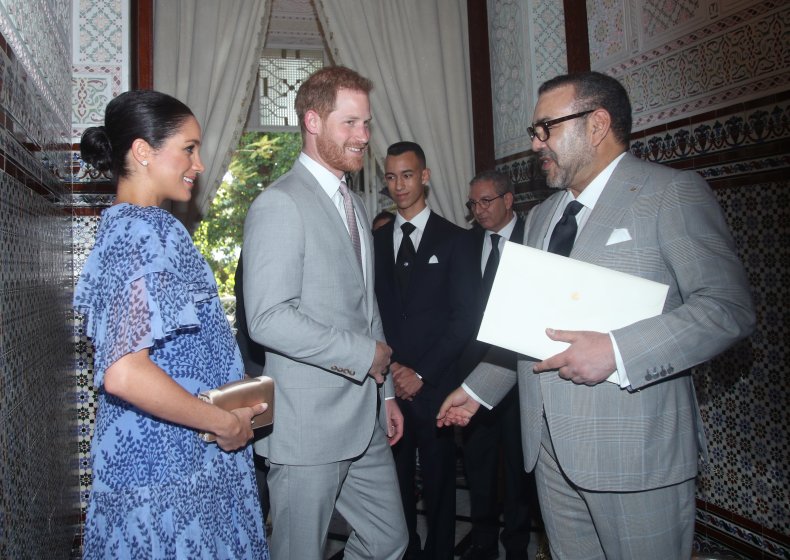 Angola Minefields, 2019
One of the most touching moments on Harry and Meghan's 2019 tour of Africa took place during a visit to Angola. Princess Diana had made a humanitarian visit to the country in 1997 just months before her tragic death. On her visit Diana was photographed walking through a minefield and the shocking images drew the world's attention to the plight of the Angolan people. On his visit to Angola in 2019 Harry recreated his mother's famous photo call in an attempt to continue her legacy and highlight the landmine issue which continues to threaten lives.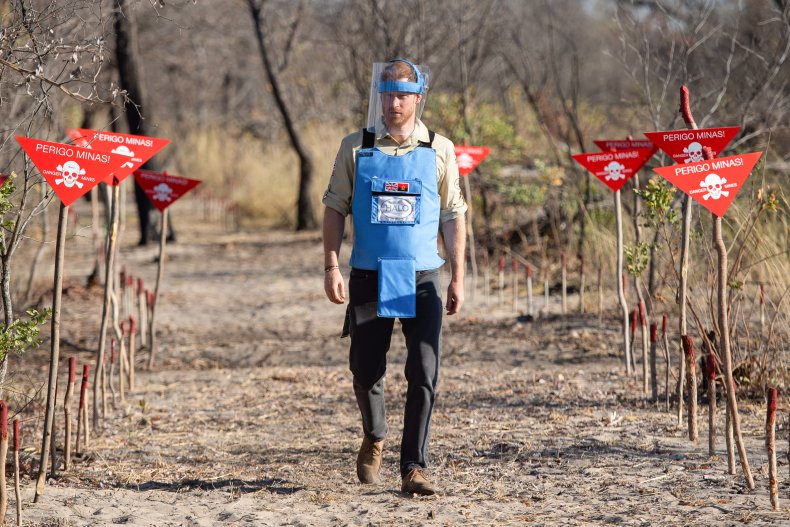 Archie's First Tour, Cape Town, South Africa, 2019
Meghan and Harry took their son Archie Harrison Mountbatten-Windsor with them on their 2019 tour of African nations and this marked his first public outing at only 10-months-old. The royal parents introduced their son to the anti-apartheid campaigner Archbishop Desmond Tutu. Following a half-hour meeting with the couple the archbishop is reported to have told them: "It's very heart-warming, let me tell you, very heart-warming to realize that you really, genuinely are caring people."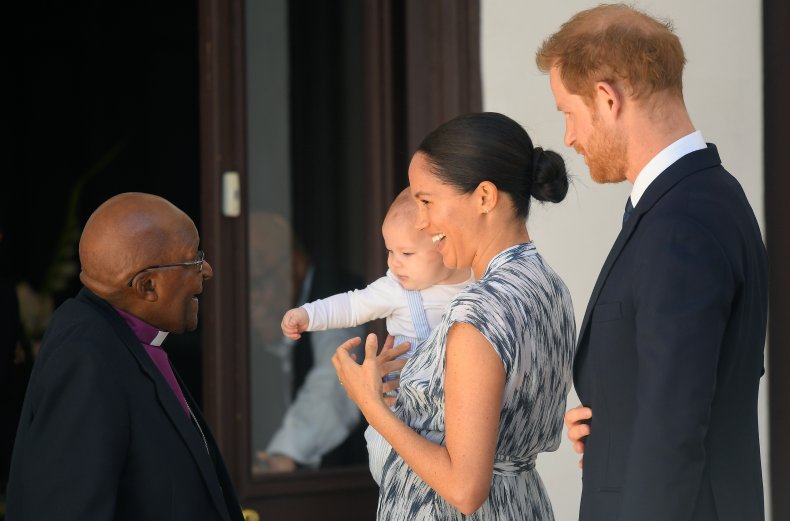 Meghan's Interview, Johannesburg, 2019
Perhaps the most serious moment to have occurred on one of Harry and Meghan's royal tours was an interview that Meghan gave to British broadcast journalist Tom Bradby while in Johannesburg. Meghan told Bradby about the struggles she was having with her mental health in the wake of the tabloid press intrusion she was experiencing in the year following her marriage. The couple would launch legal action against misrepresentation in the press on their return from the tour and it is seen by many as the precursor to the Sussexes' decision to step back as full-time working members of the royal family.