Meghan Markle and Prince Harry Oprah Interview: Five Things To Look Out For
Meghan Markle and Prince Harry's tell-all interview with Oprah Winfrey will see allegations targeting "the firm"—here are five things to look out for.
The Duke and Duchess of Sussex's pre-recorded interview will be broadcast tonight from 8 p.m. to 10 p.m. ET on CBS.
Oprah will guide them through their story from Meghan's entrance into the royal family, through her marriage and the birth of Archie to their decision to quit royal life and build a new family in America.
The tell-all will be broadcast to a global audience and is set to be the biggest royal interview since Princess Diana and Prince Charles separately discussed the breakdown of their marriage in the 1990s.
Prince William
The royal rift between Prince Harry and his older brother has been well-publicized, with historian Robert Lacey writing an entire book on it, Battle of Brothers.
Viewers will be eager to learn whether Meghan and Harry take aim at Prince William or reserve their criticisms for palace staff.
If they decide to talk openly about the rift at the heart of the royal family, there are some indications of what might be said from what has already been published.
Another biography, Finding Freedom, claims Prince Harry thought his brother was a snob and feared there may be racism within the palace.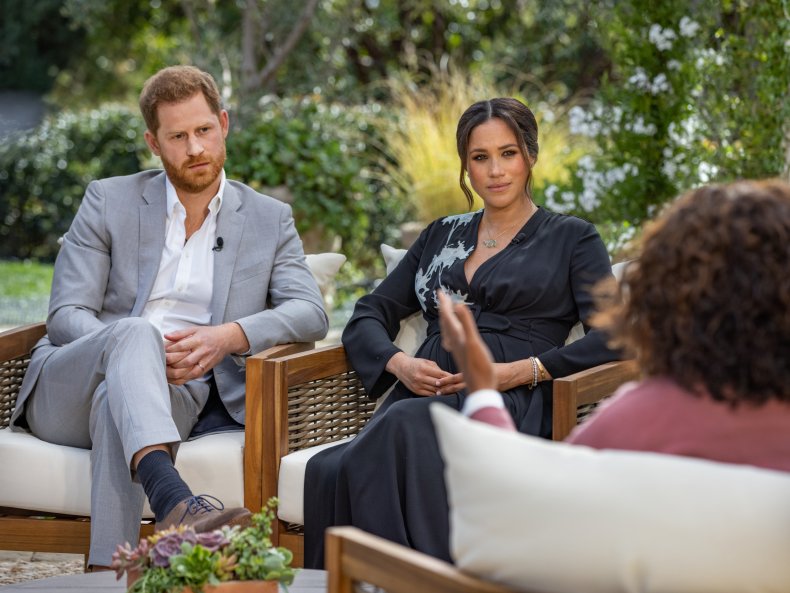 Authors Omid Scobie and Carolyn Durand write that William offended his brother in the relationship with Meghan by saying: "Don't feel you need to rush this. Take as much time as you need to get to know this girl."
The book adds: "In those last two words, 'this girl,' Harry heard the tone of snobbishness that was anathema to his approach to the world."
It's possible Meghan or Harry may shed more light on how the brothers fell out and what exactly was said between them.
Clips released so far show Meghan accusing "the firm" of playing an active role in "perpetuating falsehoods" about the couple.
The phrase is usually described as Queen Elizabeth II's nickname for the royal family itself, rather than for palace aides.
However, it is not clear whether this was Meghan's meaning, whether she intended to direct her criticisms at members of the royal family or their staff.
The Palace
Meghan is already on record telling her privacy lawsuit against the Mail on Sunday how she felt "unprotected" amid negative stories while she was pregnant with baby Archie.
In the same court filing, she described how friends and family felt "silenced" by Kensington Palace's "no comment" policy.
Meghan is sure to revisit the claims in the interview with Oprah based on preview clips already released.
On Wednesday, a clip showed Meghan tell Oprah: "I don't know how they could expect that after all of this time we would still just be silent if there is an active role that the firm is playing in perpetuating falsehoods about us.
"And if that comes with risk of losing things, there's a lot that's been lost already."
Princess Diana
Preview clips have already shown Prince Harry compare his and Meghan's experience of royal life to Princess Diana's.
However, it is still not known exactly how he framed this comparison, whether purely in relation to the media or whether he also touches on her experience with the palace and Harry's father, Prince Charles.
Interestingly, he highlights the fact she experienced her struggle "by herself."
The princess separated from Prince Charles in 1992 and they divorced in 1996, a year before she died.
However, in life, Diana told then Daily Telegraph editor Sir Max Hastings: "The marriage was hell from day one."
In a CBS preview, Harry said: "I'm just really relieved and happy to be sitting here talking to you with my wife by my side because I can't begin to imagine what it must have been like for her going through this process by herself all those years ago.
"Because it has been unbelievably tough for the two of us. But at least we had each other."
He added: "My biggest concern was history repeating itself."
The Media
Meghan and Harry are famously not fans of the British tabloid press or the paparazzi and have launched six lawsuits in just over a year.
Their time in America has been dominated by Meghan's privacy lawsuit over a letter she sent her father about the breakdown of their relationship.
Thomas Markle did not go to her Windsor Castle wedding after he was first caught staging paparazzi pictures for money and then suffered a heart attack.
Meghan's relationship with her family and their criticisms of her in the media are both likely to be features of the interview.
She may well also shed new light on other stories that have filled the pages of Britain's newspapers, including arguments over her wedding day tiara.
Here is a rundown of some of the stories she has highlighted.
In addition to the mainstream media, she may well revisit the subject of social media, having told the Teenager Therapy podcast last year she was the most trolled person of 2019.
Archie and his sibling
While the interview is likely to contain serious allegations against both palace and media it will likely not all be negative.
A CBS press release suggests Meghan will talk about happier topics, including the star-studded 2018 royal wedding, where Oprah was a guest.
She will also discuss motherhood, suggesting she will mention their son Archie, who turns two in May.
Meghan is also pregnant with their second child, which the couple announced in February with a spokesperson saying: "The Duke and Duchess of Sussex are overjoyed to be expecting their second child."
Among questions fans may still have is whether the couple know what gender the baby will be and a rough idea of Meghan's due date.
Meghan may also revisit a difficult subject she wrote about for the New York Times last year in an essay titled "The Losses We Share."
The duchess revealed she had a miscarriage in July while holding Archie, on a seemingly ordinary day.
CBS said in a statement: "Winfrey will speak with Meghan, The Duchess of Sussex, in a wide-ranging interview, covering everything from stepping into life as a Royal, marriage, motherhood, philanthropic work to how she is handling life under intense public pressure.
"Later, the two are joined by Prince Harry as they speak about their move to the United States and their future hopes and dreams for their expanding family."