Private Investigator Denies Hacking Meghan Markle and Prince Harry's Phones
A private investigator who spied on Meghan Markle for The Sun newspaper has denied accessing the Duke and Duchess' phone records—despite carrying out the illegal practice in the past.
Dan 'Danno' Hanks, a Los Angeles-based private detective has revealed he sold Meghan's phone number but says that he didn't probe her call data.
In an interview with Byline Investigates, Hanks explained how he used to sell illegally obtained phone records to British tabloids so papers could report on celebrities' private lives and who they were texting and calling.
However, he maintains that he did not provide The Sun with any of the royal couple's phone data.
"I have sold illegal phone tolls (bills) plenty of times to Fleet Street newspapers—but on this occasion I'm an innocent man," he told the publication.
"How did The Sun find out about Meghan Markle's texts? I can only speculate."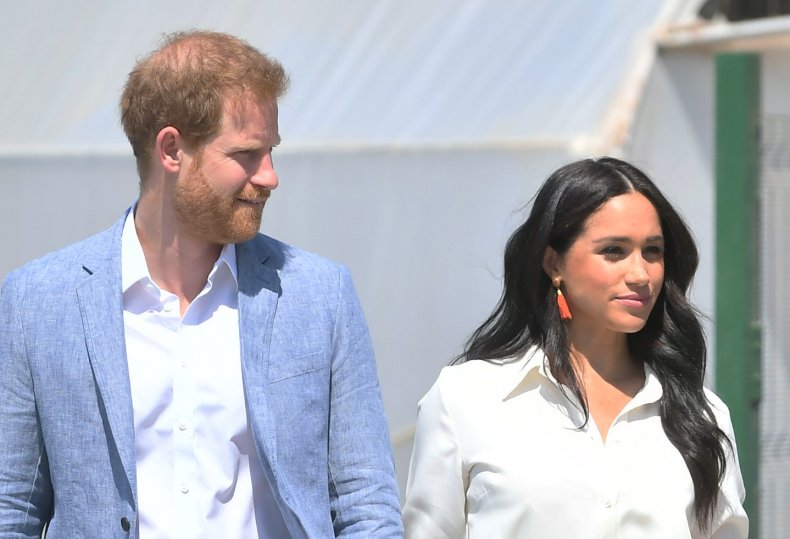 In 2016, The Sun published a story about how Harry was "bombarding Meghan with texts after their first date" just days after Hanks was tasked with finding information for the tabloid.
Hanks previously told the BBC that he was paid by The Sun to obtain data on Meghan during the early days of their relationship and unlawfully accessed her phone number and social security number despite being instructed to act lawfully by the newspaper's publisher.
Following Hanks' admission, a spokesperson for Meghan and Harry told the BBC: "The Duke and Duchess of Sussex feel that today is an important moment of reflection for the media industry and society at large, as this investigative report shows that the predatory practices of days past are still ongoing, reaping irreversible damage for families and relationships.
"They are grateful to those working in media who stand for upholding the values of journalism, which are needed now more than ever before."
Prince Harry is currently suing the publisher of The Sun, and the former publisher of the Daily Mirror, over claims of phone hacking before 2011.
The couple has a fraught relationship with the U.K. tabloids with Meghan telling Oprah Winfrey during last month's explosive interview: "I can't speak for him, but with that relationship and that control and the fear by the UK tabloids, it's a really toxic environment."
Hanks said the Oprah interview prompted him to speak out to "clear [his] conscience."
"I'm deeply sorry for what I did... and I'm available if your lawyers need to talk to me," he said. "I'm ready to give you what I know. Supply you with any information. I just wish this had never happened."
Meanwhile, a spokesperson for The Sun's publishers released a statement in response to Hanks' admission (via BBC).
It reads: "In 2016, the Sun made a legitimate request of Mr. Hanks to research contact details and addresses for Meghan Markle and possible relatives using legal databases which he had a license to use. He was paid $250.
"Mr. Hanks was not tasked to do anything illegal or breach any privacy laws—indeed he was instructed clearly in writing to act lawfully and he signed a legal undertaking that he would do so.
"The information he provided could not and did not raise any concerns that he had used illegal practices to obtain the information.
"At no time did the Sun request the social security number of Meghan Markle, nor use the information he provided for any unlawful practice.
"The Sun abides by all laws and regulations and maintains strict protocols in relation to the obtaining of information from third parties. Strict compliance is in place to cover all our reporting."