Paparazzi photographs of Prince Harry and Meghan Markle have been used by major online publications on at least 11 occasions since the couple moved to America—including twice since their Oprah Winfrey interview.
The couple were pictured once after their bombshell tell-all was announced and before it was broadcast, with Prince Harry photographed again 12 days after it aired in the U.S., before being pictured a third time last week.
The spate of incidents builds on eight run-ins with the paparazzi which Newsweek tracked over the course of the rest of the year since April 2020.
After Meghan revealed suicidal feelings, Prince Harry told Oprah his biggest fear was history repeating itself in relation to his mother.
Princess Diana died in a crash while her car was chased by paparazzi photographers.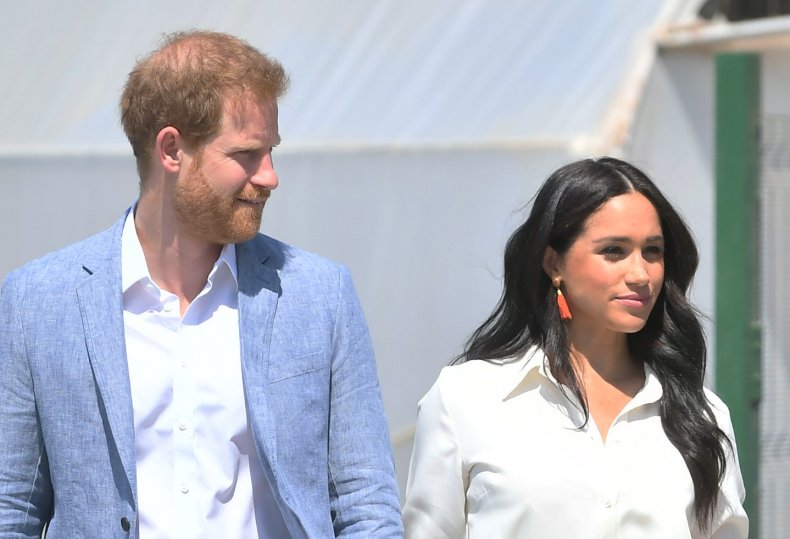 He said: "My biggest concern was history repeating itself.
"I'm just really relieved and happy to be sitting here talking to you with my wife by my side because I can't begin to imagine what it must have been like for her going through this process by herself all those years ago."
However, he has faced repeated problems with photographers since arriving in America, most notably when picture agency X17 used a drone to take photos of their son Archie playing with Meghan's mother in a private back yard.
On April 1, pictures of the prince on the beach were published exclusively by People magazine with the caption crediting agency Mega.
The story quoted a source saying the prince looked at ease while playing fetch with their pet Labrador Pula.
Mega was set up by Kevin Smith, founder of Splash News, which recently filed for bankruptcy citing a privacy lawsuit brought by the Duchess of Sussex as the cause.
The Daily Mail published exclusive pictures on March 19 showing Prince Harry out for a bike ride wearing a baseball cap from The Mission Continues, a veterans non-profit he has worked with.
The article described how Harry was on an electric bike and was followed by a security detail in a 4x4 car.
The caption credited the images to Backgrid—a paparazzi agency that has repeatedly photographed the prince.
Other paparazzi encounters include pictures taken of a dinner date with friend David Foster in October, an apparent visit to the dentist in July, a trip out with the dogs when they first moved to L.A. and, most famously, the drone pictures of Archie.
Meghan and Harry sued picture agency X17 after images of their son playing with his grandmother Doria Ragland were published in German magazine Bunte, as revealed by Newsweek.
At the time, they were staying at Tyler Perry's mansion in Los Angeles, where they later complained photographers had tried to cut through fencing to get a better look into the privacy of the house.
The couple sued and won a settlement from X17 who publicly apologized for the breach of privacy.
In July, their lawyer, Michael J. Kump said in a court filing: "This action arises out of the relentless and quite frankly shocking efforts of the tabloid media to profit from serial intrusions on the privacy of a 14-month-old child in his own home, and the desire and responsibility of any parent to do what is necessary to protect their children from this manufactured feeding frenzy.
"The Plaintiffs simply want to continue the public impact work that is so important to them, while also having the private life to which any young family or individual has the right."
A Daily Beast article revealed how Harry and Meghan made repeated calls to police over drone sightings and were also followed by paparazzi while out in their car in May 2020.
Princess Diana died in August 1997 after the car she was travelling in crashed into a pillar in the Pont de l'Alma tunnel in Paris.
Photographers who had been following the car took photos of her lying in the wreckage and were later the subject of outrage around the world, including when they were required to give evidence at Diana's inquest.