Why Meghan Markle and Prince Harry Face a New Royal Rift After Remembrance Sunday
Meghan Markle and Prince Harry marked a memorial day for U.K. war veterans with a private visit to a Los Angeles cemetery after a rebuff from the royal family.
The Duke and Duchess of Sussex had asked for a wreath to be laid on their behalf as part of Britain's Remembrance Sunday service, when the country's war dead are recognized.
However, the request was rejected by royal aides on the grounds that the prince is no longer representing the monarchy in an official capacity.
U.K. newspaper The Sun found Harry's wreath lying unused in a branch of veterans charity the Royal British Legion. It reportedly cost $1,300 to make.
The news comes after a tense year for the royal family, which saw Harry and Meghan quit royal duties in January and begin a new life in California in March.
The rift between Prince Harry and Prince William was also laid bare by two biographies, Finding Freedom and Battle of Brothers.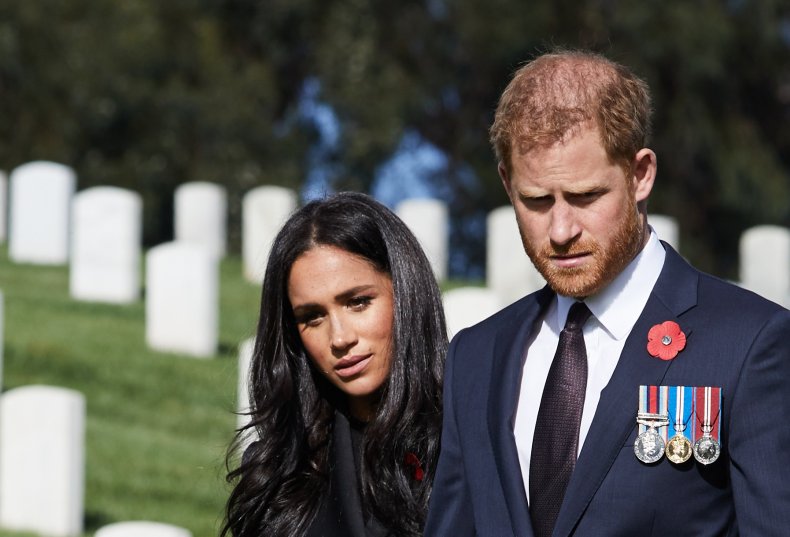 Queen Elizabeth II led Britain's official service at the Cenotaph, in London, alongside Kate Middleton, Prince William and Prime Minister Boris Johnson, among others.
Harry and Meghan had a very different remembrance with a private visit to Los Angeles National Cemetery where they walked between the rows of white gravestones and laid a wreath and flowers.
Harry signed the wreath, which read: "To all of those who have served, and are serving. Thank you."
Yesterday, a prerecorded episode of the Declassified podcast aired, in which Harry said: "Being able to wear my uniform, being able to stand up in service of one's country, these are amongst the greatest honors there are in life.
"To me, the uniform is a symbol of something much bigger, it's symbolic of our commitment to protecting our country, as well as protecting our values.
"These values are put in action through service, and service is what happens in the quiet and in the chaos.
"It's what happens in the darkness, it's what happens when people aren't looking. It's what happens on and off the battlefield.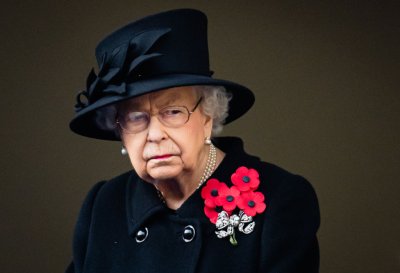 "It's about carrying out our duty as soldiers. For me as a father, a husband and as a human being, it's about how we uphold these values in every aspect of our lives."
The Los Angeles cemetery has a special significance to the duke and duchess as it is opposite the U.S. Veterans Affairs Greater Los Angeles Health Care System, which Meghan's grandfather Alvin Ragland used after serving in the US Coast Guard.
A friend of the couple told Newsweek: "It was important to the duke and duchess to be able to personally recognize Remembrance in their own way, to pay tribute to those who have served and to those who gave their lives."
The source added: "The couple laid flowers that the duchess picked from their garden at the gravesites of two commonwealth soldiers, one who had served in the Royal Australian Air Force and one from the Royal Canadian Artillery.
"They also placed a wreath at an obelisk in the cemetery that features a plaque that's inscribed 'In Memory of the Men Who Offered Their Lives in Defense of Their Country'."
As the wider royal family marked remembrance without him, Prince Harry stressed his service to the military.
He told Declassified: "I spent 10 years in the military, with two tours in Afghanistan.
"When I get asked about this period of my life I draw from memories, I draw from what I remember and who I remember.
"Like the first time we were shot at and who I was with, the casualties we saw, and those we saved.
"And the first medivac we escorted out of contact in a race against time. Once served, always serving, no matter what.
"Lest we forget our fallen comrades, our relatives, our friends, lest we forget how different things must have been 100 years ago, and how different they'll be 100 years from now.
"This is what Remembrance Day means to me.
"The solidarity of a shared value system of our community that fights for what is right and honorable, no matter what.
"Even when we can't all be together; we always remember together."