Meghan Markle and Prince Harry Begin Royal Farewell Tour With Picturesque Appearance at London Awards Ceremony
On a rainy Thursday night in London, Meghan Markle and Prince Harry began what is expected to be their final run of royal engagements as senior working members of the royal family.
It was a picturesque scene as the couple were met with camera flashes making their arrival at Mansion House under the cover of an umbrella. The images of the couple, smiling and jovial against the backdrop of the gloomy March rainfall, are reminiscent of something out of a film and have already been romanticized on social media.
Thursday's Endeavour Fund Awards was the first time Meghan and Harry have appeared together publicly since announcing in January their decision to step back as senior members of the royal family, become financially independent and live a more private life split between the U.K. and North America.
At the awards ceremony, honoring sick and injured servicepeople who have accomplished commendable sporting achievements in the last year, Harry and Meghan took in the stories of brave injured and wounded army members and even witnessed a surprise proposal.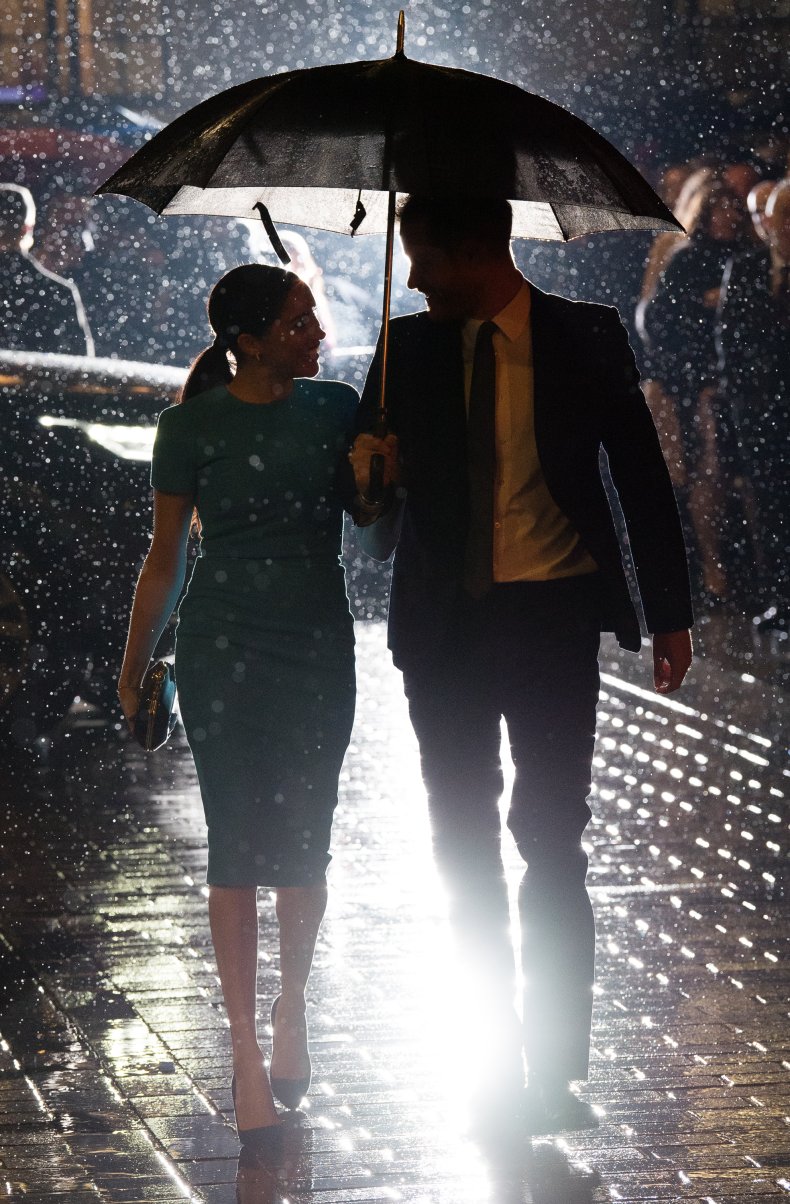 One award winner proposed to his girlfriend onstage, and ITV News' royal editor Chris Ship caught the Duke and Duchess of Sussex's reactions:
In his speech, Harry alluded to his own military service, telling those in attendance that he is "deeply proud to have served alongside you as Captain Wales".
"A lot of you tonight have told me you have my back, well I'm also here to tell you I've always got yours," Harry added, according to the The Guardian.
Meghan acknowledged that she has been "all the way in Canada," where she and Harry watched videos of the nominees to help decide the winners.
Meghan and the couple's son, Archie, have largely been living on Vancouver Island, British Columbia, since January.
The Sussexes' spokesperson confirmed last month that the couple will step down as senior royals on March 31. The Endeavour Fund Awards marks one of their final official engagements for Queen Elizabeth II.
On Friday, the couple will attend the Mountbatten Festival of Music in London in another public appearance.
Meghan is then expected to mark International Women's Day on Sunday.
Monday will be the couple's final royal engagement, at least for now, when they join the queen and other members of the royal family at Westminster Abbey at a Commonwealth Day service.
Meghan and Harry's new arrangement away from the royal family will be reviewed after 12 months, the couple's spokesperson said last month.
The couple will retain their titles as Duke and Duchess of Sussex, as well as other titles including the Earl and Countess of Dumbarton and the Baron and Baroness Kilkeel. Harry will also retain his honorary military titles as a major, lieutenant commander and squadron leader, however, he will not use them during the 12-month transition period.
The Sussexes are expected to focus on the launch of a new non-profit organization after March 31.