Meghan Markle and Prince Harry Should Not Return to Royal Duties: Poll
Meghan Markle and Prince Harry should not return to royal duties according to almost two-thirds of Britons, exclusive polling for Newsweek reveals.
The Duke and Duchess of Sussex have been carving out new roles outside the royal family since stepping leaving Britain for Beverly Hills.
However, they are in the middle of a 12=month review period, meaning they could in theory return to the palace life they left behind.
Of 2,000 U.K. adults surveyed, 64 percent said the couple should not return to royal duties in light of the coronavirus crisis.
The research, conducted for Newsweek by Redfield & Wilton Strategies, suggests just 15 percent want to see the duke and duchess representing Queen Elizabeth II again.
A further 21 percent said they did not know.
The data, which carries a 2.19 percent margin of error, suggests a hardening of attitudes in Britain.
Similar research conducted in April for Newsweek showed 54 percent did not want the couple to return to royal duties, compared to 28 percent who thought they should.
At that point, Queen Elizabeth II was leading the British people with rousing televised broadcasts about the pandemic.
Since then Meghan and Harry have relaunched themselves with a series of public speeches via video from Tyler Perry's $18 million mansion, where they have been living.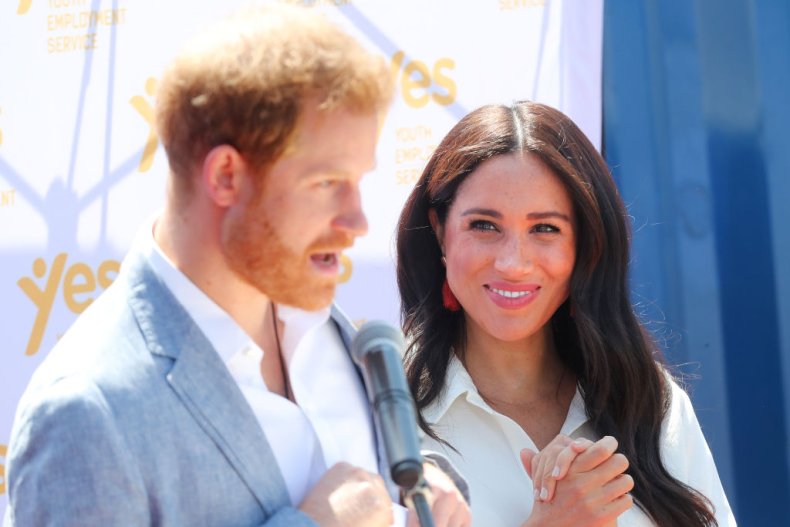 In June, Meghan backed Black Lives Matter and revealed her own experiences of the Los Angeles race riots in words experts told Newsweek could not have been uttered by a working royal.
She had feared she would be "picked apart" for speaking out, but added: "I realized the only wrong thing to say is to say nothing."
In July, Prince Harry spoke of the need to acknowledge the "uncomfortable" past of the Commonwealth, made up predominantly of Britain's former empire.
They have also signed with public speaking agency HWA, shared by the Clintons and the Obamas.
And they offered their support to the Stop Hate for Profit campaign pushing advertisers to boycott Facebook.
This weekend has seen details of the breakdown of relations within the royal family laid bare in new biography Finding Freedom, serialized in The Times and Sunday Times.
Extracts have described Harry falling out with William early on over warningS the younger brother might be taking his relationship with Meghan to quickly.
And the authors describe how Queen Elizabeth II was left "devastated" after the Duke and Duchess of Sussex announced their plans to leave publicly without clearing their statement with her.
The book claims Meghan told a friend in March: "I gave up my entire life for this family.
"I was willing to do whatever it takes. But here we are. It's very sad."