Meghan Markle, Prince Harry Spark Debate About Royal 'Briefing War'
Meghan Markle and Prince Harry's tell-all Oprah Winfrey interview has given way to a briefing war with their celebrity friends on one side and unnamed sources on the other.
Gayle King and Janina Gavankar are among those who have gone on TV to outline Meghan and Harry's response to the fallout from their bombshell Oprah Winfrey interview.
The CBS This Morning host said on air: "Well, I did actually call them to see how they are feeling, it's true, Harry has talked to his brother and his father, too.
"The word I was given was, those conversations were not productive. But they are glad they at least started a conversation."
King was at Meghan's baby shower and is a friend of the duchess, Harper's Bazaar reported.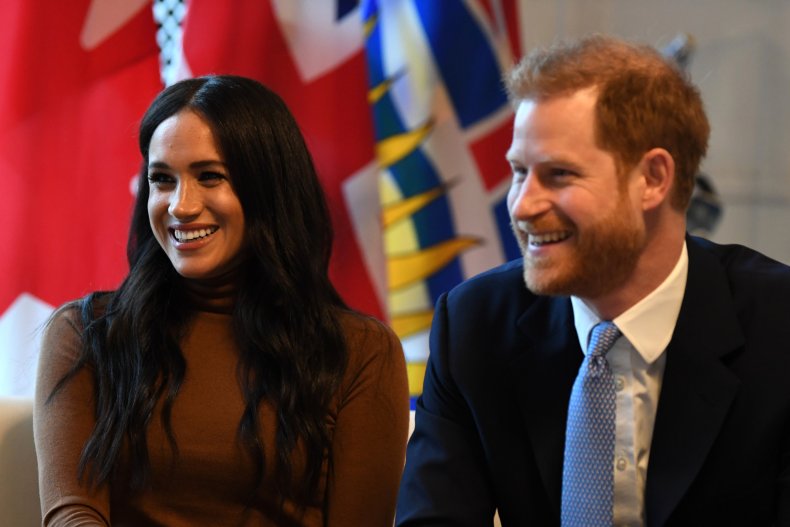 However, some have accused Meghan and Harry of leaking details of private conversations within the royal family.
Royal author Penny Junor told the Daily Mirror: "It's a shocking breach of trust. The family will worry that anything they say to Harry will end up on American television."
The newspaper also quoted an unnamed source who suggested King's comments could have implications for trust in future negotiations.
However, the outcry sparked a counter attack from supporters of Meghan and Harry who claimed unnamed source quotes were evidence of briefing by palace aides.
Adil Ray, a U.K. actor and presenter, wrote on Twitter: "Harry & Meghan do not have the benefit of a 'palace source,' a 'palace insider' or a 'royal expert' with access."
In an unsubstantiated claim, he added: "Last week Prince William was asked about private chats and expert Katie Nichol relayed a message from Kate M rebutting Meghan's claim. Why were we not surprised then?"
Ray presented no evidence to back up his claim Vanity Fair royal editor Katie Nicholl's source was Kate Middleton, however, his post reflects a growing feeling on social media that source quotes originate with the palace.
Omid Scobie, author of Meghan and Harry biography Finding Freedom wrote on Twitter: "Bit confused here, so just want to get this new royal protocol correct. It's okay when info is leaked to the papers via a palace source but not when Gayle King shares it on TV? Righty-ho then."
The argument comes after Janina Gavankar last week went on U.K. network ITV to warn Meghan has emails to back up the claims she made in her Oprah interview.
Gavankar said: "I thought I'm so thankful that they [Buckingham Palace] are finally acknowledging the experience.
"But on the other side I thought I know that the family and the staff were well aware of the extent of it and though their recollections may vary, ours don't because we lived through it with them. And there are many emails and texts to support that."
Meanwhile, Richard Palmer, royal correspondent of U.K. newspaper the Daily Express, posted: "That briefing war between the two camps in the Sussexes v Royal Family dispute continues.
"Former aides and the Sussexes are furious. In the middle stands the Royal Household, which wants to shut down the debate and take the heat off the "institution" by making this about family.
"Most journalists naturally don't want to see it shut down. They want to get to the bottom of it, especially after Harry and Meghan made such disparaging and unsubstantiated comments about the UK public, the monarchy, and the media. It's hard to see how this can be forgotten."
He added: "One former senior aide speaking to the Daily Express said of Meghan: 'It's despicable that she's played the race card.'"
Scobie posted: "It's amazing how the individuals most ignorant about how racism works are often the first to deny the experience of any POC/BIPOC person who tries to explain it. Accusing someone of playing the 'race card' is nothing but a sloppy tactic to silence or invalidate legitimate voices."