Meghan Markle, Prince Harry Split Declared by Magazine as Baby Announced
Meghan Markle and Prince Harry's relationship was declared "over" by an Australian magazine which hit shelves the day of their pregnancy announcement.
New Idea was ridiculed after suggesting the couple had split on their front cover, which promised an "official palace statement."
The magazine is dated February 22 and the cover was published online on Monday in Australia, which was still Sunday in the U.S. due to the time difference.
The mass market Australian weekly showed a picture of Harry and Meghan with a rip between them alongside the headline: "It's All Over!"
The edition did not age well, however, as the couple's spokesperson announced Meghan was pregnant with a sibling for Archie yesterday.
A statement read: "We can confirm that Archie is going to be a big brother.
"The Duke and Duchess of Sussex are overjoyed to be expecting their second child."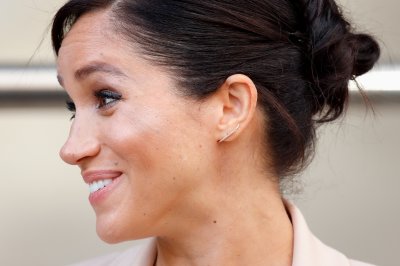 New Idea's publisher says it has 689,405 readers in print and a digital audience of just below one million.
Are Media says on its website: "New Idea's power to entertain and connect with an influential community of Australian women is stronger than ever.
"Women turn to the New Idea network for entertainment and inspiration. We've successfully turned our weekly interaction into an always-on conversation."
After the glaring error was first reported by The Guardian, fans of the duke and duchess mocked the magazine on social media.
One Twitter user wrote: "Can someone explain to me how New Idea magazine in Australia has predicted that Harry and Meghan are divorcing next week when they just announced they're pregnant with bubba number 2? Seriously, these people are so idiotic, that they think everyone is as stupid as they are."
Jackie Warner wrote: "Round of applause to New Idea. Putting out this week that Harry and Meghan are over yet they announce the pregnancy of their second child."
John Blackman wrote: "Talk about bad timing! Australian magazine New Idea (living up to its nickname of No Idea) hits newsstands with a front-page story 'claiming Prince Harry and Meghan Markle have split'... right as the Sussexes announce they are expecting their second child."
Queen Elizabeth II and the wider royal family were told the happy news before it was made public yesterday.
A Buckingham Palace statement read: "Her Majesty, Duke of Edinburgh, Prince of Wales and the entire family are delighted and wish them well."
Photographer Misan Harriman took the couple's baby bump picture which went viral after their Valentine's Day announcement yesterday.
He said on Twitter: "Meg, I was there at your wedding to witness this love story begin, and my friend, I am honoured to capture it grow.
"Congratulations to The Duke and Duchess of Sussex on this joyous news!"