Meghan Markle, Prince Harry to Use L.A. Agency Deal to Talk Racial Justice
Meghan Markle and Prince Harry have ushered in a new era of their post royal lives by signing for the same speaking agency as the Obamas and Clintons.
The Duke and Duchess of Sussex will give talks on race, gender and the environment through the Harry Walker Agency, creating a source of income during their post-royal lives.
The couple have had a mostly quiet lockdown after stepping back as senior royals in April, but have now revealed what the future holds.
Their main customers will be "trade associations, corporations and community forums" as they make a living discussing social justice issues that are important to them.
A spokesperson told Newsweek: "They will be engaging in moderated discussions and keynote speeches with trade associations, corporations and community forums.
"The conversations will relate to topics that are important in their lives—and in the world.
"Topics will largely relate to the social issues the world is facing now including racial justice and gender equity, mental health, issues impacting women and girls and the environment — as well as the intersectional nature of these issues.
"Many of the areas and topics covered in these conversations will be related to the foundation and mission of Archewell, their new organization housing their philanthropic endeavors."
Harry and Meghan made an appearance at a summit for JP Morgan in Miami in February where Harry spoke about the death of his mother, Princess Diana.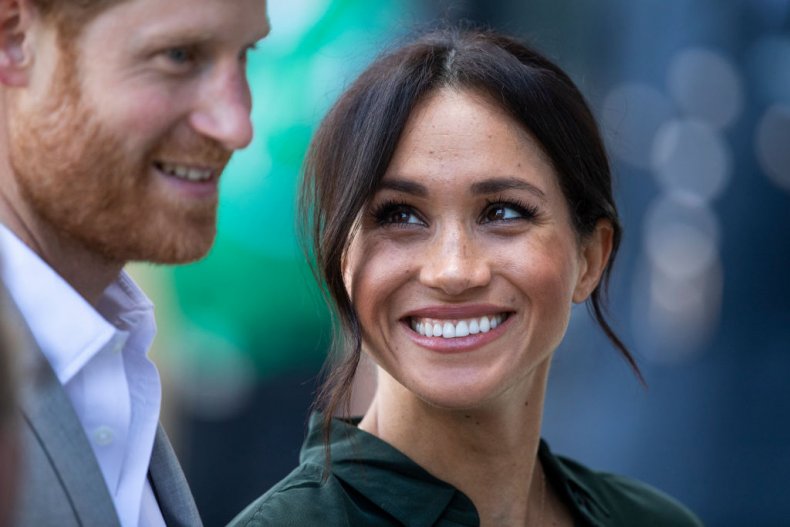 They are still launching their new non-profit venture Archewell, which shares the inspiration for its name with their son Archie.
This week the couple visited Homeboy Industries, which claims to be the biggest gang-rehabilitation program in the world.
The social enterprise is run by founder Father Greg Boyle, whom Harry and Meghan have been speaking with about racial justice.
Meghan and her mother Doria Ragland visited Homeboy almost 20 years ago for a cooking workshop, since Father Boyle works closely with old school Immaculate Heart.
Meghan's spokesperson revealed the experience had such an impact she still remembers the Tamale recipe she learned there to this day.
A spokesperson told Newsweek: "The duke and duchess connect deeply to Homeboy's mission to welcome all people into a community of mutual kinship and love, focused on healing and contributing to the wellbeing of families and communities.
"To them, Homeboy is a perfect example of how empathy, kindness, and compassion can change the world."
Father Boyle said: "The Duke and Duchess of Sussex were just 'Harry and Meghan' to the homies.
"They rolled up their sleeves and deeply engaged with our workers in the bakery and café.
"It was immediate kinship and heartening in its mutuality."
The couple joined the "homies" in the bakery where they helped prepare meals for food-insecure old and young people in Los Angeles.
Thomas Vozzo, CEO of Homeboy Industries, said: "With their visit, the Duke and Duchess of Sussex saw the dignity and power that comes from having a job.
"At Homeboy, through our social enterprise businesses, people can continue to heal and they work, learning skills and changing their lives, changing their families and changing communities."