Everything Meghan Markle Has to Learn to be Married to Prince Harry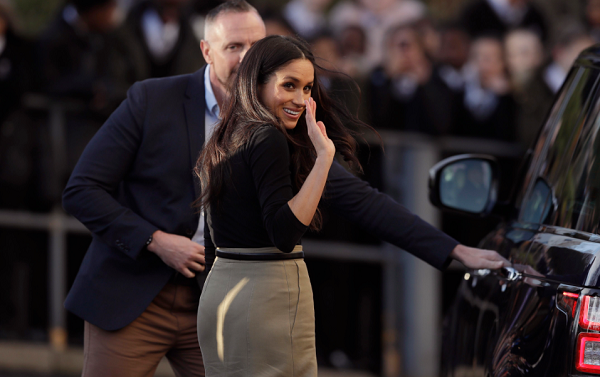 Class is in session for Meghan Markle.
The American actress has just about five months to learn everything it takes to be a royal before tying the knot with her soon-to-be husband Prince Harry. And according to royal expert and author Katie Nicholl, Markle has got her work cut out for her.
The Suits actress, whose engagement to Prince Harry was announced in late November, is expected to get serious tutelage in a number of areas. She'll learn how to properly address dignitaries and extended members of the royal family. She'll need to perfect her curtsey, as well as the list of royals to curtsey for.
That part of royal life sounds particularly difficult to master. Markle must curtsey to Queen Elizabeth II, Duchess of Cambridge Kate Middleton and the queen's cousin Princess Alexandra. She won't have to curtsey, however, for Alexandra's sister-in-law Princess Michael of Kent. Got all that? Good, because it gets more complicated.
Markle will curtsey to Princess Beatrice and Princess Eugenie—unless Prince Harry is in the room, in which case they will actually have to curtsey to her. On the other hand, Markle won't have to curtsey to Sophie, Countess of Wessex, but if the countess' husband, Prince Edward, is near then Markle must curtsey.
Hope your head's not spinning too much with all this will-she-won't-she curtsey business because Markle's education isn't over. Her tableside manner will also get the hoity-toity treatment, as she will have to learn proper etiquette for royal dinners and how to behave at state affairs and events.
The 36-year-old will also get a crash course in royal fashion, lest she wants to receive the kind of criticisms Princess Diana faced when she sported an all-black gown to a royal affair with Prince Charles before they were married. Royals reportedly only wear black during times of mourning. And recently released tape recordings of Diana revealed the late princess had been reprimanded for wearing the bold color to an event.
"I remember my first engagement so well. I remember being so excited, I got this black dress from the Emanuels," Diana said of the gown designed by London's David and Elizabeth Emmanuel. "I thought it was OK, because girls my age wore this. I hadn't appreciated that I was now seen as a royal lady."
"I remember walking into my husband-to-be's study, and he said, 'You're not going in that, are you?'"
Luckily, Markle has an expert on hand to teach her the ropes of royaldom. Her fiancé, Harry, is providing her with lessons on royal life and allegedly started giving Markle homework months before their engagement was announced, according to TMZ.
Despite the daunting education of preparing to be a royal, it seems like Markle is a quick study. Members of the royal family are not allowed to take selfies, and Markle already flexed her knowledge of the rules when she turned down selfies with fans during her first royal walkabout with Harry for a Worlds AIDS Day on Friday.
Markle's royal etiquette lessons are only one part of pre-wedding schooling. She'll also have to brush up on her British history. She's expected to take a British citizen's test equipped with 24 questions regarding historical facts, dates and figures.