Meghan Markle and Prince Harry weren't kidding when they said they planned to "hit the ground running" with their royal duties after their wedding. Just three days after tying the knot on Saturday, the newlyweds attended their first royal engagement together.
Markle appeared at her husband's side at a garden party recognizing Prince Charles' 70th birthday. The event, although six-months ahead of Charles' actual November 14 birthday, was hosted at Buckingham Palace and featured a guest list of 6,000 individuals from Charles' favorite charities as well as members of the military and other British patronages. Some of the emergency service workers that responded to the Manchester Arena bombing that killed 22 people and injured 59 others last May were also at Charles' party.
The palace said the event was just one of several celebrations honoring the heir to the throne scheduled this year.
Markle's appearance at the event didn't go unnoticed. The new royal turned heads with her polished look, wearing a rose-pink pencil dress from London womenswear label Goat Fashion, People magazine reported. The Duchess of Sussex paired the $450 dress with a coordinating Wilber & Gussie clutch, matching pink pumps and—a first—sheer nude stockings.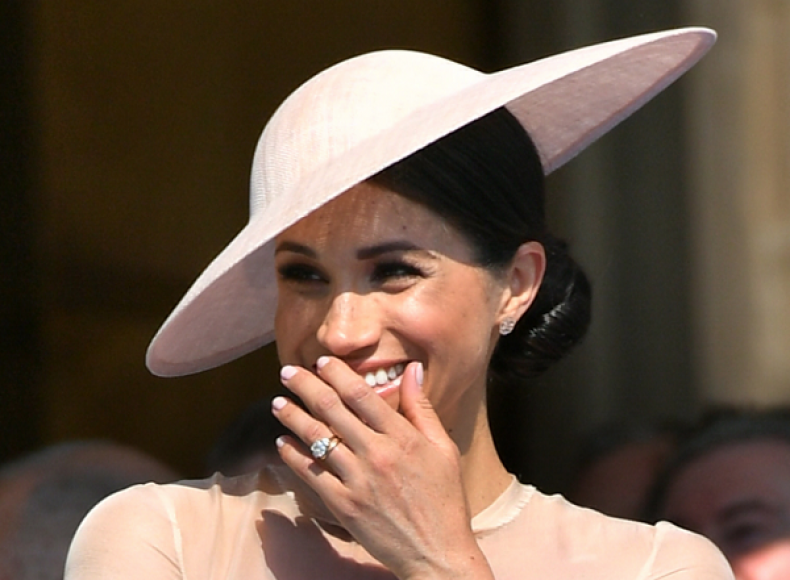 Markle's decision to pair pantyhose with her dress could indicate she's serious in taking on her position as a new royal. Similarly, after Kate Middleton, Duchess of Cambridge, exchanged vows in 2011 with Prince Williams, she started wearing stockings on royal outings as well.
Markle topped off her look with a sleek chignon underneath a custom Philip Treacy hat.
Her beau opted for pinstripe pants with a vest and tails tuxedo jacket. Harry completed his look with a bright blue tie and a top hat.
The couple put their plans to honeymoon on hold so they could get started with their royal duties right away. However, they are expected to take a trip, although it is unclear when they will leave or where they plan to go.