Meghan Markle and Prince Harry's Baby Should Not Get Royal Title: Poll
Meghan Markle and Prince Harry's baby should not be given a royal title, according to almost half of Brits surveyed by Newsweek.
Meghan and Harry could have pushed for first-born Archie Harrison Mountbatten-Windsor to take the title Earl of Dumbarton when he was born in May 2019, Vanity Fair reported.
However, they chose to introduce him to the world simply as "Master," with no aristocratic title.
Ordinarily, both Archie and the baby Meghan is pregnant with at the moment would automatically become prince, or princess if their second is a girl, when Prince Charles becomes king.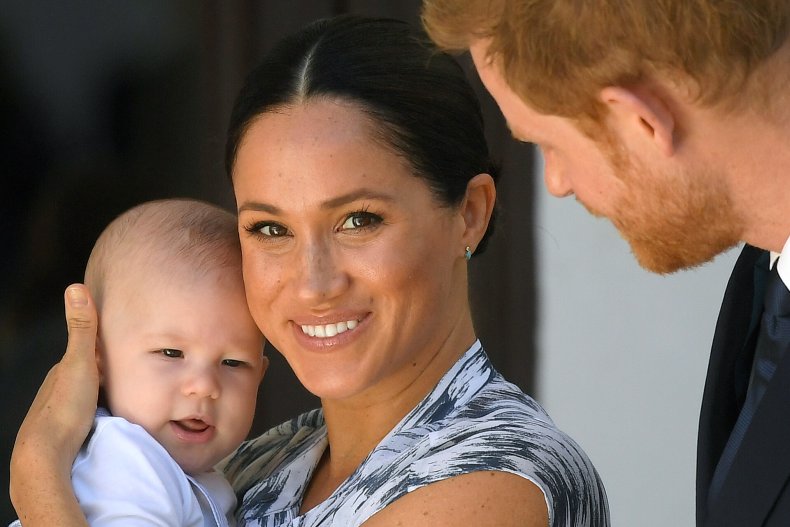 The rule is the same one that gives the title to Prince Andrew's daughters, Princess Eugenie and Princess Beatrice.
Polling by Redfield and Wilton for Newsweek shows 48 percent of 2,500 adults surveyed online believe their second child should not have a royal title.
This compared to 23 percent who said "yes" and 28 percent who said "don't know" when asked: "Should Meghan Markle and Prince Harry's baby be given a royal title?"
Biography Finding Freedom, published over the summer, suggested the Duke and Duchess of Sussex may have already asked Prince Charles to intervene and stop Archie and his sibling getting royal titles automatically.
Authors Omid Scobie and Carolyn Durand wrote: "Harry and Megan - who were going to register Archie for dual citizenship - decided to forego a title for their son, because they wanted him to be a private citizen until he was at an age where he could decide which path he would like to take.
"A source said the pair both worried about the day Prince Charles becomes king and Harry's children could inherit the titles of prince and princess.
"They shared their concerns with Charles, who said he would consider when he became king issuing a new letters patent, a legal instrument in the form of a written order issued by a reigning monarch, that would change the style."
They quote a source as saying: "To not have a senior role in the royal family but have a title, it's just a burden."
Meghan and Harry's own titles have proved a source of debate in Britain since their decision to step away from royal life.
The couple spoke out about the U.S. election in a series of speeches over the summer and fall ahead of the vote that cost Donald Trump the White House.
Some argued Queen Elizabeth II should revoke their titles as a result, including former CNN host Piers Morgan.
In August, he said on Twitter: "The Queen must strip the Sussexes of their titles. They can't remain as royals & spout off about foreign elections in such a brazenly partisan way."