How Meghan Markle's Procter & Gamble Partnership Follows Woke-Washing Claim
Meghan Markle and Prince Harry's nonprofit Archewell Foundation announced a multiyear partnership on Tuesday with the multinational consumer goods company Procter & Gamble—whose socially conscious commercials have caused controversy.
The now-Duchess of Sussex accused the corporate giant of sexism when she was 11 years old over a TV commercial that said: "Mothers around America are fighting greasy pots and pans."
After she wrote to the company to complain, she went on the the TV show Nick News in 1993 to describe how "furious" she was, Sky News reported.
Meghan told the show: "When they heard this, the boys in my class started saying: 'Yeah that's where women belong—in the kitchen'."
However, times have changed and the company has more recently sparked criticism by backing social causes to sell products, a practice sometimes termed "woke washing" by critics.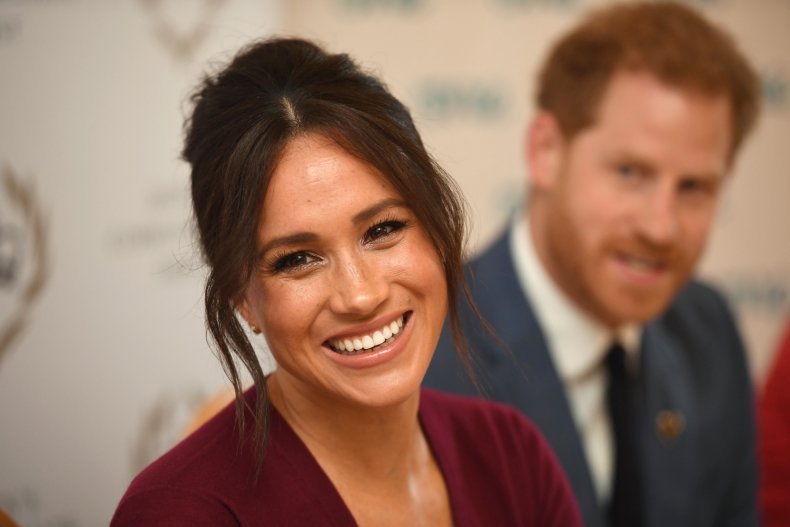 Recent P&G ads include a campaign for Gillette that addressed the debate about toxic masculinity, changing the razor's famous slogan from "the best a man can get" to "the best a man can be."
The 2019 commercial referenced the Me Too movement and started with men standing by barbecues saying "boys will be boys."
It then proceeded to show them step-up to prevent children from fighting, street harassment or a woman being talked down to in a meeting.
Some loved the rebrand, but critics claimed it was not the company's place to use an important social movement to make commercial profit.
Dan Cullen-Shute, chief executive of ad agency Creature London, told The Guardian at the time: "Research continually shows that millennials want brands that do and mean something."
He added: "Just selling their five-bladed whatever won't cut it now. That's why they had to do something bold.
"I have an admiration that they tried, but as a piece of communication [this ad] is clumsy, self-important and badly put together.
"It is possible to think #MeToo is incredibly important and support a world in which men are more respectful and kind, but at the same time not believe it's really Gillette's space to talk about it."
The press release that announced Archewell's partnership with P&G highlighted Meghan and Harry's work for the Vax Live concert, broadcast last weekend, which alongside other celebrities helped raise over $300 million for vaccinations around the world.
It read: "Through Archewell Foundation, The Duke and Duchess of Sussex are on a mission to build a more equitable and just future for women and girls.
"In this partnership, Archewell Foundation and P&G will put a priority focus on gender equity."
Adding: "Expanding on P&G's collaboration with [Brazilian NGO] Promundo, together we will underscore the importance of engaging men and boys in the drive for gender equity throughout society and encourage shared caregiving at home so everyone in the family can thrive."
P&G has been open about the motives around the Gillette ad but has also stressed it wanted progressive politics to be "fully integrated into the business."
Carolyn Tastad, group president of Procter & Gamble's North America division, told a Fortune conference in 2019: "The point of entry into shaving is typically 18 years old. At 18, every young boy gets a Gillette razor.
"We have a program that delivers that. We had to become more relevant."
Quoted on CNN, she said: "It has to be fully integrated into the business, or it doesn't resonate it; it seems peripheral [and] detached.
"It's not enough to make an ad. It's got to be the total picture."
If Meghan and Harry's partnership with P&G does tie them into the company's socially conscious marketing campaigns in the future, they can be sure of one guaranteed critic.
Tuesday's announcement brings one of Piers Morgan's most regular targets, Meghan Markle, together with a company he has also criticized.
After the Gillette ad, the former Good Morning Britain host posted on Twitter: "I've used @Gillette razors my entire adult life but this absurd virtue-signalling PC guff may drive me away to a company less eager to fuel the current pathetic global assault on masculinity.
"Let boys be damn boys. Let men be damn men."
A P&G spokesperson told Newsweek: "We were moved to hear that, even as a young girl, The Duchess was motivated to speak out about gender equality.
"As one of the world's largest advertisers, we recognise the power of advertising to shape culture, spark dialogue and change perception.
"That's why we strive to use our voice in advertising as a force for good, raising awareness of, and sparking conversation around, topics including gender bias.
"We are committed to being a force for good in the areas of community impact, equality and inclusion and environmental sustainability.
"We are excited to be partnering with Archewell Foundation, bringing together our shared values and global reach to advance gender equality, more inclusive online spaces, and celebrate resilience and impact through Para sport."