Meghan's Brief Interaction With Royal Aide Divides Opinion
Prince Harry and Meghan Markle joined Prince William and Kate Middleton at the Windsor estate to inspect floral tributes for the late Queen Elizabeth II. But one interaction between the Duchess of Sussex and royal aides has sparked a fierce debate on Twitter.
The monarch, 96, died at Balmoral Castle in Scotland on Thursday.
As well as inspecting the floral tributes, the two couples also stopped to shake hands and thank members of the public for their support.
Meghan was seen chatting to many people, asking them their names and even agreeing to give one a hug when asked.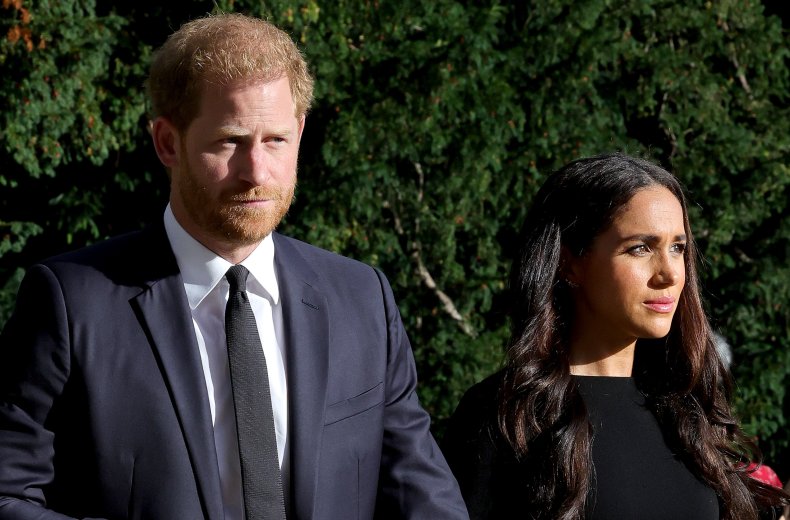 When Meghan was handed a bouquet of flowers from the crowd, one aide tried to take them from her to lay at the memorial.
But Meghan said she wanted to take them over herself and thanked him for offering.
She said something along the lines of: "I told them I'd place them over there so it's OK. Thank you. I appreciate it though."
Then another senior aide came over once Meghan had received more flowers and insisted on taking them, and the mom-of-two obliged.
A Twitter user posted both interactions to their account, writing: "The big guns had to step in when Meghan refused to let go of the flowers the first aide tried to take from her as she herself wanted to walk them over to the other tributes."
The interaction divided Twitter, with some pointing out it was likely royal protocol that the flowers are immediately handed to aides, while others thought Meghan's gesture was sweet.
"Can't believe the Meghan bashing has started already, it's the first time she's experienced this and was doing her best she probably promised to lay the flowers down herself and that's what she was going to do till told by Harry it's alright to pass them over," commented one fan on Twitter.
Another said: "Maybe she doesn't know all of the protocol around what to do after the queen dies. I mean, most of us don't."
And a third wrote: "She probably didn't understand that the flowers are taken off them for safety purposes. After all there could be a small explosive device, nerve gas, a poisonous insect, any number of things, concealed in them."
But others slammed the debate entirely, saying it was "silly" to focus on a brief interaction.
"These comments prove beyond doubt that Meg made the right choice to opt out!!!" wrote one fan.
Another added: "Y'all are wild, and worry about the silliest stuff lol."
Nicholas Witchell, the BBC's royal correspondent, said during live coverage that Meghan looked nervous at the event.
"Now I thought that Meghan looked rather anxious as she turned up there. There was some interaction between the couples, particularly between the brothers, but not a huge amount. They went to separate parts of the crowd of course," he said.
The joint walkabout between the four royals was the closest Meghan has come to William and Kate in public since her final royal duties in March 2020.
Prince William asked Harry and Meghan to join him and Kate, in a move widely interpreted as an olive branch between the brothers in the midst of a years-long rift.
Rumors of the tension surfaced in the media after Harry and Meghan's move to the U.S. in 2020, where they stood down from royal duties and started several multimedia projects.
The couple's 2021 interview with Oprah Winfrey caused global headlines when Meghan alleged she had faced racism from a member of the royal family.
Meghan continues to be vilified in the U.K. press, but on Friday, King Charles III mentioned her and his youngest son, Prince Harry, during his first speech as monarch.
"I want also to express my love for Harry and Meghan as they continue to build their life overseas," the new king said.
Prince Harry released a tribute to his late grandmother on the couple's Archewell website on September 12.
"Let us echo the words she spoke after the passing of her husband, Prince Philip, words which can bring comfort to all of us now: 'Life, of course, consists of final partings as well as first meetings,'" it read.
"Granny, while this final parting brings us great sadness, I am forever grateful for all of our first meetings—from my earliest childhood memories with you, to meeting you for the first time as my Commander-in-Chief, to the first moment you met my darling wife and hugged your beloved great-grandchildren.
"I cherish these times shared with you, and the many other special moments in between. You are already sorely missed, not just by us, but by the world over. And as it comes to first meetings, we now honor my father in his new role as King Charles III."