Meghan Markle Will Change Royal Views on Race Relations, According to Princess Diana's Biographer
The upcoming union between Prince Harry and American actress Meghan Markle presents a special opportunity to change the royal view on race relations in the U.K., according to British writer Andrew Morton, who penned a notorious biographer of Harry's late mother, Princess Diana.
Speaking with TMZ on Friday, Morton noted the radical change Markle represents and what that means for the monarchy going forward. "The royal family have not been top of the list for racial integration. There's only been 6 percent of the workforce inside the palaces [that] are from ethnic backgrounds," Morton said.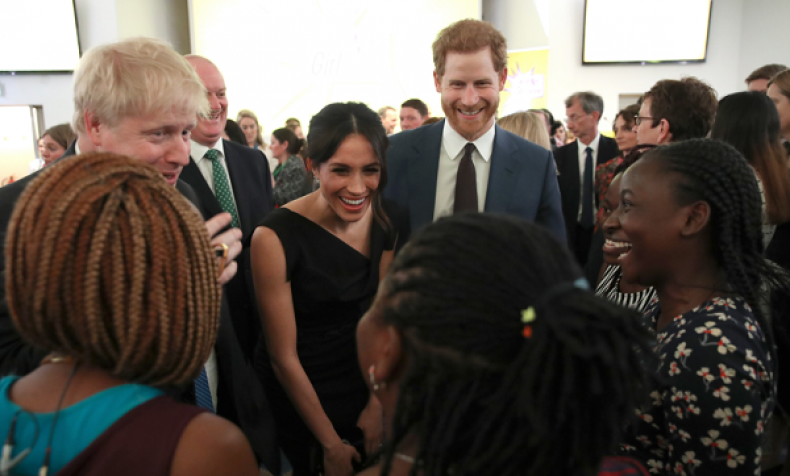 Although Morton said Harry's grandmother, Queen Elizabeth II, "doesn't have a racist bone in her body," some members of the royal family have had a checkered past regarding matters of race. In December 2017, Princess Michael of Kent was accused of racism when she sported a controversial blackamoor brooch to a Christmas lunch attended by Markle.
According to Morton, bringing Markle, who is of mixed race, into the family could automatically shift the acceptance of other races by royals, which essentially would change the way the public addresses matters of race as well. "My argument has always been that the monarchy represents the nation, and Britain is a multicultural nation," Morton said.
"So it is a great opportunity now with Meghan, a biracial, African-American, Caucasian girl who has written long and eloquently about her struggles with being biracial—she kind of stands as a mute admonishment, if you will, to the royal family, to the royal establishment," he continued.
Thirty-six-year-old Markle, who was born in California to an African-American mother and a white father, wrote a moving essay in Elle magazine in 2016 detailing the racism she experienced growing up and explaining how her ethnicity affected her ability to land roles in Hollywood.
"She's not gonna start putting her foot down and kicking shins the moment she becomes a duchess, but just her very presence as someone from a different racial background to the white, middle-class characters who inhabit Buckingham and Kensington Palace will be a refreshing world of difference," Morton said.
Across Britain, Markle has already started to make an impact on the public's perception of race. According to a poll recently conducted by U.K. think tank British Future, 22 percent of Brits said Harry's union to an ethnic minority was good for the country, while a whopping 57 percent of individuals said the couple's different races "simply does not matter." However, there was still 12 percent of people who disagreed with someone of mixed race marrying into the royal family.
Meghan Markle Will Change Royal Views on Race Relations, According to Princess Diana's Biographer | Culture