Royal Wedding Celebrity Guest List: Who Celebrated Meghan Markle and Prince Harry?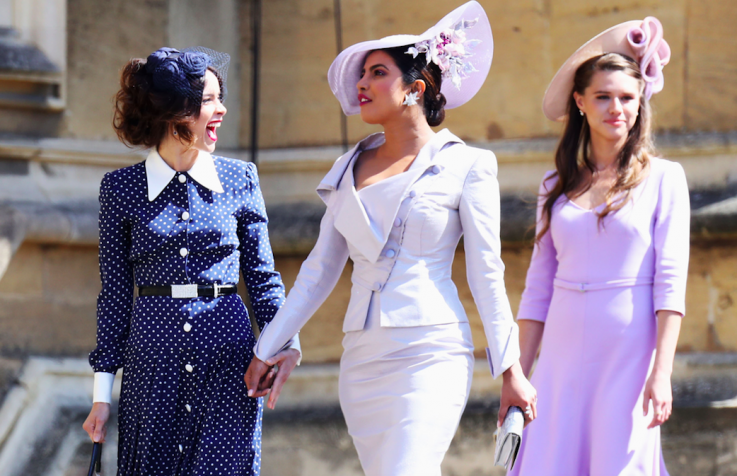 With Meghan Markle's status and a Hollywood actress and Prince Harry being a British royal, their wedding was slated to have some of the most recognized people in attendance. While there were plenty of rumors, there were some people who were already confirmed to celebrate with Markle and Harry at St. George's Chapel in Windsor Castle Saturday.
It was known early on that Markle's estranged family would definitely not be in attendance. Her father, Thomas Markle, was originally supposed to walk his daughter down the aisle. He dropped out of the wedding last week after it was discovered he staged phony paparazzi pictures. Thomas Markle said he didn't want to "embarrass" his daughter or the royal family further. After thinking it over, Thomas Markle changed his mind, but his health would keep in from flying to England. Nearly a week before the fake paparazzi pictures were revealed, he suffered a heart attack that caused "serious damaged." His doctors would not allow him to travel across the pond to give his daughter away.
Another person who would not be at the wedding is Markle's half-sister Samantha Grant. She regularly tweeted about the royal wedding in the days leading up to the event. Even though Markle asked for privacy, Grant refused to be silenced.
"If it's about my life or my father's, there's something known in this country as freedom of speech. She doesn't have a copyright on that, and she's not gonna tell me that I can't speak about my own life or my father's when it's a matter of public self-defense. The media is disparaging us," Grant told TMZ Wednesday. "I'm not gonna take it. She's not qualified to suggest that I don't under any law in this country. This is not Great Britain. I am a United States citizen, and that's all there is to it. She's way out of her league to tell me I can't speak. I'm not saying anything about her, but if I'm talking about my life or my father's, she has to respect it."
While a majority of Markle's extended family was not invited to the wedding, her in-laws will be there. Prince William served as the best man for Harry and his children were also involved. Princess Charlotte was one of the six bridesmaids for Markle and Prince George was a page boy.
The cast of Suits was rumored to attend the royal wedding, along with tennis star Serena Williams, actor George Clooney and lawyer Amal Clooney, former Quantico actress Priyanka Chopra, True Blood actress Janina Gavankar, British singer Joss Stone, stylist Jessica Mulroney, What Pretty Girls Are Made Of author Lindsay Roth and two of Prince Harry's former girlfriends, Cressida Bonas and Chelsy Davy.