Samantha Grant To Host a Meghan Markle and Prince Harry Royal Wedding Watch Party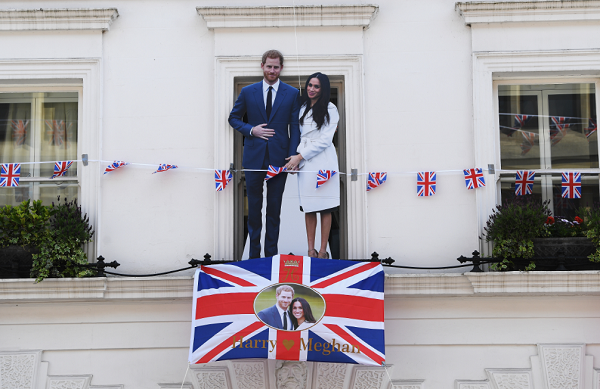 Samantha Grant wasn't invited to the wedding of her half-sister, Meghan Markle, and Prince Harry, but she's planning on celebrating the couple's romance nonetheless. According to TMZ, Grant, who has the same father as Markle, planned her own royal shindig equipped with her very own standing security guard.
Grant is set to host a viewing party of the royal wedding at her Florida home on Saturday. Her boyfriend and a few other friends are expected to be there and guests will likely be dressed to the nines for the occasion. Grant told TMZ she is planning on wearing a dress and a vintage art deco hat, likely modeled after the fascinators and fancy hats British women wear to royal events.
Grant has also reportedly hired off-duty police officers to stand outside her home—similar to the standing Queen's Guard that patrol the grounds of Buckingham Palace.
It's unclear if more of Grant's relatives on the Markle side of the family will attend Grant's party. A number of them have already made their way to England for Markle and Harry's wedding, although they were not actually invited either.
Tyler Markle, the son of Meghan Markle's big brother Thomas Markle Jr., arrived in the U.K. on Monday along with his brother Thomas Dooley and their mother, Thomas Markle Jr.'s ex-wife Tracy Dooly. The trio is expected to serve as special correspondents on British morning news show, Good Morning Britain, on the day of the wedding.
As for Grant's invite, the 53-year-old said on British TV show Meet the Markles Wednesday that she didn't "expect or demand" an invitation to Saturday's festivities.
However, she appeared to be completely baffled over why she wasn't allowed to participate in what's sure to be the wedding of the year, despite the fact that she hasn't spoken to Meghan Markle since 2015. "There are some members of the family who have an air of entitlement about even a wedding invite, I don't understand why we didn't get one but I don't expect or demand one," she said.
"You know people don't understand we were very much integrated into each other's lives. She was the baby in our household, we never addressed each other as half-sisters," Grant, who is 17 years older, continued. "We had the same father, she was in our lives. We had two households, there was a bridge. We were united."
Meghan Markle's parents, Thomas Markle Sr. and Doria Ragland, divorced when Meghan Markle was 6 years old. Although she maintained a relationship with her father, she was predominately raised by her mother in California.