Meghan Markle Sends a Hidden Message About Empowerment With Her Face Mask
Meghan Markle wore a special facemask with a hidden message about royalty and empowerment as she handed out supplies for school children.
The Duchess of Sussex wore the $15 Blue Seersucker mask from New York City based Royal Jelly, a company founded by black women.
The company's name gives a nod to the royal family she left behind in Britain while the fashion line's history speaks to her recent outspoken comments on race.
A source told Newsweek: "Of note, Meghan wore a mask from Royal Jelly. A NYC-based, Black female founded company."
These are the first photos of the couple outside their new Montecito mansion since they moved in July.
Meghan and Prince Harry visited to Dr. Owen Lloyd Knox Elementary School, in South Los Angeles, on Wednesday, for good cause Baby2Baby.
The non-profit has been handing out diapers, wet wipes, clothes and back to school kit for older pupils, including books, backpacks and other supplies.
Meghan and Harry got masked up for the event and handed packages to children as well as families in passing cars during 32C heat.
A Sussex source told Newsweek: "The couple passed out supplies to families and helped the kids pick out and try on their new backpacks.
"Despite 32C/90F heat everyone was in great spirits.
"The kids were eager to receive their books and supplies and Meghan and Harry did what they do best – engage and connect with the crowd.
"It was hot and humid but they carried on determined to serve every last child waiting in a line that wrapped around the school.
"There was nothing but smiles as they chatted with the families about the upcoming school year and wished all of the kids good luck."
The charity drive comes as 700,000 students prepare to begin the new school year with distance learning rather than in classrooms.
The charity fears the change could leave some families short of the basic necessities they expect to get at school.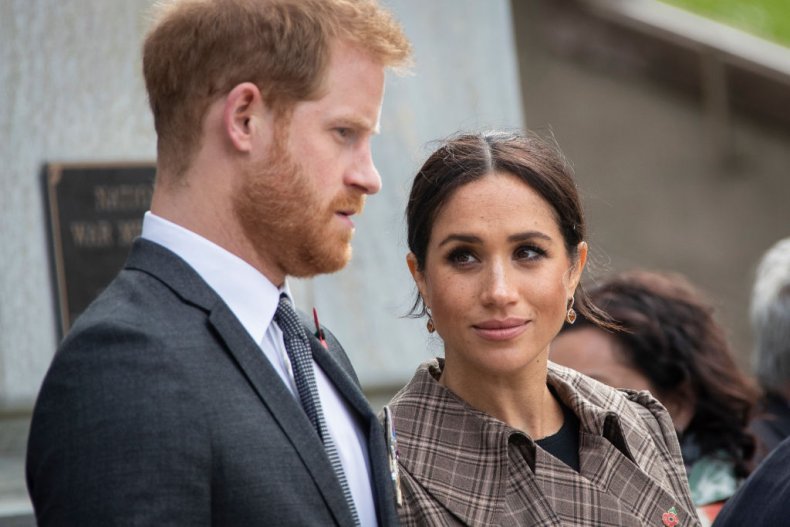 Norah Weinstein and Kelly Sawyer Patricof, co-presidents of Baby2Baby, said in a statement: "We are so grateful to be onsite during the most unique back to school week in history distributing school supplies, backpacks, hygiene, clothing and food directly to children and families who have been disproportionately impacted by COVID-19 and are struggling to afford the basic necessities they rely on school to provide.
"We are committed to supporting the students from our partners at LAUSD and around the country throughout distance learning as well as when they are back in the classroom."
Meghan and Harry moved to a nine-bedroom house in Montecito, Santa Barbara, in July, after buying their own home for the first time.
The gated-mansion, on a private road between the mountains and the sea, has a playground and tea house for Archie, a spa, a gym, wine cellar and two bed guest house.
Meghan and Harry are yet to fully launch their own non-profit foundation Archewell, announced in the spring.
A statement from the couple given to the Daily Telegraph in April said: "Like you, our focus is on supporting efforts to tackle the global Covid-19 pandemic but faced with this information coming to light, we felt compelled to share the story of how this came to be.
"Before SussexRoyal, came the idea of Arche – the Greek word meaning source of action.
"We connected to this concept for the charitable organization we hoped to build one day, and it became the inspiration for our son's name.
"To do something of meaning, to do something that matters.
"Archewell is a name that combines an ancient word for strength and action, and another that evokes the deep resources we each must draw upon.
"We look forward to launching Archewell when the time is right."