Meghan Markle Should Not Enter U.S. Politics, Say Third of British People
Only a quarter of Brits would support Meghan Markle going into politics, while a third believe she should not, exclusive polling for Newsweek reveals.
Since stepping back as a senior royal, the Duchess of Sussex has backed Black Lives Matter in a move supported by a majority in the country she left behind.
Experts have told Newsweek she could not have made her speech while a member of the royal family, suggesting a new, more outspoken era.
And some have suggested that a political career could await the duchess as she crafts a new role for herself.
Just 24 percent of Brits support Meghan launching a political career while 33 percent would oppose such a move.
Of 2,000 U.K. adults surveyed, 36 percent said they neither supported or opposed such a move in the polling conducted for Newsweek by Redfield & Wilton Strategies last week.
The data has a 2.19 percent margin of error.
In her landmark address, Meghan told graduating students at her former high school to use their voice "in a stronger way" than ever before by voting in the upcoming presidential election.
She said: "You are going to lead with love, you are going to lead with compassion, you are going to use your voice.
"You are going to use your voice in a stronger way than you have ever been able to.
"Because most of you are 18 or you're going to turn 18 so you are going to vote.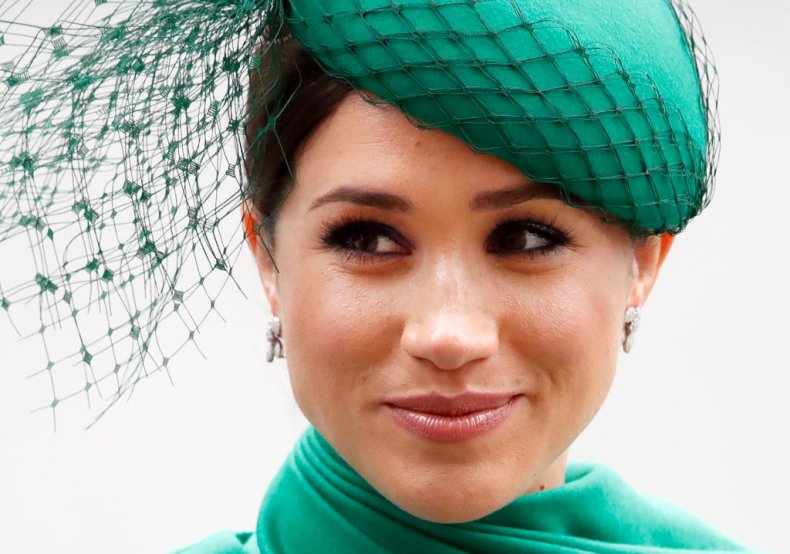 "You are going to have empathy for those who don't see the world through the same lens that you do.
"Because, with as diverse and vibrant and open-minded as I know the teachings in Immaculate Heart are, I know you know that black lives matter.
"So I am already excited for what you are going to do in the world."
Recent Newsweek polling has revealed that Queen Elizabeth II's silence on Black Lives Matter has split opinion in the U.K. with most young people believing she should speak out.
However, older residents supported her decision to stay silent on the death of George Floyd while in police custody on May 25.
This month, Dickie Arbiter, Elizabeth's former press secretary, told Newsweek Meghan's powerful speech was only possible because she had left the royal family.
He said: "What's happened in the States is an absolute tragedy and it should never have happened but unfortunately it did happen.
"Had Meghan and Harry still been in the U.K. and working members of the royal family that speech couldn't have happened.
"I'm talking about the whole speech, end of. It's highly politicized because of the very nature of what it is.
"And it's starting to voice opinions about the internal affairs of another country. I don't think the queen has to say anything.
"It is a social issue for the United States and it is not for a head of state to voice an opinion, whether the queen or the president of France or whoever."