Meghan Markle Sister Samantha Grant Claims She's Not 'Cashing In' on New Royal's Fame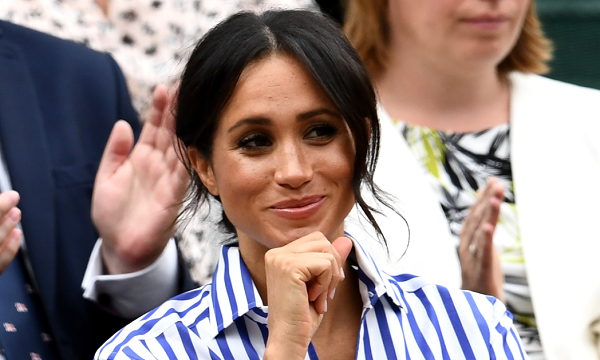 Despite recently charging a radio station for an interview, Meghan Markle's half-sister Samantha Grant claimed she isn't "cashing in" on her younger sibling's newfound royal status and fame. Grant appeared on ITV's Good Morning Britain on Monday where she discussed her pay-for interviews and the ongoing drama surrounding her sister and their father, Thomas Markle.
"I worked in media most of my life and in broadcasting, so because my sister is suddenly royal isn't grounds for me to stop doing all of that," Grant said. "Let's face it—we all have to survive. Money makes the world go round, so if you want to call that cashing in, that's fine. But I think no one in media would refuse a paycheck for talking about the royal[s] and, as a family, we're not subject to royal protocol. Why would I stop living because we have a family issue going on?"
She added: "No one has a copyright on our life experiences and so, I think the public forgets that within the family, we're each individuals with our own life experiences."
Grant requested $1,500 for a phone interview with The Domenik Nati Show, according to an email conversation between Grant and the radio show obtained by Newsweek on Friday.
Grant, who did not attend her sister and Prince Harry's wedding in May, said her family was "entitled to be open" about any strife they may be experiencing and answer questions the public may have. "If we can shed some light on some issues for the public, then great and we can enjoy the process," she said. "I don't think there's anything wrong with that. It's not disparaging. It's not harmful."
Grant was referring to the speculated tension growing between her father and the royal family after Thomas Markle told The Sun Meghan Markle looked "terrified" in her new position as Duchess of Sussex. Thomas Markle also said during the interview he hadn't spoken with his daughter since she tied the knot with Harry and had no way of contacting her because Meghan Markle's number changed.
While appearing on Good Morning Britain, Grant said she and her father were speaking publicly about their fallout with Meghan Markle simply because "private channels have been exhausted and to no avail."
"So when that happens, you know, what can one do except reach out publicly?" she continued.
Despite the family drama that seems to be playing out in the British tabloids, Grant said she hoped Meghan Markle would "reach out to him" because "life is very short."
"He's 74 years old and I felt if something were to happen to him and he passed away, I don't think any of us could live with the fact that he died unhappy and there was not closure," Grant said. "I believe that she would want that also."
Meghan Markle Sister Samantha Grant Claims She's Not 'Cashing In' on New Royal's Fame | U.S.