Meghan Markle was only free to back Black Lives Matter and call the death of George Floyd racist because she stepped back from royal duties, an expert tells Newsweek.
The Duchess of Sussex told graduates from her old high school Immaculate Heart of her fears she would be "picked apart" for talking about the fury on America's streets.
She added: "I realized the only wrong thing to say is to say nothing."
Newsweek revealed how she spoke without notes in words her friends described as "pretty raw," detailing her own deeply personal experiences during the L.A. race riots.
However, had she been a senior, working member of the royal family she might have been accused of politicizing the monarchy.
Dickie Arbiter, Queen Elizabeth II's former press secretary, told Newsweek: "It would have been pretty impossible.
"What's happened in the states is an absolute tragedy and it should never have happened but unfortunately it did happen.
"Had Meghan and Harry still been in the U.K. and working members of the royal family that speech couldn't have happened.
"I'm talking about the whole speech, end of. It's highly politicized because of the very nature of what it is.
"And it's starting to voice opinions about the internal affairs of another country. I don't think the queen has to say anything.
"It is a social issue for the United States and it is not for a head of state to voice an opinion, whether the queen or the president of France or whoever."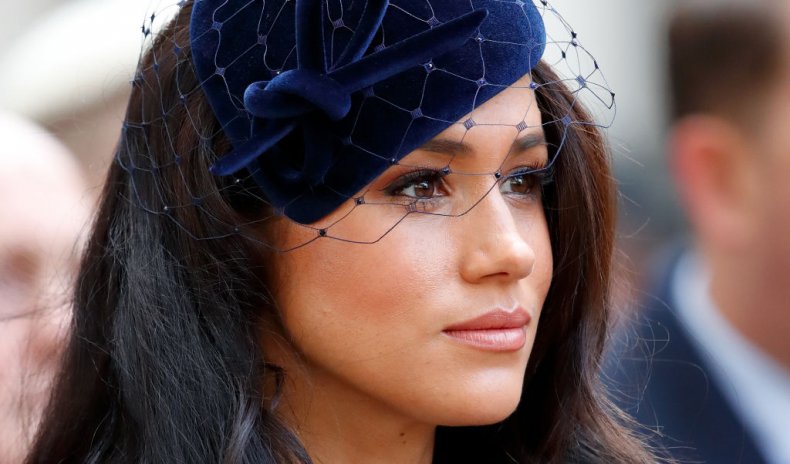 Meghan and Harry have both done work since deciding to step back that they would have been unlikely to take while frontline royals, from the duke's speech to JP Morgan in February to the duchess's voiceover for nature documentary Elephant on Disney+.
However, this is the first step into political territory traditionally avoided by the royals.
A series of royal-linked organizations have tweeted support for Black Lives Matter but no serving royal has expressed any opinion on the protests.
Buckingham Palace also declined to comment both on the protests and on Meghan's speech when contacted by Newsweek.
The Queen's Commonwealth Trust, which counts Queen Elizabeth II as its patron and Prince Harry and Meghan as president and vice president, tweeted in support of BLM this week.
The Diana Award and Heads Together, originally launched by Harry, Prince William and Kate Middleton, also publicly backed the protesters.
Omid Scobie, co-author of Finding Freedom, the anticipated upcoming biography of the Duke and Duchess of Sussex, told Newsweek the royal family should comment.
He said: "For the simple fact that racism and police brutality is a human rights issue, not political, I'd like to think that Meghan's speech would have been just as possible as a working member of the Royal Family. Unfortunately despite this, we have heard little from royals over the years regarding the subject of racism and the current silence from all three Royal Households suggests that things might not be ready to change just yet.
"There had been criticism that Meghan's encouragement of students to vote was some sort of political statement against Trump that goes against royal protocol, but it's important to note that these words were not about the President, this was about young people using their right to vote and actively getting involved in change on every level—from electing the right local governors to mayoral elections.
"It's times like these one realizes what a loss the Sussexes' departure has been for the Royal Family. Meghan represented inclusion, diversity and a voice within the Firm that young royal watchers around the world, especially across the diverse Commonwealth, could connect with in a way they hadn't before."
Wider public commentary on Meghan's intervention was also positive with royal commentator Richard Fitzwilliams taking to Twitter to express his support
He wrote: "This is a superb address to those graduating at her former school, moving, evocative, passionate and deeply committed.
"Unbeatable!"
Contrary to expectations, one of Meghan's longest standing critics in Britain, Piers Morgan, also backed her powerful words, attacking his former friend Donald Trump.
The TV presenter and pundit used his column for Mail Online, one of the news organizations Meghan and Harry recently boycotted, to praise her.
He wrote: "I've not been the Duchess of Sussex's biggest fan, to put it mildly, but I actually thought she hit the perfect tone in her comments about George Floyd today, telling students in a video message about her own painful memories of witnessing the 1992 riots in Los Angeles after the brutal beating of Rodney King, and quoting her old teacher Ms Pollia who would tell her: 'Always remember to put others' needs above your own fears'.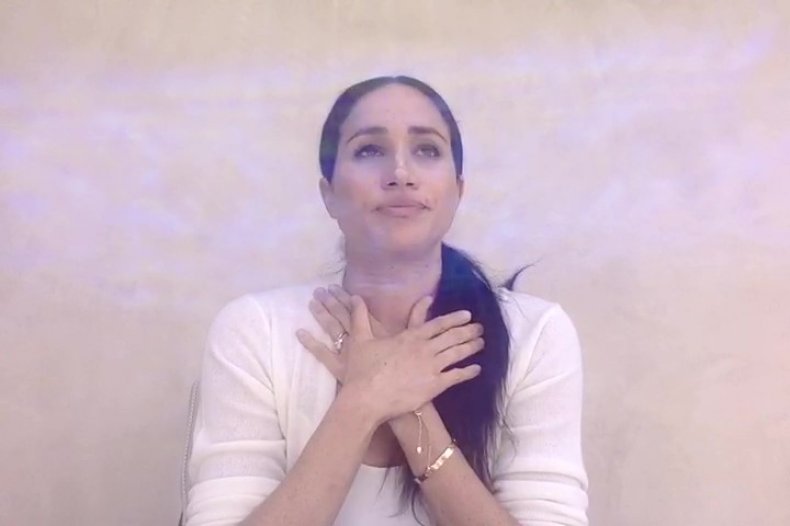 "Meghan said: 'You're going to have empathy for those who don't see the world through the same lens that you do.'
"There, right there, is what President Trump desperately needs to understand.
"The American people are hurting."