Meghan Markle 'Unfairly Targeted' for Causing 'Megxit'—Tina Brown
Author and former editor of Vanity Fair Tina Brown has called Meghan Markle and Prince Harry "co-pilots" on their plan to exit royal life, saying that Meghan has been "unfairly targeted as the one who took him away from his family," in a recent interview.
Speaking to 60 Minutes Australia, Brown discussed the recent trials and tribulations of the British royal family. She has just written a book on the subject, called The Palace Papers: Inside the House of Windsor, the Truth and the Turmoil.
Harry and Meghan stepped down as full-time working members of the royal family in 2020, before moving to California and pursuing independent financial opportunities. The period leading up to the couple's royal exit was nicknamed by the press as "Megxit"—a play on the term coined to describe Britain's exit from the European Union, "Brexit." Harry has since called the term "misogynistic."
In her interview, Brown spoke about Harry and Meghan's departure from royal life, claiming that the prince had a bigger role to play than is widely acknowledged, with Meghan often cited as the driving force behind the move.
"One of the things that surprised me," she said, "was that one of [Harry's] close people at the palace said to me, 'you know, we always thought that Harry would leave. We always thought that at some point Harry would leave because he was so unhappy in the constraints of the system".
According to Brown it wasn't until he met Meghan that Harry was presented with an opportunity to make leaving a possibility:
"In Meghan he met somebody who was dynamic enough and sort of self directed enough to say 'we don't need this anymore. We can be happier than we are now. We don't need to do it,'" she explained.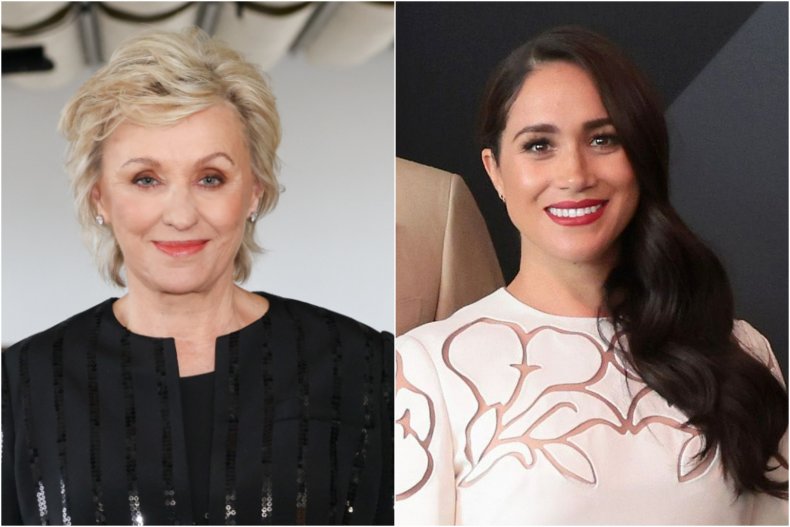 In response to host Liam Bartlett's observation that the author was "implying that Harry dove 'Megxit' more than Meghan did, at least in the early stages," Brown responded that the move appeared to be an equal undertaking.
"I think they were co-drivers," she said, "I think they were co-pilots on this."
"I think that Meghan has been somewhat unfairly targeted as the one who, sort of, took him away from his family," she added, suggesting: "I actually think that Harry wanted out."
Brown elaborated on this theme in an earlier interview with Joanna Coles for the Washington Post in which she talked about Meghan being seen as the face of the couple's royal exit saying:
"I actually think that it was unfair, in a sense, to call it 'Megxit', because I really think Harry wanted out himself...The queen knew that at some point it was highly likely that Harry would want out. But they didn't know it would be so fast, and they didn't see it happening in the way that it did."
This does not absolve Meghan from her share of the responsibility though, as Brown later told Coles: "I think it's also, then, fair to say that Meghan gave Harry the tools to leave."
In The Palace Papers, Brown documents the past 25 years of royal highs and lows, particularly in relation to the media and the dialogue between press and palace. On Harry and Meghan's exit from their royal duties, Brown has said that it was a move that Princess Diana wouldn't have replicated.
Speaking to Coles, Brown said that Diana understood the power of working or driving social change from within the monarchy, aware that her royal association was the force behind her notoriety.
"Diana always saw the power of changing within the structure of monarchy. She didn't want to be out of the monarchy," Brown said.
"She wanted to hang on to her HRH, which was confiscated. She stayed living in Kensington Palace. Nothing would have prized her out of that.
"She saw that the royal imprimatur was always going to be the best, you know, leverage, the best convening power to promote the causes that she cared about. So, I don't know that she would have ever really advocated, you know, going off to live in Montecito without any of the patronages and any of the platform of the powers."
Queen Elizabeth II's Platinum Jubilee celebrations in June will see Harry and Meghan return to Britain to take part in royal events for the first time as a couple since stepping-down in 2020 and since the broadcast of their landmark tell-all interview with Oprah Winfrey in March 2021.
The couple will travel to Britain with their two children, Archie, 3, and Lilibet, 11 months, where their daughter will be introduced to the queen for the first time. Lilibet was chosen as a name for Harry and Meghan's first daughter as it is the family nickname of the monarch.