What Meghan Markle Said in Her Thanksgiving Message About Being Grateful
Meghan Markle has asked people to put aside their disagreements and ask each other, 'Are you OK?' in an optimistic Thanksgiving message.
The Duchess of Sussex revealed she had a miscarriage in July during a heartbreaking essay titled "The Losses We Share" published in the New York Times yesterday.
She described how the tragedy left her believing "the only way to begin to heal is to first ask, 'Are you OK?'"
The realization led her to ask people to look out for one another on Thanksgiving today—even as Americans are forced by the pandemic to spend the holiday apart.
Meghan said: "So this Thanksgiving, as we plan for a holiday unlike any before—many of us separated from our loved ones, alone, sick, scared, divided and perhaps struggling to find something, anything, to be grateful for—let us commit to asking others, 'Are you OK?'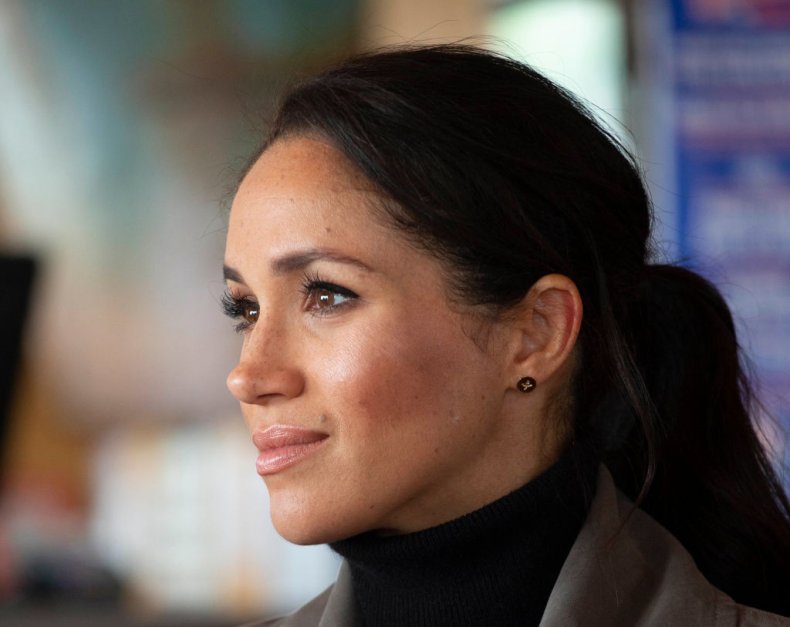 "As much as we may disagree, as physically distanced as we may be, the truth is that we are more connected than ever because of all we have individually and collectively endured this year.
"We are adjusting to a new normal where faces are concealed by masks, but it's forcing us to look into one another's eyes—sometimes filled with warmth, other times with tears.
"For the first time, in a long time, as human beings, we are really seeing one another. Are we OK? We will be."
Meghan and Prince Harry's plans for Thanksgiving have not been made public but they may spend some time remembering the past 12 months as last year's holiday marked a major turning point in their lives.
The duke and duchess used the celebration to give the first hint they had left Britain—though at that point they were yet to reach America.
The couple added a maple leaf emoji to a Thanksgiving message—indicating they had gone to Canada.
The trip proved to be the first step to quitting royal duties, with their decision to step back announced the following January.
They initially lived on Vancouver Island before relocating to California just before coronavirus lockdown in March.
Meghan's reference in her essay to getting past the moments when people "disagree" echoes her past comments on social media abuse and trolling.
She discusses her fears about the state of the world and American society today, referencing the U.S. election.
She wrote: "On top of all of this, it seems we no longer agree on what is true.
"We aren't just fighting over our opinions of facts; we are polarized over whether the fact is, in fact, a fact.
"We are at odds over whether science is real.
"We are at odds over whether an election has been won or lost. We are at odds over the value of compromise."
Meghan won widespread praise for the article—though some still took to social media to criticize her.
One even earned a rebuke from Chrissy Teigen, though she quickly deleted the post and said: "Sorry forgot I'm trying to be nicer lol."
At the heart of the essay though was Meghan and Prince Harry's experience of losing their second child on an otherwise ordinary July day.
Meghan wrote: "It was a July morning that began as ordinarily as any other day: Make breakfast. Feed the dogs.
"Take vitamins. Find that missing sock. Pick up the rogue crayon that rolled under the table. Throw my hair in a ponytail before getting my son from his crib.
"After changing his diaper, I felt a sharp cramp. I dropped to the floor with him in my arms, humming a lullaby to keep us both calm, the cheerful tune a stark contrast to my sense that something was not right.
"I knew, as I clutched my firstborn child, that I was losing my second."
She added: "Sitting in a hospital bed, watching my husband's heart break as he tried to hold the shattered pieces of mine, I realized that the only way to begin to heal is to first ask, 'Are you OK?'"