Will Meghan Markle Celebrate Thanksgiving Now That She's a Royal?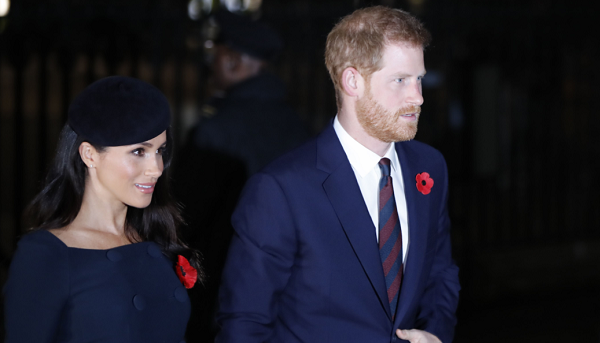 It's no secret Meghan Markle likes to cook. After all, she was roasting a chicken with her husband Prince Harry when he popped the question last November. Not to mention, one of her first gifts to the people as Duchess of Sussex was a cookbook—well, the foreword in a cookbook comprised of recipes and photographs from the Hubb Community Kitchen in honor of the Grenfell Tower fire.
So with Thanksgiving right around the corner, one would might assume Markle to be the one preparing a turkey for the royal family—that is, if she plans to celebrate the American holiday this year.
Thanksgiving is not an observed holiday in the U.K., so there likely won't be any celebrations honoring the pilgrimage to the U.S. at Buckingham Palace. However, there is a possibility Markle, who is not yet a British citizenship, will still recognize Thanksgiving at her and Harry's cottage in Kensington Palace.
There are no official rules preventing Markle from baking a turkey and observing Thanksgiving if she chooses to. Even when Markle does officially become a Brit—which will likely take a few years considering the U.K.'s lengthy visa process—she'll still be allowed to celebrate American holidays if she wants to.
While it's unclear if the new royal has any plans to celebrate Thanksgiving, her schedule is apparently open on Thursday. Harry is also free on Thanksgiving, as is his brother Prince William and sister-in-law Kate Middleton, Duchess of Cambridge.
With their empty schedules and neighboring residences, Markle could potentially have all her new family members over for Thanksgiving dinner. Both of Queen Elizabeth's grandsons live in Kensington Palace along with the Prince and Princess Michael of Kent, the Duke and Duchess of Kent and Princess Eugenie and her new husband Jack Brooksbank while Markle's mother reportedly lives in London.
Last year, Markle celebrated Thanksgiving in Los Angeles with her mother. It was right after the Thanksgiving holiday when Markle and Harry's engagement was first announced.