Claim Meghan 'Researched Harry's Weaknesses' Contradicts Her Past Remarks
Did Meghan Markle research Prince Harry before she was set up with him? The Duchess of Sussex has famously said she didn't know much about the royal before they started dating but new claims contradict her past comments.
The claims are made in the newly released book, Revenge: Meghan, Harry and the war between the Windsors, by Tom Bower.
Newsweek has contacted a representative for Harry and Meghan for comment.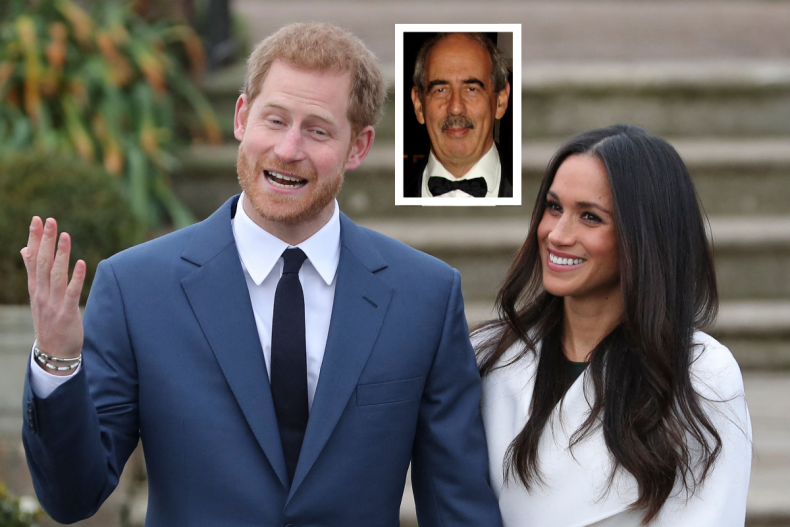 What Meghan said about her knowledge of Prince Harry prior to meeting him:
Meghan claimed that she didn't Google Prince Harry before marrying him in their 2021 bombshell interview with Oprah Winfrey.
"Well, I didn't do any research about what that would mean… I'd never looked up my husband online," the duchess told Oprah. "I just didn't feel a need to because everything that I needed to know, he was sharing with me, right? Everything that we thought I needed to know, he was telling me."
In 2017, when the couple announced their engagement, Meghan was asked by the BBC about how a friend set them up on a date, and she explained that, being from the U.S., she didn't know much about the British royal family.
"I'm from the States you don't grow up with the same understanding of the royal family," she said at the time. "And so while I now understand very clearly there's a global interest there, I didn't know much about him, and so the only thing that I had asked her when she said she wanted to set us up was one question.
"I said 'Was he nice?' because if he wasn't kind it just didn't seem like it would make sense."
Meghan said in both the engagement interview and the Oprah interview that she didn't know anything about Harry and had not Googled him prior to being set up with him.
Bower's new book has now contradicted Meghan's statements about Harry and her knowledge of him before they met.
What Tom Bower said in his book:
Meghan's google search was more forensic. As the master of online research for The Tig, she instinctively searched Google for information. The fun-loving prince, she discovered, had adopted Diana's compassion as a prop to support his own emotional needs. He had not only set up the Invictus Games but was also involved with Sentable, a charity he created in Diana's memory to help HIV sufferers in Lesotho. Saving Africa's animals was clearly also important for him. Her two visits to Rwanda would prove useful. Her philanthropic activism was an advantage.
Bower further elaborated on the claim in an interview with GB News today (July 25) and claimed that Meghan "was on a manhunt" and "researched Harry's weaknesses" prior to meeting him.
"I think that Meghan was on a manhunt. She was looking for a husband—and an English husband—and Harry was available and she carefully researched all his strengths and more importantly his weaknesses," Bower said on the U.K. right-wing news network.
"When that moment came, when she first met him she could easily—because she's an extraordinary good performer in those circumstances, she's an actress after all—she could reassure him that she was the one he was looking for," Bower continued.
"And he was desperately looking for somebody—he confessed he was a lonely man, he confessed he couldn't find anyone suitable. He'd gone through some very unhappy relationships and Meghan fitted the bill. She provided everything he needed."
Also in Bower's book is a passage related to Meghan's friend and former talent manager Gina Nelthorpe-Cowne who is quoted as saying that the duchess "Googled Harry" and had "gone deeply into his life."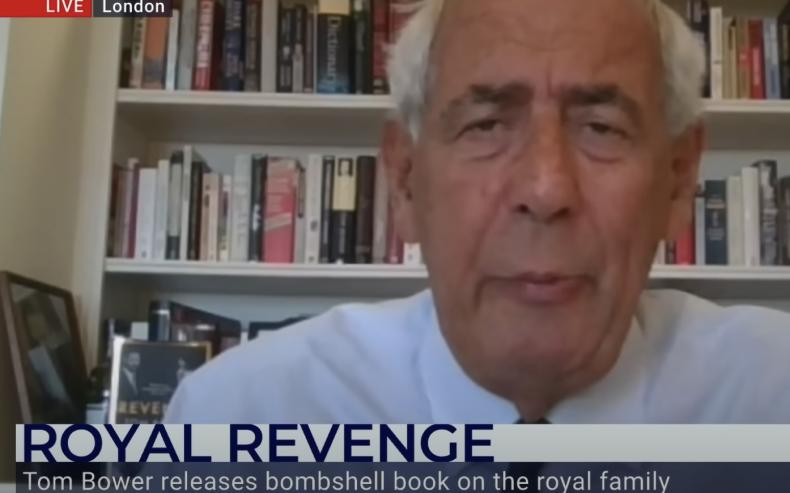 What the book states, regarding Gina Nelthorpe-Cowne:
Gazing at her client, Nelthorpe-Cowne thought, 'I looked at how stunning she was and I just thought: "There's no way he's going to be able to resist her."' As Meghan carried on whispering with excitement, Nelthorpe-Cowne interrupted, 'Do you know what you're doing? Do you know anything about him?' Meghan replied, 'I've googled Harry. I've gone deeply into his life.' Nelthorpe-Cowne was left in no doubt that Meghan had carefully researched every aspect of Harry and his past life. She understood precisely the man she was meeting: needy, volatile, unhappy and seeking a soulmate. 'I understood where she was coming from,' Nelthorpe-Cowne recalled. 'Her dream of bagging a prince was even written in one of her old blogs.' At Kate's wedding to Prince William in 2011, Meghan had written: 'Little girls dream of being princesses. And grown women seem to retain this childhood fantasy. Just look at the pomp and circumstance surrounding the Royal Wedding and endless conversations about Princess Kate.' Nelthorpe-Cowne left the restaurant with one thought: 'Meghan is dreaming big.'
It's unclear whether these comments came from a Mail on Sunday interview with Nelthorpe-Cowne or Bower's own research. Newsweek has contacted Bower's representative for clarification.
Meghan's claims about not researching Harry prior to being set up on a date with him have been disputed before.
Author and former editor of Vanity Fair, Tina Brown said during a podcast appearance in April that Meghan's claims about not researching her future husband were "disingenuous."
"I don't believe her on that one. Everybody Googles people," Brown stated on The New York Times' Sway podcast with Kara Swisher. "That was very disingenuous, that clip [from the Oprah interview] that you played."
Revenge: Meghan, Harry and the war between the Windsors, by Tom Bower, was published on July 21.