Meghan Markle's Wedding Dress Designer Reveals Inside Story of 'Extraordinary' Day With Royals
Meghan Markle's wedding dress designer has described the royals "mingling" like any other family in a behind-the-scenes account of the "dream" day.
Clare Waight Keller was the brains behind the Duchess of Sussex's spectacular Givenchy dress with hand-stitched 16 feet organza veil and train.
But she also had a remarkable insider's experience at Windsor Castle, two years ago this week, when Prince Harry and Meghan's ceremony was watched by millions.
She described the royal family sharing small talk about the bride and groom before pictures with official wedding photographer Alexi Lubomirski.
The high-end designer told her Instagram followers: "It was extraordinary to be in that room with the entire royal family mingling in front of myself and the photographer Alexi Lubomirski.
"Just like any family at a wonderful occasion like this, they were talking about the bride and groom, the wedding, children and the service, just like we all do, so completely understated and charming.
"It was utterly fantastic and it was hard not to pinch yourself and think it was a dream. As soon as everyone arrived in the room we began the shoot, highly organised and precise but also so relaxed and intimate. It all went very fast, but the memories are there always."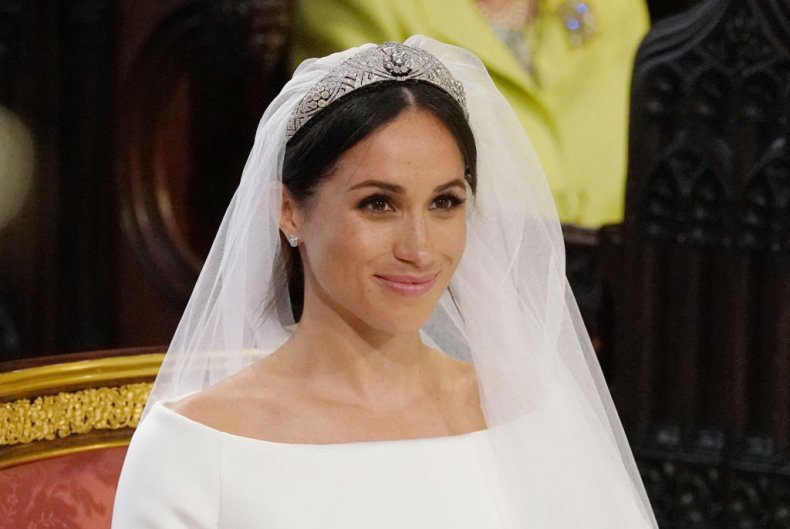 And she described how as she was whisked to Windsor Castle behind Meghan's Rolls-Royce just before the ceremony.
In an Instagram post, she said: "I remember the roar of the crowds, huge, thunderously joyful. You couldn't help but smile and feel quite how surreal it was to be faced with this vision.
"Like so many, I have watched journeys like this with the royals travelling through well wishers for Ascot, Trooping the Colour and other weddings but never before have I experienced it first hand myself.
"We traveled for a few minutes behind Meghan's car, going through that wonderful energy and uplifting spirit before diverting to the Chapel. I can say that definitely it's the closest thing to experiencing what the Royal family sees every time they drive into the crowds, truly quite extraordinary feeling that patriotic love."
A friend of Meghan and Harry told Newsweek how the couple celebrated their anniversary with a "quiet day as a family."
Meanwhile, fans of the duke and duchess spent the day filling social media with their favourite photos and fondest memories.