Meghan Markle White Shirt Dress: Where to Buy Duchess' Look from South Africa Tour
Meghan Markle's sartorial choices have inspired mass purchases since she announced her engagement to Prince Harry two years ago—and Wednesday was no different when Markle wore a simplistic white shirt dress on one of the final stops of her and Harry's South African royal tour.
On the final day of their 10-day tour of Africa, Markle, 38, and Harry, 35, visited Youth Employment Services (YES), a Johannesburg-based organization tackling youth unemployment, on Wednesday.
While Markle was impressed by a company that produces 100 percent compostable sanitary pads, the internet was abuzz over the Duchess of Sussex's chic belted outfit.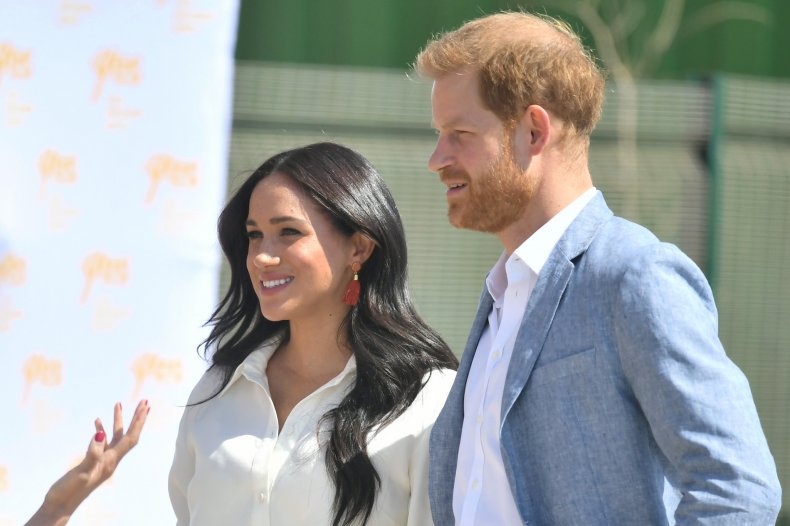 Meghan Markle's white shirt dress: get the look
According to Hello magazine, Markle's white shirt dress is by a local South African designer called Hannah Lavery.
The Cape Town-based fashion designer specializes in locally-sourced materials that are sustainable, according to Lavery's website.
Markle's dress is called the Tencel Shirt Dress and costs 1,400 South African rand, which is roughly $92 USD.
The limited edition item is described as a "fitted calf-length shirt that can be worn as a dress or a cover-up making it a very versatile cross-seasonal item. It has belt loops and a tie that can be tied around the waist for added shape when worn as a dress or tied only at the back when worn as a shirt or jacket."
The shirt dress is not currently available online, but is available in stores, according to Hello's royal editor Emily Nash:
Nash said that the dress was created using leftover fabric in order to reduce waste.
Later on Wednesday, during one of the royals' final engagements on the African tour, Markle recycled a previously worn outfit as she and Harry met Nelson Mandela's widow Graça Machel.
Markle re-wore a sleeveless trench dress from Canadian brand Nonie. The dress retails at $1,085 Canadian dollars, which is around $814 USD.
Markle previously wore the dress in July 2018 at the London launch of an exhibition marking 100 years since Nelson Mandela's birth.
Nina Kharey, Nonie's founder and creative director, told People that she is "honored [Markle] chose to wear the sleeveless trench dress again and it's amazing to know she keeps this piece in her closet as a staple. She styled the garment very similar to the first appearance, looking effortlessly chic for her last day in South Africa."
On Wednesday, in a final address in South Africa, Markle sent a message of hope to young people around the world. "I remember being a young girl watching TV and seeing what was happening in the world, and frankly, often feeling despair. When you constantly see and hear negativity, it can be overwhelming; you can feel powerless, and lost, you can feel different, confused, or like you just don't belong," said the duchess.
"In a world that that can seem so aggressive, confrontational, and dangerous, you should know that you have the power to change it.
"Because whether you're here in South Africa, at home in the UK, the US or around the world, you actually have the power within you to change things, and that begins with how you connect to others."