Meghan Markle Says There Is Nothing 'Wrong With' Woke in Spotify Podcast
Meghan Markle asked "what's loaded or wrong with" the word "woke," adding: "I fully realize I am spoon-feeding the clickbait."
The Duchess of Sussex stood up for the term woke—which has been used to describe her by detractors including Talk TV host Piers Morgan—in her latest podcast episode.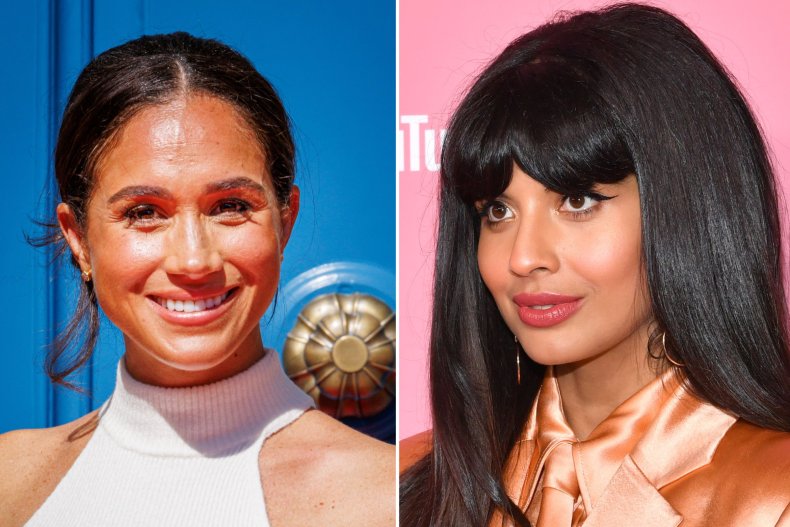 Meghan told her Archetypes Spotify podcast: "I thought a lot about words that become unnecessarily charged as it pertains to women, like feminism, for example, often treated, as taboo, as the f-word.
"Or the word woke. I know I'm saying 'woke' I fully realize I am spoon-feeding the clickbait, but here's why. Because woke by definition means alert to injustice in society especially racism.
"Now, what's loaded or wrong with that? And when you layer a woman into that seemingly anodyne definition, it becomes for many almost disgusting 'outrageous,' they would say but why?
"What is so scary about a woman having an opinion as strongly as a man does?
And why do we sometimes cower to that? Turtle, as I often say... go back into the safety of our own shell."
Many of Meghan's most outspoken detractors have used the term, including GB News host Dan Wootton who called the duchess and Prince Harry "the King and Queen of woke."
In a May column for the Daily Mail online, Wootton wrote: "Netflix is discovering the brutal reality of the truism 'go woke, go broke.' Breaking the bank to sign the King and Queen of woke Harry and Meghan could well end up the biggest mistake in their history."
Morgan told The Sun in September 2021: "The woke brigade think they can vilify, shame, silence and get fired anyone who has an opinion they don't like.
"Meghan Markle is the queen of this culture, who personally sought to have me lose my job—and succeeded. Why are she and Prince Harry entitled to have their opinion but I'm not entitled to mine?"
Quoted in the New York Post, royal biographer Angela Levin said in August: "I've thought for a long time that Harry and Meghan are trying to create an alternative woke royal family, the grandeur and the pomp and circumstance that surrounds them.
"They are people who are very determined to show that their way is the best way."
Meghan's comments came in a monologue at the end of an episode titled "The Audacity of the Activist," which featured Jameela Jamil.
Jamil has previously called Prince Andrew an alleged "pedo" while defending Meghan from allegations she breached royal protocol with comments about U.S. politics.
In 2020, Jamil wrote on Twitter: "I think they may be more embarrassed by their alleged resident pedo Andrew who was besties with a sex trafficker, than an American supporting women voting in her own country and loosely referencing the importance of democracy."