Meghan Markle's Court Privacy Hopes Dealt Reality Check by Soccer Case
Meghan Markle won a resounding victory against a U.K. tabloid but her hopes of promoting privacy at the High Court have been dealt a blow by a lawsuit involving her former attorney.
The Duchess of Sussex issued a strongly worded statement denouncing the "moral exploitation" of the Mail on Sunday after her privacy and copyright win at the High Court in London in February 2021.
Meghan stressed that she and her team "hope it creates legal precedent, that you cannot take somebody's privacy and exploit it in a privacy case, as the defendant has blatantly done over the past two years."
The newspaper pushed unsuccessfully to name five friends who had given anonymous interviews to People in her defense and outed the duchess as having authorized a person to give information to a biography that criticized Prince William and other royals.
Her team at the point of victory was a little different to the one she first lined up because she parted ways with her original barrister David Sherborne in summer 2020.
He was fighting a high-profile case at the time on behalf of Johnny Depp against another U.K. tabloid, The Sun, over a story stating the Pirate of the Caribbean star was violent towards ex-wife Amber Heard.
Since then, Sherborne has moved on to a third blockbuster lawsuit at the High Court featuring two soccer stars' wives, also known in Britain as WAGs (wives and girlfriends).
Such has the scandal captured the nation's imagination that it has its own nickname used in tabloids and broadsheets alike—the "Wagatha Christie" saga.
Sherborne's client, Coleen Rooney, is married to former England star striker Wayne Rooney and wrote a viral Instagram post alleging she had caught Rebekah Vardy leaking stories about her to The Sun newspaper by laying an elaborate digital trap.
The subject of her investigation, who is married to Jamie Vardy, another former England star, strongly contested the accusation and sued for libel.
Strikingly, the latest round of the legal dispute threatens Vardy's privacy in a manner reminiscent of two key battles in Meghan's case.
Only this time, Sherborne is on the side of the defense, Rooney, whereas he represented Meghan in bringing her case against the newspaper in the early stages.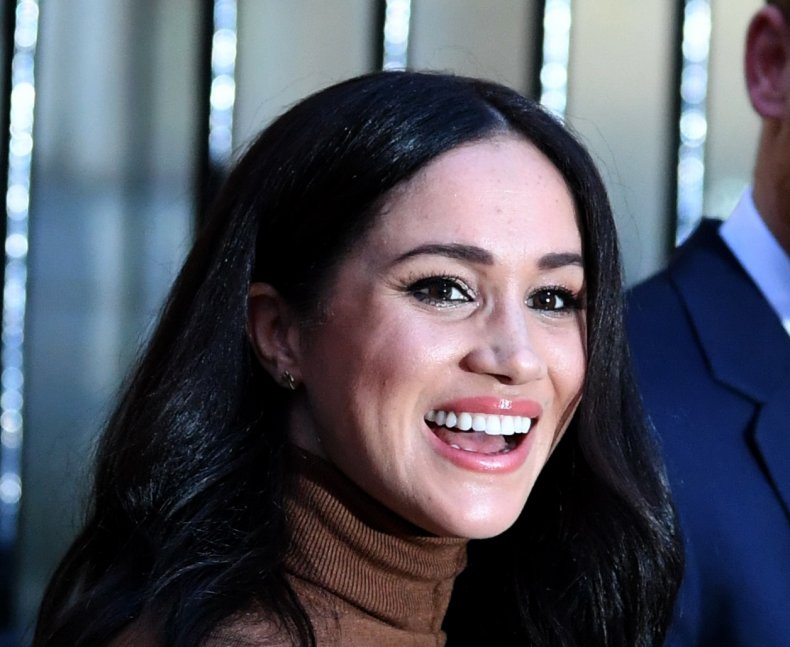 In Focus
Meghan Markle after visiting Canada House on January 7, 2020, in London, England. Meghan sued 'The Mail on Sunday' for breach of privacy and copyright.
Launch Slideshow

3 PHOTOS
And Rooney was given a boost last week when, as The Guardian reported, Rebekah Vardy's past communications with The Sun were deemed to be relevant by the court.
The ruling means Vardy could be forced to disclose her interactions with journalists and the court will also consider allegations she was the author of an anonymous gossip column, titled The Secret Wag, according to The Guardian.
Meghan faced similar pressure from the Mail on Sunday, who tried to out five of her friends who gave anonymous interviews in her defense to People in February 2019.
At the time, in July 2020, she told the court in a statement seen by Newsweek: "Each of these women is a private citizen, young mother, and each has a basic right to privacy.
"Both The Mail on Sunday and the court system have their names on a confidential schedule, but for The Mail on Sunday to expose them in the public domain for no reason other than clickbait and commercial gain is vicious and poses a threat to their emotional and mental wellbeing.
"The Mail on Sunday is playing a media game with real lives."
During the case, Meghan was also forced to disclose she had authorized a person to give information to the authors of biography Finding Freedom by Omid Scobie and Carolyn Durand, which was critical of Prince William and the royals.
If Vardy is outed as a source for The Sun, the revelation could be damaging as the newspaper is viewed as controversial in some quarters and not least in Liverpool where Rooney is from.
In 1989, the Rupert Murdoch-owned title offended with a front page about a disaster during a Liverpool game at Hillsborough Stadium, in which 96 football fans died.
All in all, it is possible Vardy could be set for an experience similar to Meghan's, in which she must balance her desire to fight the case against how much of her own personal information might be exposed in the process.
The balancing act is a far cry from Meghan's victorious statement, released to Newsweek, as recently as February.
At the time, she said: "The world needs reliable, fact-checked, high-quality news. What The Mail on Sunday and its partner publications do is the opposite.
"We all lose when misinformation sells more than truth, when moral exploitation sells more than decency, and when companies create their business model to profit from people's pain.
"But for today, with this comprehensive win on both privacy and copyright, we have all won.
"We now know, and hope it creates legal precedent, that you cannot take somebody's privacy and exploit it in a privacy case, as the defendant has blatantly done over the past two years."