Meghan Markle's Most Political Speech Yet Calls for 'Change We All Need'
Meghan Markle warned if you are not "voting then you're complicit" in her most political speech yet for a Michelle Obama-backed registration drive.
The Duchess of Sussex spoke of "the change we all need and deserve," adding that "we all know what's at stake this year" during an event for When We All Vote and the United States of Women.
She spoke of the danger of voter suppression as she introduced the "Couch Party," ahead of a speech by Valerie Jarrett, a former Barack Obama senior adviser.
Meghan said: "We vote to honor those who came before us and to protect those who will come after us.
"Because that's what community is all about and that's specifically what this election is all about.
"We're only 75 days away from election day. That is so very close and yet there's so much work to be done in that amount of time.
"Because we all know what's at stake this year. I know it.
"I think all of you certainly know it and if you're here on this fun event with us then you are just as mobilized and energized to see the change we all need and deserve."
The duchess said she was "happy to be here for my friend Michelle Obama's When We All Vote" organization as she spoke over video from her new Montecito home.
She recognized the 100th anniversary of the 19th amendment, giving some women the right to vote, but acknowledged the fight for suffrage continued for women of color beyond that point.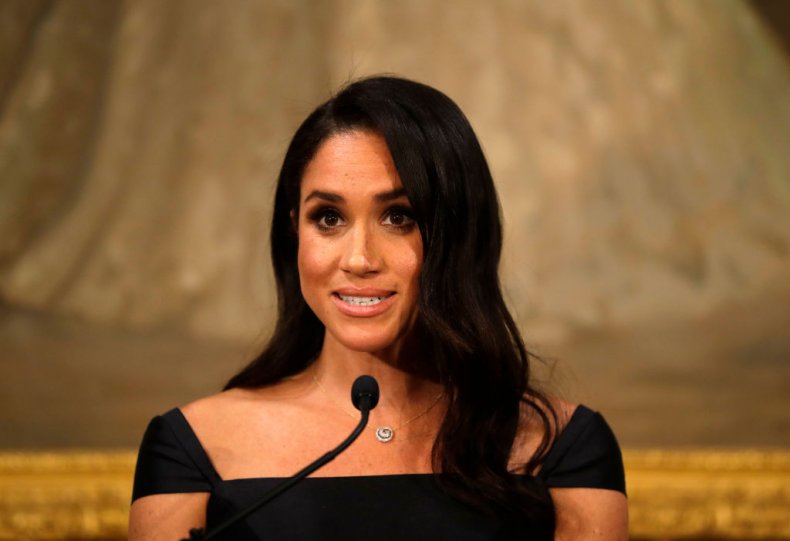 Meghan added: "We look at the attempts at voter suppression and what that's doing.
"It's all the more reason we need each of you to be out there supporting each other to understand that this fight is worth fighting and we all have to be out there mobilizing to have our voices heard."
She added: "If we aren't part of the solution, we're part of the problem.
"If you aren't going out there and voting then you're complicit. If you're complacent, then you're complicit."
She mentioned the environment and health care among issues supporters might be motivated by.
By convention, members of the British royal family do not vote however Meghan and Harry quit as working royals in January, effective from April.
They kept their titles and are still officially "their royal highnesses" though Queen Elizabeth II has stopped them using that styling.
By June, Meghan had already marked a new path for the couple as she backed Black Lives Matter in a passionate speech that reduced some graduating students at her former Immaculate Heart High School to tears.
However, this is the closest she has come to declaring a party political stance, which would be prohibited within the royal family.
Asked whether Meghan and Harry might ever declare a political stance, a spokesperson for the couple declined to comment.