Meghan Markle Remains Unpopular in the U.K. Before Jubilee Visit: Poll
Meghan Markle is viewed negatively by almost twice as many British adults as view her positively ahead of a high profile return for Queen Elizabeth II's Platinum Jubilee.
The Duchess of Sussex is liked by 26 percent and disliked by 47 percent giving her a net approval rating of -21, according to research by Redfield & Wilton for Newsweek.
Prince Harry faired slightly better with 37 percent saying they viewed him favorably compared with 36 percent who viewed him unfavorably, giving him a net figure of +1.
However, despite their animosity, most Brits still think Harry and Meghan should be at celebrations of the 70th anniversary of the queen's reign, due to take place in early June.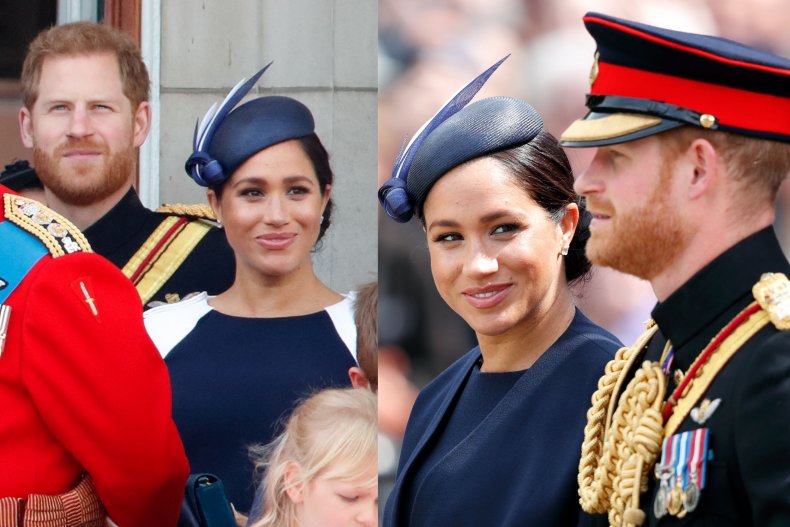 Of those surveyed, 59 percent said the couple should attend compared with 27 percent who said they should not, a gap of 32 points.
Harry and Meghan have been told they will not be included on the Buckingham Palace balcony at the queen's birthday parade, Trooping the Color, the first major jubilee event, on Thursday, June 2.
However, they will attend at least some events in what will be Meghan's first high profile, public visit to Britain since her final royal duties in March, 2020, though she made a private trip to see the queen with Harry in April.
A Buckingham Palace spokesperson said in a statement released to Newsweek on May 6: "After careful consideration, The Queen has decided this year's traditional Trooping the Colour balcony appearance on Thursday 2nd June will be limited to Her Majesty and those Members of the Royal Family who are currently undertaking official public duties on behalf of The Queen."
A spokesperson for the couple said in a statement released to Newsweek: "Prince Harry and Meghan, The Duke and Duchess of Sussex are excited and honoured to attend The Queen's Platinum Jubilee celebrations this June with their children."
The favorability figures, based on a survey of 1,500 adults on May 18, represent a slight improvement for Meghan compared with polling by YouGov throughout quarter one of 2022.
Redfield & Wilton's data showed 24 percent of people liked her compared to 49 percent who disliked her, giving her a net figure of -25.
Harry's standing with the British public has also rallied, as YouGov during the same period gave him figures of 32 percent positive and 43 percent negative, leaving him with a net rating of -11.
However, both are still rated significantly below other members for the royal family in the eyes of the British public.
Redfield & Wilton's data for Newsweek showed 64 percent viewed Queen Elizabeth II positively compared to 10 percent who viewed her negatively, giving her net figures of +54.
For more royal news and commentary check out Newsweek's The Royal Report podcast:
Correction 05/20/22, 6:04 a.m. ET: This article was updated to indicate that celebrations of the 70th anniversary of the queen's reign are due to take place in early June, not July.