Meghan Markle's Half-Sister Samantha Wants $1,500 Per Radio Appearance to Talk About the Royals
Meghan Markle's half-sister Samantha wanted $1,500 from a radio station to discuss the royal family earlier this week.
In an email conversation between The Domenick Nati Show and Samantha, obtained by Newsweek, the duchess's sister wanted $1,500 for a phone interview that would be played on the radio. "I would do it for you for 1500," she wrote on Thursday, noting that her minimum is usually "much higher."
"But I would only do it if I'm not being set up by a shock jock who wants to be rude and slam the phone down because I worked in radio I am good with comebacks so I don't want to embarrass the host," Samantha added. "If it's a straightforward interview that's cool."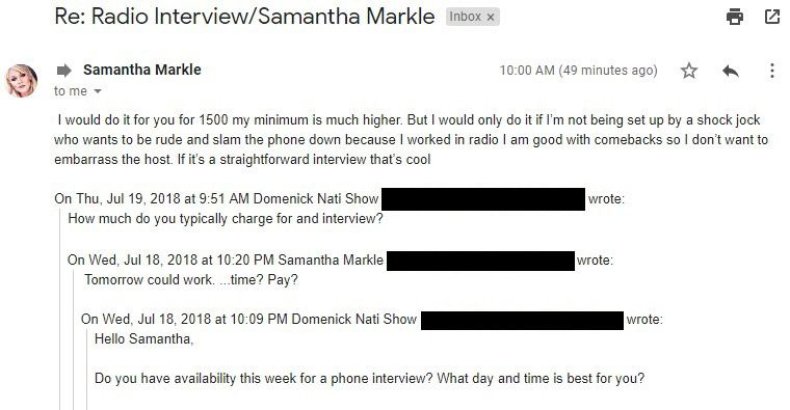 Following the exchange, The Domenick Nati Show refused to pay the large fee and ended their request. After Prince Harry and Meghan Markle married at Windsor Castle in May, the show reached out to Samantha through Facebook for an interview to discuss her newlywed sibling but she did not respond until this week, according to a source from the show.
"We never spoke over the phone, but she was very interested until she heard that we were not going to pay," the source said. "It was always about the money."
In a statement to Newsweek, Samantha claimed that she only asked for $1,500 because she "was just dismissing [the show]."
"I don't like radio shows hitting me up for interviews, and I just said that to get them off the phone but they sabotage me," she continued. "I was not awake yet and they told me that I was not going to be on the air so it as a setup."
It is unclear what Samantha was referring to as her exchange with The Domenick Nati Show arranging the interview was through email, not by phone. Newsweek asked her to clarify her response, however, the request was not met at the time this article was published.
Over the past week, Prince Harry and Meghan Markle have remained silent amid a slew of personal attacks from Samantha. After the royal couple's appearance at the Nelson Mandela Centenary Exhibition on Tuesday, the Duchess of Sussex's half-sister took to Twitter to attack Markle for being "cold" toward their father Thomas Markle.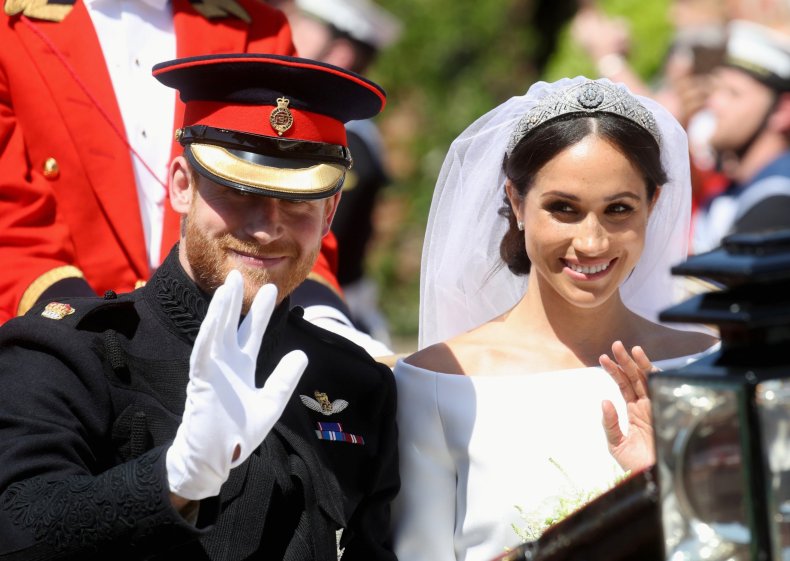 "How about you pay tribute to your own father?! Enough is enough," she wrote. "Act like a humanitarian act like a woman! If our father dies I'm holding you responsible, Meg! #KensingtonRoyal."
"Glad you have so much time to gallivant around paying tribute to others while ignoring your own father! How cold can you be and look in the mirror? Harry? I guess I was right," Samantha continued.
Since Meghan Markle was first romantically linked with Prince Harry, Samantha has repeatedly launched public attacks on her half-sister during TV appearances, interviews with the press and through her personal Twitter account.
Samantha recently revealed that she was in the middle of writing a book that details how she lived "in the shadows of the duchess" called The Diary of Princess Pushy's Sister. This week, Samantha also announced that she will be featuring on U.K. network Channel 5's Celebrity Big Brother later this year.
The royal family did not immediately respond to Newsweek's request for comment.