John McCain Funeral: Meghan McCain Blasts Donald Trump, Without Mentioning President By Name
Meghan McCain delivered a heartfelt tribute to her late father, Senator John McCain, at his funeral service at Washington National Cathedral on Saturday.
"My father had every reason to think the world was an awful place," Meghan McCain said in the opening remarks of her tearful speech. "My father had every reason to think the world was not worth fighting for. My father had every reason to think the world was worth leaving, but he did not think any of those things."
Meghan McCain shared warm memories of her father carrying her to bed as a child, helping her when she scrapped a knee and forcing her to get back up on a horse after being kicked off during a ride when she was a little girl.
The late senator's daughter also took an opportunity to slam Donald Trump, though she never referenced the president by name.
"The America of John McCain is generous and welcoming and bold," she said. "She is resourceful and confident and secure. She meets her responsibilites, she speaks quietly because she is strong. America does not boast because she has no need to."
"The America of John McCain has no need to be made great again because America was always great," Meghan McCain said, prompting applause from the gathered audience. The words of course invoke Trump's famous campaign slogan during his 2016 campaign, "Make America Great Again."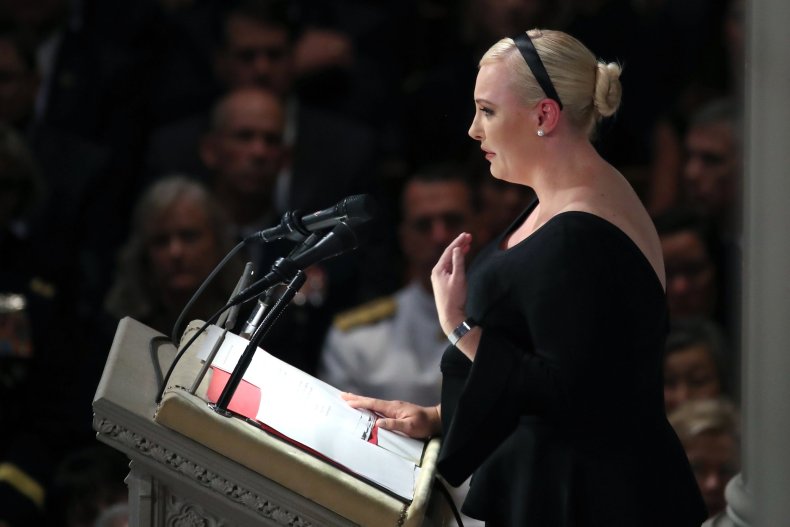 Trump was not invited to the funeral, which featured nearly every major figure in American politics. Members of his cabinet John Kelly, James Mattis and John Bolton represented the administration. The president did not attend any of the prior memorial services in Arizona and Washington D.C. this week.
At McCain's funeral service, eulogies were given by former presidents Barack Obama and George W. Bush, both of whom defeated McCain in his two presidential bids in 2000 and 2008.
On Sunday, McCain will be buried at the cemetery of his alma mater, the U.S. Naval Academy in Annapolis, Maryland. He will be laid to rest alongside his best friend and former classmate Admiral Charles Larson. Larson's wife, Sarah, told CNN that her husband "has his wingman back now."